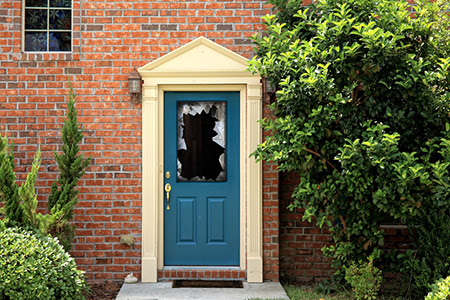 Your worst nightmare…arriving home to find that you have been the victim of a burglary. Home Invasion. Loss of your precious privacy and belongings. While nothing can take away that feeling, here are a few steps you can take while you recover from the shock of it all.
What would you do if you came home and found your house was broken into and your property stolen? For millions of Americans every year, this nightmare is a reality. In 2010, there were 2,159,878 burglaries in the U.S., equivalent to nearly 700 break-ins per 100,000 people, according to the Federal Bureau of Investigation.
Most victims in this situation find themselves totally unprepared and at a loss for what to do. Fortunately, there are steps you can take to regain control of the situation, improve the odds of recovering your property, and prevent your home from being broken into again.
Call the Police
Call the police when you spot the first sign of a break-in. The intruder may still be on your property and pose a threat to your safety. Seven percent of all home burglaries involve violence against household members, according to the Bureau of Justice Statistics.
You also need to call the police to get your case on file for insurance and legal purposes. A police report and investigation increases the strength of your insurance claim, as well as your odds of retrieving your property. The police also need to record crime scene evidence which can help convict suspects if they are caught. Don't touch anything before the police arrive so that you don't accidentally destroy evidence, such as fingerprints.
When the police arrive, they will want you to file a report. Take pictures to document what was stolen, and provide the police with a list of everything that was taken and its approximate value. As a preventive measure, it's wise to take an inventory of valuable items ahead of time in case you are ever robbed.
Call Your Insurance Company
You should also copy your list of stolen items for your insurance provider. To maximize your odds of receiving reimbursement for stolen items, contact your insurance provider within 24 hours. They will need your police report to process your claim, so make sure you have already filed a police report before calling. Your insurance provider will probably send an adjuster to review the crime scene, so in order to avoid disrupting the evidence, you may wish to stay somewhere else until they arrive, if possible.
Review Your Security Camera Footage
If you have security cameras installed on your property, you should review them to see if there is any additional evidence. If you're fortunate, you may have captured footage of the burglar breaking in, walking through rooms, or rummaging through items. You may also notice more clues or additional information about which items were stolen. Provide copies of any relevant footage to the police and to your insurance provider.
Evaluate Your Home Security
After the police and your insurance adjuster have finished reviewing the crime scene, you can begin cleaning up. You should also conduct a review of your home's security with an eye towards preventing future burglaries. Once burglars have successfully broken into a home, they often return in the future, so it's important to make sure you secure any vulnerabilities that enabled the initial break-in. The National Crime Prevention Council provides a home security checklist you can use to review your home security and identify any vulnerabilities that need to be fixed.
Having your home broken into is a traumatic and disturbing experience, but taking these steps can help you recover and restore your life to order as quickly as possible. Filing a report with the police, calling your insurance company, and reviewing your security footage will maximize your chances of getting your property returned and bringing those responsible to justice. Reviewing your home security can help prevent future burglaries and restore your peace of mind.
Source: RisMedia