Keep Your Kids (2 legged and 4) safe this holiday season with these 10 tips from Northstar Moving Company!
NorthStar Moving Co-Founder Laura McHolm
There is no ignoring it now. The twinkling trees, tinsel and….attractive trouble are all around. Whether you are singing "Feliz Navidad" or "Dradle Dradle Dradle," we can all agree this is one of the greatest times of the year, BUT it's also filled with hidden dangers for your children and pets. In fact, it is one of the most dangerous times of the year for your dog Dasher, your cat Blitzen and your two legged crawlers. So, don't let all the sparkle distract you, be sure to keep an eye out for festive trouble.
That's why I called upon two experts to guide us through all of the dangers our holiday décor and holiday foods can create for our little loved ones. First, the child safety experts at Boo Boo Busters talk Santa safety with five key tips to keep your children safe:
The Christmas Tree: We are all conscious of hanging the fragile or sharp ornaments up top to keep them out of reach of those curious hands, but have you thought about where you place your tree? Positioning is always important, think: fire safety. Keep your tree more than 48 inches away from any open flame (that includes candles and the menorah.). When decorating your perfectly chosen greenery, it's best to use plastic hooks instead of metal. Lastly, KEEP IT WATERED! A dry tree is a dangerous tree. Follow the instructions for watering the tree so it can last as long as your holiday season lasts. Also, consider buying a real live growing tree in a pot, it's a greener earth-friendly solution and the tree can become part of your family traditions.
Frosty's Scarves : A strangulation hazard is anything that can be made into a loop and placed around a child's neck, this includes scarves. Since your little elves need to stay warm, let's take scarves off the strangulation list by making them safe by simply tucking the ends inside your child's jacket. Oh so fashion forward and the scarf can't get caught on anything. Whew, problem solved.
Miniature Décor: Choking hazards are everywhere this time of year; they disguise themselves as decorations and holiday cheer. A good rule of thumb: a choking hazard is anything that can pass through a toilet paper roll holder unobstructed. Now is the time to scan the environment to see what's around each and every corner. Remember, it's not always just your house that needs your safety check. Visiting the grandparents, other family and friends who might be inadvertently unaware of what is or isn't safe for your kids. Say Ho Ho NO! to decorations within your child's reach. Snow villages, nativity scenes, and light up and display decorations with lots of small pieces, electrical cords and even batteries can easily be pulled out and end up in your cherub's mouth. Lighted garland adorning the staircase or the mantle where the stockings will be hung with care, can also create dangerous scenarios. Bowls of candies, nuts and little yummy things are often put out for grazing. Even though they are edible, it doesn't make it safe for a baby or small child. Place these delicious favorites higher than a child can reach. Lastly, although it may not be a choking hazard, put mistletoe on your priority watch list. This pretty little smooch maker may have fun motives but everything else about it says keep away. It's about as toxic as a plant can get, berries, leaves and all. No one knows what your kids can get into better than you do. So, put your Grinch hat on before the kids see the decorations, then you can put the Santa hat on once the wide-eyed wonder-filled kiddos with busy little fingers enter the scene!
All That Glows: We all have that part of us that wants to light the house up like Clark Griswald, but let's try to keep those little admirers in mind when powering up. Secure lights in place with clips, not left dangling where a child can reach. Using staples to attach lights can also be dangerous: they can cut through the cord without you even knowing it and cause a short or spark leading to a potential fire. Take extra care when using extension cords to power up those giant blow-up dradles or reindeer dancing in the front yard. Secure them with stakes so they can't create a potential tripping hazard. Put the lights on a timer so they turn on when you want them to and turn off around bedtime. Mother earth and your neighbors will both thank you. Nothing like a silent glow-free night.
Ringing in the New Year: Last but not least, New Year's Eve! Party favors, noisemakers and poppers are fun (and equally annoying) but can also be very dangerous. Check when purchasing noisemakers and party favors to see if they could be potential choking hazards. Poppers and silly string should be used with adult supervision. Poppers should never be popped in the vicinity of someone's face and silly string should never be used near an open flame.
Next,  Dr. Anthony George, doctor of veterinary medicine and certified veterinary acupuncturist, says to keep these five jolly activities away from your pooches or felines and they will be as merry as you are all holiday season:
Holiday Foods: Many people like to include their furry friend in the festivities by giving them a 'sample platter' of the holiday's bounty. This act, unfortunately, can introduce a variety of potential risks to pets. Eating fatty and rich foods can lead to stomach upset and diarrhea. In some dogs, the elderly in particular, calorie dense foods can potentially lead to inflammation of the pancreas. Chocolate contains methylxanthine, which can cause a variety of symptoms ranging from stomach upset to tremors, hyperthermia and seizures. The darker the chocolate the more dangerous it can be. Grapes, raisins, onions and garlic are also extremely toxic to dogs. And, if you're taking acetaminophen for pre and post celebratory aches and pains, bear in mind this medication can pose a tremendous risk to your pets. Commonly found in name brands such as Tylenol and Excedrin, along with many generic cold and allergy remedies, acetaminophen can change the ability of the blood to carry oxygen. If your pet ingests any of these substances, it's always a good idea to contact your local veterinarian. So keep your pets safe by having them celebrate with their regular diets.
Festive Plants: Plants and flowers transform any room into a holiday showcase, but also an unforeseen room of danger for curious pets. The usual suspects, poinsettiasand American mistletoe, have been considered potentially toxic to pets in the past. However, today it's generally considered unlikely that either one would cause significant ill effects unless ingested in great quantity. Lilies, on the other hand, pose a significant risk to cats. These lovely flowers can dress up any holiday flower arrangement, but all parts of the plant are toxic to cats and can lead to kidney failure. Ingesting even a small amount of the leaves, petals, or even pollen can result in severe illness and possibly death. Warning signs include an increase in salivation, depression, loss of appetite, and vomiting. Stay clear of these beauties if you have a feline friend.
Ribbon: If your dog or cat loves to help you wrap the presents or loves to un-wrap their own present, make sure they don't run off with the ribbon. These colorful strands can wreak havoc if ingested. Once ingested, the intestines can bunch up on the ribbon in an attempt to pass it. If you should happen to see part of the ribbon 'exiting' from the hind end, never pull it out, as this can cause it to cut through the intestines. Absolutely, consult with your veterinarian to aid in its removal, whether it's through endoscopy, surgically or manually.
The Many Dangerous Layers of the Tree: The Christmas tree is the centerpiece of many holiday homes. However, if you have a cat you may want to lay off the tinsel as it poses the same threat as ribbon does. Electrical cords from the Christmas lights, as well as other holiday decorations, can be an enticing chew toy for a pup or cat. This playful act can lead to severe mouth burns. The electrical conduction of their heart can even be altered, resulting in the accumulation of fluid in the lungsand difficulty breathing. Take measures to prevent your pet from coming into contact with these electrical temptations. Many trees are also fitted with water containers to keep them fresh. This water could contain fertilizer or become stagnant over time. Prevent your pet from drinking from the tree to avoid potential complications.
The Impulse Buy: Grandparents, Aunts and Uncles make sure the entire family actually wants a pet before you present one as a holiday present. Please make sure everyone understands that a pet is a gift for life not just for the holidays. Everyone must be ready for the full-time job of getting the pet acclimated to it's new home. If you're planning on adding a four legged family member: puppies and kittens aren't the only way to go. Remember to rescue and adopt any age and/or any breed. Many lovable pets looking for a good home can be found on www.petfinder.com. Avoid adopting exotic pets, primates and reindeer. Make a pet's life happy this holiday season too by finding it a forever home.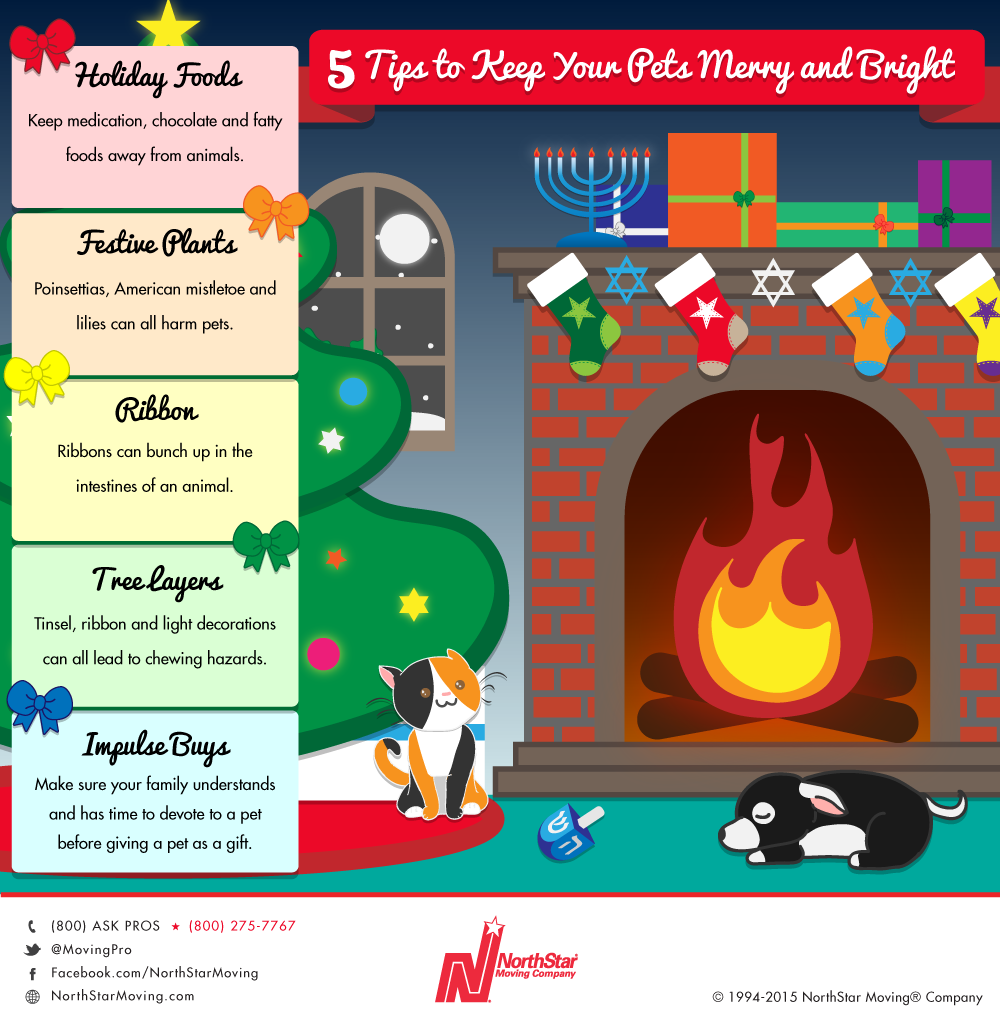 Keep your head above the twinkle and remember this simple checklist. Santa's basic yule tide rule of thumb: if it looks like it could be trouble then put it on the naughty list and hide it away.  Wishing you and your family a wonderful memorable holiday season and an amazing New Year full of safe and happy smiles!
Source: CB Blue Matter Blog