With spring upon us and typically hotter summer weather right around the corner, many homeowners wonder whether or not this year is the year to go ahead with a decision on installing a pool. This checklist is a really good resource for review before any home in-ground pool installations.
The decision to install an in-ground pool should never be taken lightly. Take the time to review this checklist before calling up the nearest pool installer.
While this iconic amenity adds a level of beauty and recreation to the property, it also imparts significant real estate considerations. Without careful forethought and planning, unexpected roadblocks may put the pool to a grinding halt. Take the time to review this checklist before calling up the nearest pool installer.
Local Laws, Permits, and Municipal Codes
Check with the local jurisdiction to find out what is required. The pool contractor should be well-versed in the codes, permits, and fees necessary to begin. However, the responsibility lies with the homeowner. Some areas have restrictions on size and type of pool, setback, and safety features.
Homeowner's Association Restrictions
Some homeowner's associations may forbid the installation of pools altogether, while others have specific restrictions. They may prohibit excessively large pools or require additional safety measures not required by the city. Consult with them prior to investing in a pool or they may put a stop to it.
Utility Easements
Known easement issues should be dealt with prior to installing a pool. Utility service easements and other access issues can make the prime location of the pool far less inviting. Natural obstructions such as sinkholes, rocky terrain, and trees can increase the difficulty further.
Space Requirements
A pool will also take up more area than most people are expecting. Account for plenty of excess space for ease of movement, garden area, and play areas for children. Have a contractor assist in plotting out the available space, and making note of any questionable areas.
Property Taxes Versus Property Value
Typically, expect a new pool installation to qualify as new construction on the property. This will subject it to higher property taxes, which will vary based on locale. However, the amount of the investment is not often reflected by an equivalent increase in property values. Consider a new pool an indulgence rather than an investment.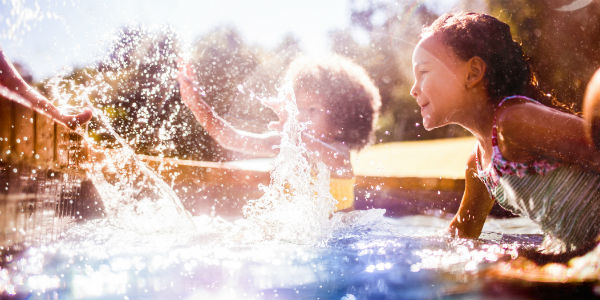 Climate and Neighborhood
Warmer climates are perfect locations for pools; so much so that they are essential property features, not luxuries. Even homes close to coastal regions still require pools, to maintain the health of the real estate market and to sell quickly. Homes in colder climates are more likely to add a pool as a novelty, only available for use in the warmer spring and summer months. Likewise, take a look at the other homes in the neighborhood, for indications on how desirable a pool is, and what styles are preferred in this market.
Patio, Landscaping, and Amenities
Consider how the in-ground pool fits in with current and future outdoor amenities. A patio is a natural pairing, but proper landscaping will prevent the pool from looking staggeringly out of place. Lighting, fire pits, and cooking areas can all be incorporated into a comprehensive outdoor entertainment area, increasing property values and market desirability.
Financing with Home Equity, Second Mortgage, or Unsecured Loan
Choosing the right financing should be done prior to putting a deposit down with a pool contractor. A qualified lender can explain the available options and assist in deciding what is best at the time. Many people turn to home equity loans immediately, but they are not always available on a newer home purchase or during a slow market. A second mortgage is another popular choice, but may not be a sound investment if a quick sale is expected. Unsecured loans are less popular, but are good when a large deposit is already available.
Resale Value and Attractiveness to the Market
A new pool is no guarantee of increased property values. In unfavorable markets, some buyers may not desire an in-ground pool at all, and it may end up buried in the future. Proper research will indicate what kind of market the property is located in. Often, a pool remains a luxury investment that is not easily recouped in the future.
The decision to install a pool is complex, but need not be overwhelming. By covering these areas prior to beginning, it will be easy to determine if a pool will be a reality or a pipe dream.
Look for homes with pools for sale in your area by visiting www.kappelgateway.com.
Now that you know the skinny on home in-ground pool installations….happy swimming!!
Source: CB Blue Matter / Sharon Lee