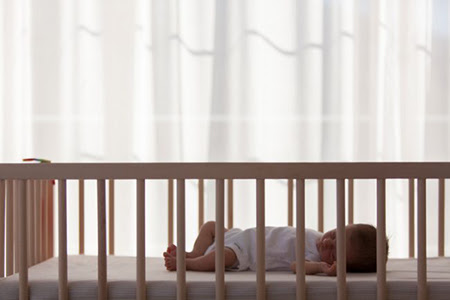 Safety…ALWAYS a concern. Here are some really practical tips throughout a lifetime of staying safe. Good to know!
We all want to keep our families as safe as possible, but home safety requirements change as your family grows and evolves. From newborns to pets, a variety of different strategies can ensure your home is as safe and accommodating as possible for your family. Here are some simple tips to help keep your family safe through every stage of life.
Getting Your Home Ready for a New Baby
Babyproofing a home is largely about protecting them from their own curiosity. Once a baby learns to crawl, anything in reach is fair game to be grabbed, touched, or chewed on.
1. Install baby gates to keep certain rooms off-limits. This is especially important near stairs.
2. Fill unused electrical outlets with plastic plugs. Outlets are like magnets for babies.
3. Store breakable items out of reach.
4. Keep small items out of reach, as well. Small objects that could be put into mouths are a major choking hazard. A good rule of thumb is if it can fit in an empty toilet paper roll, it is small enough for a baby to choke on.
Home Safety for Toddlers and Elementary-Age Children
Toddler-proofing is a little different from babyproofing in that a toddler is usually more resourceful about getting into things they shouldn't be. Toddlers will climb, open doors and drawers, and generally get themselves into trouble.
1. Move anything small or breakable up higher now that your child is walking and climbing. You'd be surprised at what they can reach.
2. If you have a pool, build a fence around it. You'll want a barrier at least a few feet high to make it harder for your toddler to climb over.
3. Secure drawers and cabinets with childproof latches.
4. Place safety locks on windows and doors to prevent them from being opened.
5. If you don't have a home security system, install one for added safety. Choosing a system with the right features, like motion sensors and security cameras, can help you know if your curious toddler runs out the door or it can help you keep tabs on things while the babysitter is over.
Safety During the Teenage Years
As your child grows into their teens, the focus moves further from physical safety and more towards online safety and general home security. Online safety is extremely important with teenagers in the house.
1. Set clear boundaries and expectations with your teen regarding potentially dangerous situations. These could involve simple subjects like safe driving or complex topics like drinking and drugs.
2. Keep alcohol, firearms, and any prescription or over-the-counter drugs locked up in a safe place.
3. Educate your teen about safe internet usage. This includes avoiding malware, being smart on social media, and using privacy settings.
Pet-Proofing Your Home
Pets make great additions to the family, but they come with their own safety needs. In many ways, pet-proofing is similar to babyproofing. Pet-proofing involves keeping harmful items out of their reach and making sure that they can't escape the house or yard and run off.
1. Keep cleaning products, chemicals, and medications in high places or locked where pets can't stumble upon them.
2. If your pet likes to chew on (or eat!) household items, make sure that you don't leave anything lying around. It can be helpful to do a quick walkthrough of your home a couple times a day, such as when you leave and return from work.
3. If you have a home security system, make sure the motion sensors are capable of detecting and ignoring your pets.
4. If you have a fenced yard, check it for weaknesses or small gaps that a pet could squeeze through.
Getting Your Home Ready for Your Parents to Move In
As our parents get older, it's not uncommon for them to move in with us. This can help ensure their safety and prevent the loneliness that often comes with old age. It can also present some unique challenges when it comes to home safety.
Depending on your parent's age and their physical and mental well-being, you may need to make small home improvements for their convenience or physical safety. In general, you'll want to try to minimize the potential for falls and make sure that help is always within reach.
1. Install grab bars in the bathrooms near the toilet and shower. These bars can help support a person as they move in and out of the shower or tub, both making this task easier and helping prevent falls. Make sure they can support the weight of the person who'll be using them.
2. Walk through your home and check for objects that might make tripping hazards. Throw rugs, children's toys, and pet toys can all be dangerous for people lacking the eyesight or reflexes to maneuver around them easily.
3. Set up a medical alert system. This is a wearable device that essentially functions as a panic button—if a person falls or has a medical emergency, they can push the button to get instant access to help.
4. Learn which foods are hazardous for senior health. As your parents age, their immune system weakens, making them more susceptible to food poisoning and health risks. Prepare meals at home that won't threaten the health of your aging parents.
Your family grows and changes as time goes by, and so should your home safety plans. If you want to keep up with each of your family members, continually assess their needs. These tips should give you a great starting point towards building a safer home for your family.
Source: RisMedia
Posted on July 20, 2017 at 7:10 pm
Kappel Gateway Realty
Category:

babies, family, pets, real estate, safety, Uncategorized
Tagged

California real estate, Coldwell Banker Kappel Gateway, family, Home Safety: How to Protect Your Family at Every Stage of Life, pets, real estate tips, safety, security, trusted advice

Moving is challenging enough on its own. Factor in babies and you better have another set of eyes!  Read on for great advice regarding moving with your special little package.
We have organized the guide into three sections: Before the Move, Moving In and Baby Proofing.
On the move with a little mover in tow? Every parent knows having a baby at home is an adventure. Take that everyday baby voyage and mix in moving your home, now your adventure is more like a hike up Mt. Everest! Here's the good news, if you plan ahead and take simple steps that trek will become a walk in the park (well maybe not, but a manageable stroll up hill.) Before you pack up and gear up for the baby + move exploration, check out this complete guide for parents moving with a baby to ease the stress and enjoy the transition.
We have organized the guide into three sections: Before the Move, Moving In and Baby Proofing. You can think of it like pregnancy, nesting and then labor!
Before the Move
Stick to Routine: Baby's love and need their routine. Don't let the moving to-do list and packing get in the way of your regular daily routine. Instead of pulling an all-nighter to pack, try to pack over a long period of time. Use naptime and baby's early bedtime to get packing done in bits. Baby & parents need their sleep!
Create a Moving Calendar: To keep your head from spinning, it is best to plan your move 8 weeks out. Here is a Moving Day Count Down Calendar to copy, print and hang it up where you can easily refer to it while feeding the little one. This way you can take it day-by-day and get the satisfaction of checking off moving to-dos!
Use Childcare: During the actual moving day, when boxes and furniture are being moved, little ones should be somewhere else. Ask a trusted babysitter, friend or family member to take your bundle of joy for the day. It is also ideal to use childcare for days leading up to your move so that you can get more done on your moving calendar. There are great nanny and babysitting services that help you find qualified childcare.
Talk To Your Current Pediatrician: Your pediatrician is a great resource. If you are traveling long distance, ask them for tips for keeping your baby happy on a plane or long car ride. If you need to find a new pediatrician, make sure you get a copy of all of your child's medical records to give to your new pediatrician. Get copies of all your child's prescriptions and have them called into a pharmacy near your new home. Ask your current pediatrician for recommendations on how to find a new pediatrician close to your new home. When finding a new doc, it is recommended to set up a meet and greet appointment as soon as you move.
Pack a Baby Bag: You know the daily drill; pack half the nursery to carry with you wherever you go. Well, this time the baby bag (box or small suitcase) should include all of your needs for three days (if you're moving a long distance, you may want at least one month of supplies with you rather than on the moving truck). Once you move into your new place, you may not have easy access to diapers, baby food, pacifiers and the important squeaky toy. So be sure to pack everything you need for three days (or more) in one place that you keep by your side for easy access on moving day and the first few days after.
Moving In
Unpack the Nursery First: When moving in you should set up the nursery first. This will allow you to change your baby and easily put them to sleep on the first night in your new home. Arrange the nursery as closely as possible to your previous nursery. The familiarity will help you and your baby in the transition.
Setting Up The Crib: All new cribs on the market today meet the safety standards of the Consumer Product Safety Commission (CPSC) and the Juvenile Products Manufacturers Association (JPMA). When setting up a new crib or reassembling your crib look for the following suffocation and strangulation hazards:
Sharp or jagged edges
Missing, broken or loose parts
Loose hardware
Cut out designs in the headboard or footboard
Crib slats more than 2 3/8 inches apart (width of a soda can)
Corner post extension over 1/16 of an inch high
Gaps larger than 2 fingers width between the sides of the crib and the mattress
Drop side latches that could be easily released by your baby
Use Safe Bedding: Soft bedding can suffocate a baby, blocking the baby's airway during sleep. Babies can suffocate when their faces become wedged against or buried in a mattress, pillow or other soft object. Use a safe crib with a firm, tight-fitting mattress covered with a crib sheet and nothing else in it. To keep your baby warm, use a sleep sack (wearable blanket).
Baby Proofing the New Home
I turned to the uber knowledgeable folks at Safe Kids Worldwide for a Baby Safety Checklist:
Crawl Through Your Home: The first step to a safe home, say the experts at Safe Kids, is to look at the world through your baby's eyes. See what looks interesting and what can be reached. And I mean it literally – get down on your hands and knees in your new home and check for small things your baby can choke on. You will be amazed at what you discover! If you question if an item is a choking hazard, take an empty toilet paper roll and put the small object in it. If it fits completely into the roll, don't let children under 3 play with it.
Test Alarms: Have working smoke alarms and carbon monoxide detectors inside all bedrooms, outside all sleeping areas and on every level of your new home. Test alarms monthly and change batteries once a year.
Install Gates: Install stair gates at the top and bottom of stairs. Stair gates at the top must be attached to the wall with hardware.
Secure Furniture: Secure furniture to the wall to avoid tip overs.
Check Windows: When decorating your new place, be sure to use cordless window coverings.
Mindful Unpacking: When unpacking, be sure to lock up medicines, vitamins, cleaning products, pet food, alcohol, poisonous plants, and chemicals (like paint, gasoline, etc.) and store them high out of your baby's reach.
Your baby's arrival was certainly the most blissful and incredible life change. Now you get to start the next chapter together in your new home. A home that is safe for your little one to play, grow and explore!
Source:  CB Blue Matter / Lindsay Lantanski
Posted on May 7, 2017 at 3:46 pm
Kappel Gateway Realty
Category:

babies, family, Homeowners, maintenance, moving, parent, Uncategorized
Tagged

baby, before you move, close on your new house, family, first time home buyers, moving, Moving with a Baby: The Complete Guide for Parents, parent