Even in the country's most arid desert regions, storms can quickly turn ugly, resulting in extensive property damage from flooding, high winds, lightning, and more. Whether you live in a flood plain, Tornado Alley, or an area with extreme winters, it's key to take preventive measures to safeguard your abode from Mother Nature's wrath. Fortunately, there are a number of smart home technologies that make storm preparation and damage prevention easier than ever.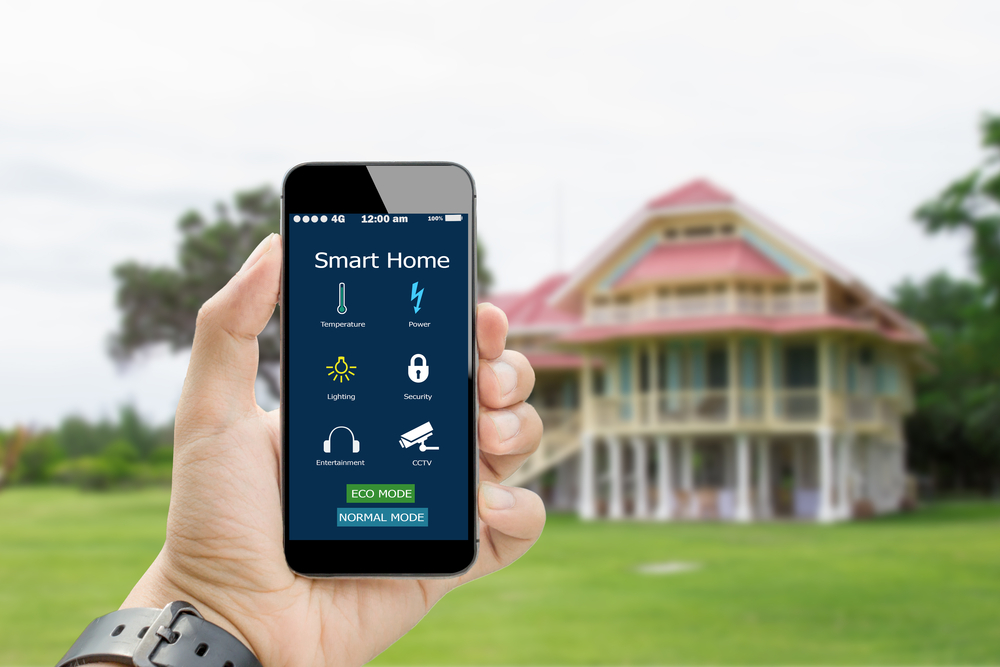 Flood Sensors
Floods are the most common natural disaster in the U.S., with the average flood claim coming in at $46,000. While it's imperative to monitor your local weather service when there's heavy rainfall in the forecast, being proactive by installing flood sensors in your house can help prevent and reduce property damage without breaking the bank.
These small, inexpensive sensors detect when the moisture level increases in the immediate vicinity where they're installed. If moisture levels increase for any reason, you're notified so you can take action — making flood sensors valuable in any room of your house that has pipes or water, in addition to areas that are prone to flooding, like your basement. Plus, once they're installed, you won't have to worry about maintaining most models for 10 years.
You also have the option of purchasing shut-off valves, which will automatically turn off your mainline in the event of a pipe emergency. If you live in an area of the country that has bitterly cold winters, freezing and thawing pipes can cause a large amount of damage to your home — so if you're willing to invest, flood sensors and shut-off valves can help protect your home from a deluge.
Smart Thermostats
Smart home temperature systems are taking the market by storm (pardon the pun), in large part due to their ability to learn users' habits and automatically adjust themselves accordingly — saving many users money on their utility bills without them having to lift a finger.
But, similar to smart water sensors, smart thermostats are also being used to help prevent winter storm damage in the form of frozen, burst pipes. Since many models can be controlled from your smart phone or tablet, you can turn on your home's heater from anywhere in the world — helping to prevent costly damage to your house's structure, personal belongings, and more when an unexpected cold snap is forecast.
The best smart thermostat models can show you your home's energy consumption in real time so you're more likely to notice if usage jumps due to wintertime woes such as hailstorm damage to your roof.
Personal Weather Stations
Many of us, at one time or another, have watched the local news report rain, while right outside our front door it's sunny and cloudless. That's because many local forecasts report conditions from the weather station at the nearest airport, which is often far enough away from many homes that the conditions are entirely different. That's where personal weather stations come in.
A personal weather station is simply a set of instruments you install at your home that measure various weather conditions — namely temperature, pressure, relative humidity, rainfall, and wind direction and speed. Since the instruments are measuring the conditions in your immediate surroundings, you get the most localized weather report possible.
Plus, many personal weather stations send current conditions as well as long-term trend reports directly to your smart phone, tablet, or desktop computer, so you can easily access, monitor, and share data. Most modern stations will give you the option of uploading your data for the public to access online; the more users who upload data, the larger the network of localized weather information is.
And of course, monitoring local weather conditions is one of the best ways to prepare for an incoming storm. From high winds, to lightning, to heavy rains or snow, a personal weather station can help you stay as up to date as possible on potentially dangerous weather in your vicinity.
Bonus tip for smart storm prep: Tune in to your tablet
Severe weather? There's an app for that — multiple, in fact. In addition to storm tracking and high-definition radar, these apps can also send you real-time weather advisories and warnings related to tornadoes and hurricanes, floods, heat and frost, heavy rainfall and snowfall, and even earthquakes.
Source: Coldwell Banker Blue Matter / Haden Kirkpatrick / Lindsay Listanski