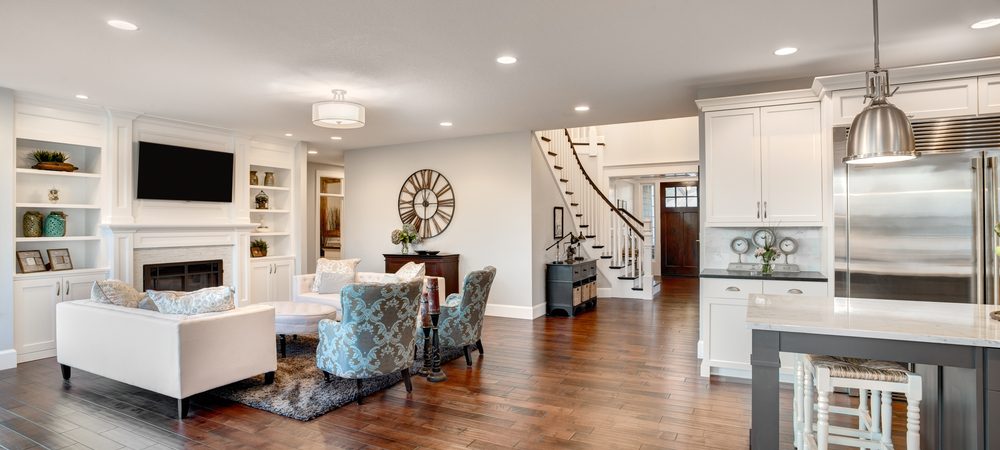 Hardwood flooring is often considered a must-have feature by new homeowners or those undertaking a remodeling project. Wood is a natural, renewable resource, plus wood flooring complements all types of home decor, from traditional to contemporary. Hardwood flooring is often considered a must-have feature by new homeowners or those undertaking a remodeling project. Wood is a natural, renewable resource, plus wood flooring complements all types of home decor, from traditional to contemporary. The downside is that wood floors, especially solid wood floors, can be expensive. Some exotic wood species, such as Brazilian walnut, can cost more than $15 per square foot — and that doesn't include installation labor. However, you can find alternatives that give you the look of real wood at a reduced price — some as low as $2 or $3 per square foot. Here are some of the best budget-friendly hardwood floor choices.
Calculating the Overall Price
The products listed below go from most expensive to least expensive, but there's a lot of overlap among the categories. For example, some solid wood products are less expensive than some luxury vinyl tiles. Before you make your final decision, factor in the cost of professional installation, which can add as much as $3 to $10 per square foot to the total cost of a flooring project. Some of the items that can drive up installation costs include:
• Removing and disposing of the old flooring
• Repairing the subfloor when necessary
• The size and shape of the room(s)
• Stair installation
If you're an experienced DIYer, you can save money by installing the floors yourself. Beginners should leave the job to the professionals, though — you may end up making mistakes that are even more expensive to fix.
Solid Wood

This is usually the most expensive option, but there are ways to reduce the cost, especially in the long run. When properly maintained, solid wood flooring will last as long as the house stands. You can freshen up the look at any time by sanding away the old finish and restaining and sealing the floor.
Some wood species are more expensive than others. Fortunately, many of the most common types, such as oak or maple, fall into the low- to mid-range of costs. Solid wood products can come finished or unfinished. If the floor is unfinished, the installer will stain and seal the floor once it is in place, which adds to the installation costs. On the flip side, the prefinished product may cost more up front.
Engineered Wood 
These products are constructed of multiple thin layers of material that are bonded together under pressure. The top layer is made from a familiar wood species — such as oak or maple — and is usually treated with a factory-applied finish that resists dirt and scuff marks. Engineered wood floors are less likely than solid wood to wrap and twist because of moisture and humidity, so they can be installed in basements and bathrooms. Some products feature click-in-place installation — no need for adhesives or fasteners — which is an easier, faster installation method perfect for DIYers. However, a vapor barrier needs to be installed or attached to the flooring.
Bamboo 

Bamboo floors are manufactured to either look like traditional wood flooring or showcase their distinctive grass-like look. Some bamboo products are harder than solid wood flooring. They are strong and long-lasting, but are easy to scratch and are not recommended for areas prone to moisture. Bamboo is a type of grass and grows to maturity much more quickly than trees do, which makes it a sustainable, eco-friendly option. Click-in-place installation is available for some products.
Porcelain Tile 

New porcelain tiles can be made to look like anything, including real wood. Some products are available in planks that have a wood-like texture. Porcelain tiles are an inexpensive, easy way to achieve a "reclaimed" wood look — many tiles mimic the texture and color variation of aged planks. As with regular tiles, they are durable and can be used in wet areas, including bathrooms. They are also stain-resistant and much easier to clean than real wood — spills wipe up quickly, and using just water and a mild soap makes them shine. Porcelain tiles must be installed using mortar and grout.
Luxury Vinyl Tile 

As with porcelain tiles, luxury vinyl tile (LVT) can look like wood and come in traditional-style planks. LVTs are thicker and more durable than standard vinyl. They are usually waterproof, are easier to clean than true hardwoods, and can be installed in any room in the house. To prolong their durability, many LVTs are treated to resist color fading and scratches.
Laminate 
Laminate floors are composed of a high-density hardboard core protected by a melamine layer that can be made to look like anything — including real wood. The top layer protects against dirt and scuff marks, but the material should not be installed in rooms that are exposed to moisture. Click-in-place installation is available.
Hardwood flooring is a classic, timeless look that fits a wide range of design options. Thanks to today's selection of flooring products, it's easy to get a wood look at a lower cost. When making your final decision, be sure to include both the material costs and the installation costs. That way, you'll get the look you want at a budget-friendly price.
DIY author Fran Donegan has written several books, including Paint Your Home. He also writes for The Home Depot about homeownership and projects that add value to your house. To see a selection of hardwood flooring options like those described by Fran in this article, please click here.
This article is editorial content that has been contributed to our site at our request and is published for the benefit of our readers. We have not been compensated for its placement.
Source: CB Blue Matter Blog