Can't quite figure out just exactly you are looking for when it comes to that color pop in the kitchen?
These fabulous ideas are worth a look!
Don't get me wrong: White kitchens are cheerful, clean and classic — it's no wonder why they're so popular. But since white kitchens are everywhere, it's easy to forget that there are other colors that can also look great in this space. Thinking about bucking the trend in your kitchen? Consider one of these options, from alternative neutrals to bright, bold hues.
You can't go wrong with these versatile picks.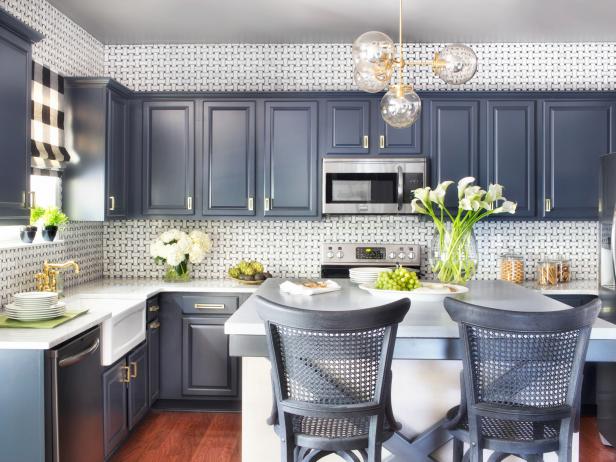 If you want a cool neutral that'll add a bit of drama to your kitchen, look to charcoal. Bright accent colors — or even white, as seen in this kitchen designed by Brian Patrick Flynn — really pop against it.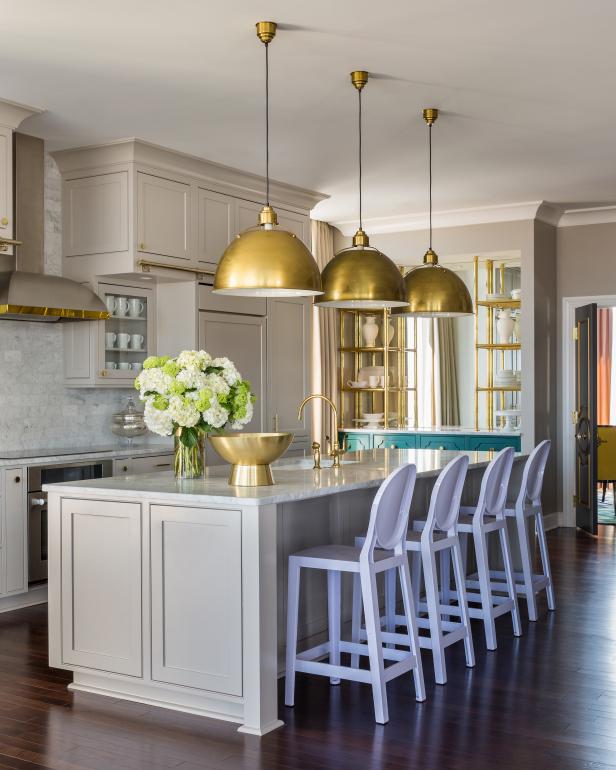 A mix between gray and beige, greige is an incredibly versatile neutral for the kitchen that can complement both warm and cool colors. In this space designed by Tobi Fairley, greige cabinets bridge the gap between warmer brass elements and cooler marble accents.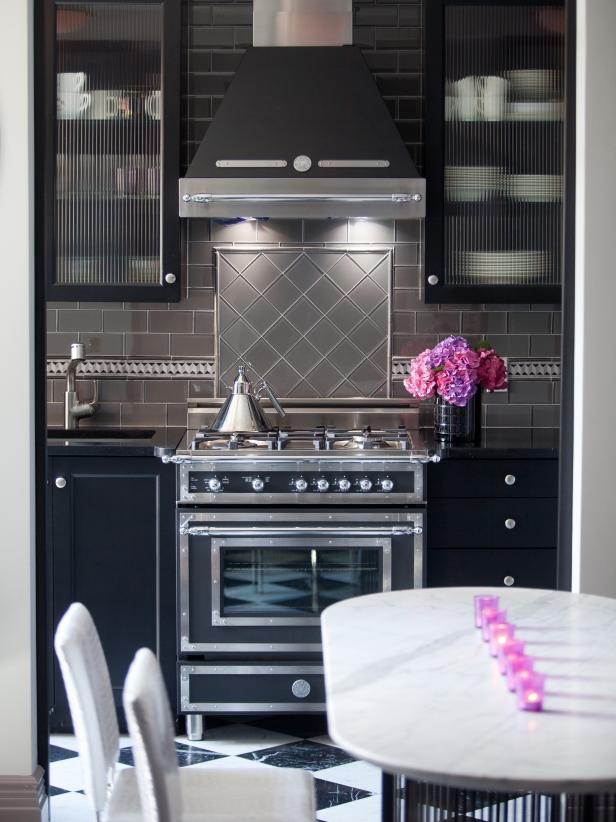 A black kitchen may sound dreary, but it can actually be stunning if done right. Just take this gorgeous room that goes all in with black cabinets, a black vintage stove and a black-and-white tiled floor. If you're not on board with an all-black kitchen, try adding one black element like a backsplash or a sink.
Add a touch of color without overpowering your space.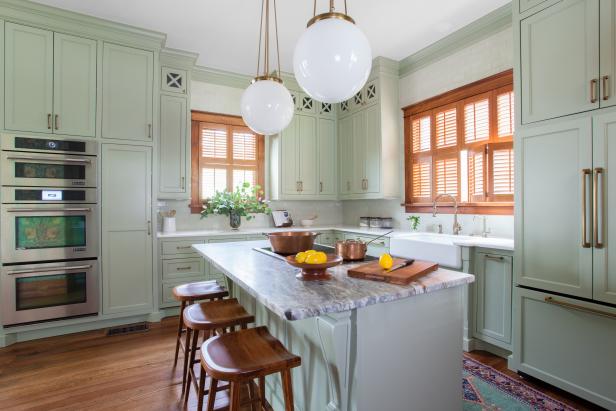 Hints of green in the stone countertops inspired the cabinet color in this country-style kitchen. The soft hue brings coziness to the space, yet still feels bright and fresh.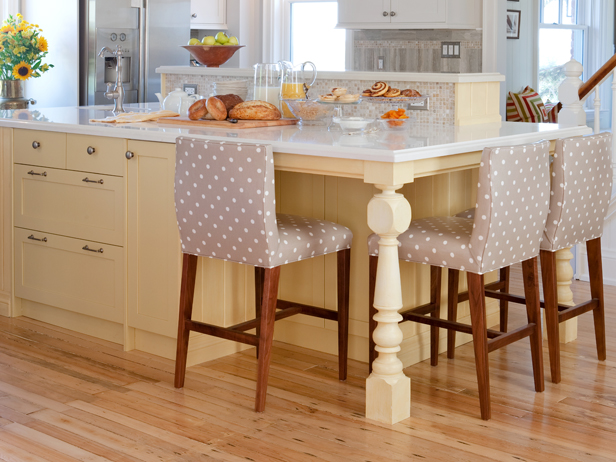 Particularly charming in a cottage- or farmhouse-style space, pale yellow adds a cheerful, sunny touch to a kitchen. Try it with robin's egg blue or with neutrals, as seen in this kitchen designed by Sarah Richardson.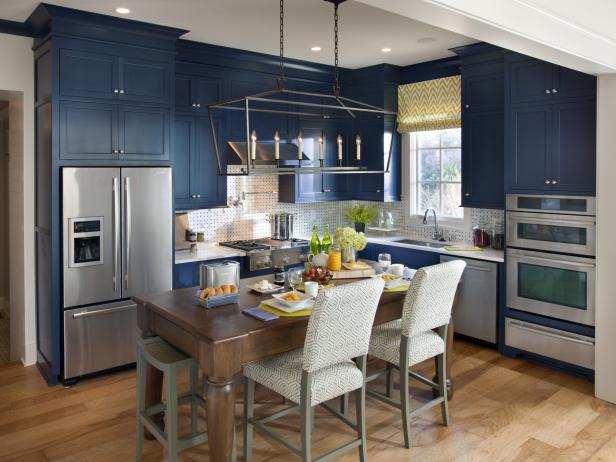 Navy is practically a neutral — it pairs beautifully with everything from tangerine to turqouise to chartreuse. In the HGTV Smart Home 2014 kitchen, navy cabinets are offset by a black-and-white basketweave backsplash for lots of eye-catching contrast.
Go all in with these daring shades.
Want to instantly energize your kitchen? Just add a vibrant shade of red. To keep it from feeling overwhelming, try contrasting it with a cool color, like the blue-gray Brian Patrick Flynn used here. If you're not ready to commit to red cabinets or walls, incorporate the color in small doses with red countertop appliances, dish towels and other accessories.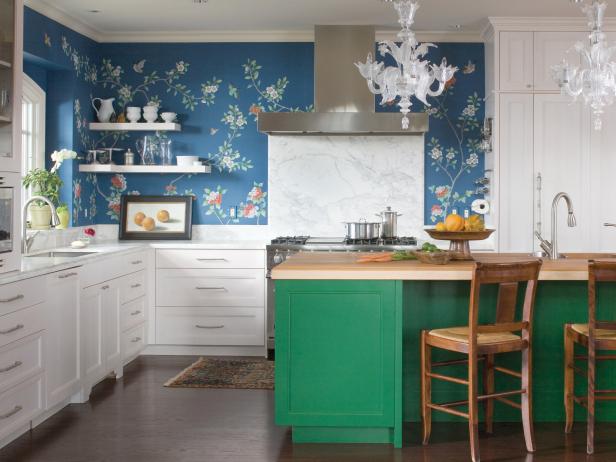 Just a splash of this gorgeous green will make a big impact in your kitchen. In this design, Andrea Schumacher painted only the island, pulling a color from the floral wallpaper to keep the space cohesive. For an ultra-rich look, pair emerald with other jewel tones.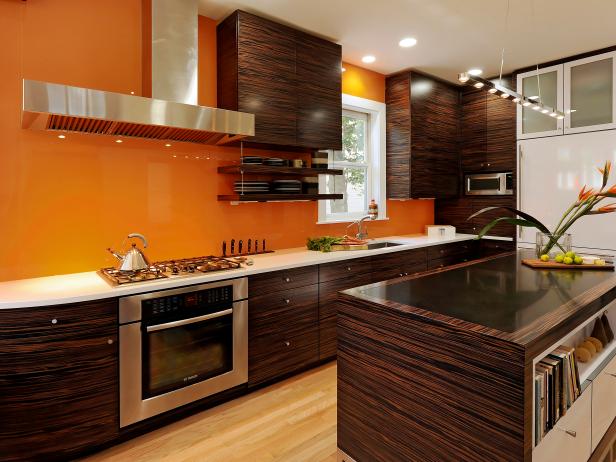 Orange is thought to stimulate the appetite, making it an ideal color choice for the kitchen. In this space by Jennifer Gilmer, an orange backsplash and zebrawood cabinets add warmth, keeping the contemporary design from feeling cold. Smaller orange accents, such as pendant lights or window treatments, can also liven up a kitchen.
Source: HGTV