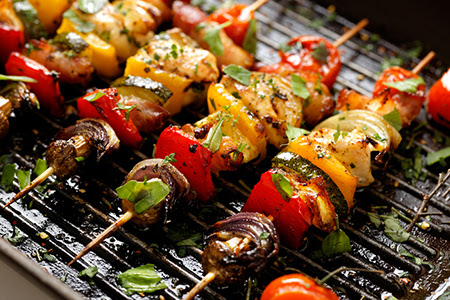 Ahhhhh, the sweet smells of summer BBQ!  Nothing beats grilling and chilling!
There's nothing better than the flavor and presentation of food cooked on a grill. The slightly smoky flavor and ease of preparation makes grilling one of the top cooking methods any time of the year. Even when there is a chill in the air, stepping outside to grill a meal is quick and easy.
Now that summer is around the corner, many of us are dining al fresco, and that often includes a grilled dish. Almost any food can be grilled, from steak to Portobello mushrooms, and occasionally a food that you wouldn't imagine, such as thickly cut Greek cheese (Halloumi), which grills perfectly.
For those who don't have access to an outdoor grill, I've had success with cast-iron indoor grilling pans. Indoor grilling pans, which can be found in any cookware store, add a depth of flavor similar to outdoor gas grilling. I own two square ones that fit over a burner and can accommodate two servings of protein or four pieces of fresh corn or sliced eggplant.
Here are some of my tips to make the most of your grilling.
What to Grill
Most important, you need to know which foods are best grilled. Any cut of meat or chicken is ideal for grilling.
For dark-meat chicken, I recommend cooking it first in the oven to get it about three quarters done and then finishing it on the grill to avoid overly dark or blackened skin. Chicken breasts cook quickly about three minutes per side. I recommend you pound the chicken to an even thickness to assure perfect doneness.
Fish is best if you choose steak fish (such as tuna, salmon, swordfish or shark) or whole fish (such as snapper or bass). Shellfish, including shrimp, scallops, clams and lobster, are wonderful on the grill and can be served room temperature or as part of a salad. I tend to avoid thin fish fillets for grilling as they are too delicate for the high heat and difficult to move off the grill.
All kinds of grilled vegetables are wonderful. My personal favorites are asparagus, mushrooms, onions, peppers, zucchini, eggplant, cauliflower, unripe tomatoes and corn. Consider buying a grill basket for smaller veggies to avoid them falling into the grill. For the vegetarians among us, both tofu and tempeh are delicious in their grilled form, especially paired with a flavorful marinade.
Get the Grill Ready
To prepare the grill, heat is of utmost importance for a guaranteed non-stick surface. If your food is not ready to turn easily, simply leave it another minute to ensure the proper sear. If you are grilling something with little to no marinade, be sure to spray the grill lightly with vegetable cooking spray or brush lightly with olive oil.
The Marinade
My favorite element in grilling is the marinade. A marinade can be as simple as vinaigrette with a few fresh herbs mixed in, and sauces such as salsas, pestos and reserved boiled marinades add a ton of flavor to just about any grilled food.
Because there's no sauce or fat in the pan, and most grilled foods cook fairly quickly, a marinade not only tenderizes, but adds flavor. I usually marinate dishes for at least two hours at room temperature or overnight in the refrigerator, depending on what you're preparing.
I recommend reserving the leftover marinade and bringing it to a boil in a small saucepan for four or five minutes, to kill any bacteria, along with a little red wine, if desired, and you have an amazing sauce to drizzle over your grilled dish.
There's the Rub
Fish is one exception where the marinade can actually cook the fish, so don't marinate fish and shellfish for more than an hour. This is where a spice rub can be the perfect flavor enhancer. I often use spice rubs for tuna, salmon or shrimp.
Simply toast a few of your favorite spices, such as cumin, mustard seeds, peppercorns and coriander. Grind them in a coffee or spice grinder, coat the fish lightly with olive oil, then sprinkle the spices and a pinch of sea salt. You've now elevated your fish to another level.
Grilled Bread
I love the taste of grilled bread and often serve it lightly brushed with extra virgin olive oil and rubbed with a cut clove of garlic, as you might enjoy in Tuscany. Grill the bread for three or four minutes on each side and serve with chopped tomatoes, olives and mushrooms, or, serve it plain, with a few shavings of Parmigiano-Reggiano. I often make hummus or a spread, such as a white bean puree, to serve guests while they are having a chilled glass of wine.
Source: RisMedia