When selling a home, even tiny fixes can have a big impact. Here are 10 of the best low- (or no-) cost home improvement fixes to make your house stand above the competition:
1. Address the Heart of the Home
In real estate, the kitchen is a main selling feature and can be a make or break deal for potential home buyers. If a new kitchen just isn't in the cards, consider replacing smaller ticket items and de-cluttering. Low- and no-cost fixes for the kitchen include:
New cabinet hardware
New faucets
Installing a new backsplash
Storing countertop appliances to create more work space
Replacing dark valances with lighter fabric or removing them altogether
2. Update Switch Plate Covers
Switch plate and outlet covers are brittle, and can crack and yellow over time, resulting in a home that, no matter how well updated, still looks dated. New outlets and covers can be replaced in a snap for generally under five dollars, making it one of the lowest cost updates available. Consider flat switches that create a modern, streamlined silhouette and stick to white for a timeless look.
3. Beautify the Bathroom
An updated bathroom comes only second to kitchens in a buyer's list of must-haves, so showing them a clean and uncluttered bathroom will score points with any potential buyer.
New flooring can give an otherwise tired bathroom a much needed facelift and create a newer looking bathroom overall. Coordinating linens, a new shower curtain, and thoroughly cleaned grout can top off this easy home improvement investment.
4. Address Storage
Storage is always a concern for buyers. Installing low-cost closet organizers to your existing space will increase storage and organization in your home. Add storage baskets to hide clutter and you will have beautiful storage spaces that will make any buyer envious.
5. Deep Clean for a Good Return
If your home contains wall to wall carpeting, clean carpets can make a world of difference to a buyer. Cleaning carpets can easily be completed in a weekend with a rental cleaning machine, and it creates a noticeably clean, odor free environment for buyers to tour.
6. Boost Curb Appeal
Nothing boosts curb appeal like a tidy yard. Trim and edge walkways, weed gardens, and trim shrubs for maximum impact. If you have a porch, consider potted, seasonal plants to bring the look together.
7. Improve the First Impression
As buyers approach your home, first impressions matter. Ensuring your entryway is clean and inviting with something as simple as a new mailbox or updated house numbers will make buyers feel welcome. Clean windows and doors for extra impact.
8. Add a Coat of Paint
Freshening up your living space with neutral colors will invite buyers to imagine their belongings in your home and will cover up any nicks, scratches, or dents your wall incurred over years of daily living.
9. Update Lighting
While not the lowest cost solution on our list, you will find that a new light fixture or two really breathes new life into key living spaces. If your budget is tight, look to kitchen, dining, and living rooms for the most bang for your buck.
10. Add Some Decor Pizzazz
Finally, a fresh look can be completed with nothing more than some colorful fabric. Inexpensive pillows and throws in a coordinating palette through your home will create a unified look that will have buyers hooked.
Lastly, don't plan to tackle a home project DIY style until you read 5 Things You Need to Know Before DIY-ing A Home Improvement Project!
Source: CB Blue Matter Blog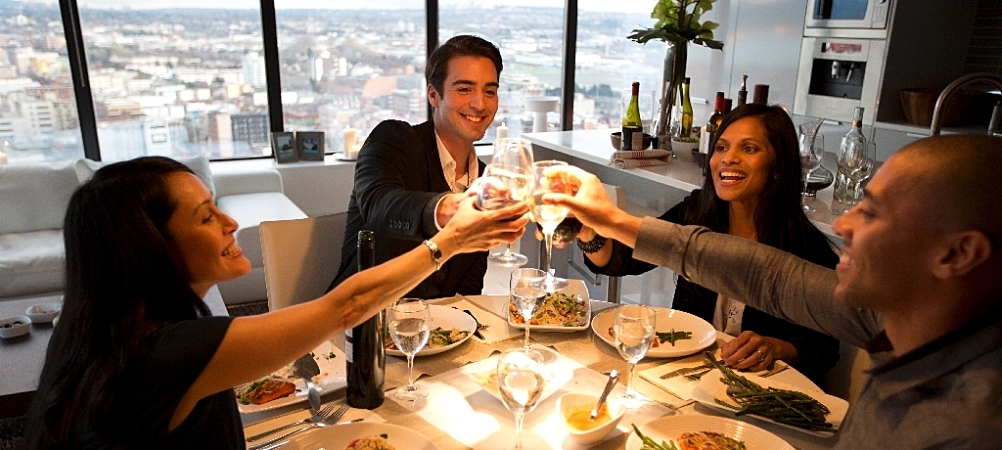 An uncluttered counter is essential in a small apartment. It looks attractive, feels more airy, and encourages you to cook, rather than sending you running for the takeout menu. So get creative with kitchen storage ideas, and you can make clean counters a reality.
No Drawers? No Problem!
Some tiny NYC kitchens lack drawers. This may seem like a big problem, but with a few clever kitchen storage ideas, you can work around it. For utensils, you have plenty of options. Mason jars work great. You can do what Heather Clawson of Habitually Chic did, and put them on the counter where they double as an attractive interior design element — but if you're striving for empty counters, simply put them inside a cabinet. If you don't want to use mason jars, you can use the kind of utensil caddytypically used for outside dining. It has separate compartments for each type of utensil, making it the perfect storage tool for forks, knives, and spoons.
Nesting Bowls
If you like to cook and bake, you'll have lots of mixing bowls, ramekins, and dishes. In order to allow them to be organized inside your cabinets and take up as little space as possible, it's important to look for nesting bowls. Try Williams-Sonoma's glass or melamine bowls — they're incredibly useful for cooking while taking up minimal space.
Use Your Oven
Where's the best place to store big, bulky pots and pans in a tiny kitchen? The oven! This saves invaluable cabinet space in a compact kitchen, and it takes only a few seconds to remove all the pots when you need to use the oven for cooking. If you have the appropriate overhead space, a pot rack can also be a good space saver — but be sure that your pans are attractive enough to be on constant display (copper is always a beautiful, high-quality option).
Maximize Wall Space
Use your wall space whenever possible. You can hang up a magnetic knife rack; you can also hang spices on the wall or the refrigerator, if you get magnetic spice containers. Both options look fun and eclectic, while saving valuable cabinet space.
Create More Counters
When your counter space is sparse, you need to get creative. Here's an idea: Buy a large wooden or marble cutting board and place it over two of the stove burners. Instant extra counter space! When you're not using the cutting board for cooking prep, you can put something on it like a French press or a spoon holder. It's a win-win … but you must be careful of your stove dials! Always be vigilant about not accidentally brushing against them and turning them on while the cutting board is in place.
With these tips, your compact kitchen will be a clean, uncluttered space, perfect for whipping up meals and hosting friends!
Posted on November 1, 2017 at 9:02 am
Kappel Gateway Realty
Category:

appliances, cabinets, Homeowners, kitchens, living small, real estate, remodeling
Tagged

cabinets, Coldwell Banker Kappel Gateway, counters, drawers, fridge, kitchens, oven, space, storage, stove