Is it possible to have children, pets, and beautiful flooring? Yes—but you've got spills, muddy feet and the occasional pet "accident" working against you. You just want to find flooring material that meets your needs, like:
Durability – The floors should be able to withstand untrimmed dog nails, kneading cats, and sippy cup spills.
Easy to clean – In a house full of kids and pets, messes are going to happen. What's important is that your flooring material is easy to mop, sweep, and clean with your preferred products.
Safety – The right flooring for your family is safe, soft and slip-resistant. You also want to check that it doesn't contain harmful chemicals—such as lead and phthalate.
Visual appeal – It's your home—you should enjoy your space! That means picking out flooring that makes you happy. Choose an appealing color and texture that compliments your space.
Price – According to HomeAdvisor, it costs an average of about $2,900 to install flooring in your home. Since new flooring is a big investment, it's best to pick a material that's cost effective and will last a few decades.
Here are materials that do and don't meet these specifications.
The Best
Bamboo Flooring
Bamboo floors are kid, pet, and earth friendly. Bamboo's surface is hard (on par with maple and oak flooring) and extremely durable. It's also stain resistant and can be easily cleaned using a mop, broom, or vacuum. And, its attractive exterior should be able to withstand scratches from toys and claws, making it the ideal choice for families.
Linoleum
Linoleum flooring makes the list because it's easy to clean, fairly water resistant, quiet, and hypoallergenic (a must with stray furs flying around). And, since its color and print design extends from the surface into the base, it's harder to detect scratches.
Vinyl
Vinyl flooring is among the most resilient flooring materials. Its tough surface will resist scratches, tear, and wear and is incredibly water resistant. And, it takes minimal maintenance to keep clean. Spills and stray hairs can be mopped, swept, or vacuumed away in minutes time and won't leave long-lasting stains. Just be sure not to skimp on the price—cheap vinyl won't offer the same durability and softness as higher end brands.
Tile or Stone
Tile flooring is a great option for families and pet owners because it can stand up to almost any mess or accident. It's water resistant, stain resistant, and incredibly durable. Terra cotta and natural stone are beautiful and will compliment almost any home. One drawback is the relative hardness of the flooring—what makes it so easy to clean is also what makes it uncomfortable to sit and play on. Counteract this by adding a soft play rug to rooms where animals and kids gather and keep the beautiful flooring for yourself.
Rethink Carpet
While this is one of the most popular types of flooring, it has many qualities that children and pets love—it's soft, warm, and slip resistant. However, it does a terrible job hiding pet accidents, fur and stains. It can also trap foul smelling odors! Even worse, looped cut carpet can catch on animal claws and cause a lot of pain. If you must have carpet, choose either polyester, nylon, or eco-friendly, triexta fibers. These types are known for their durability and stain resistance.
Choose Flooring That Will Last
Choosing the right flooring for your family is important—the floor is where you gather, play, and roam. Why spend that time worrying about spills and messes? The right flooring for your family will stand up to the chaos and provide a space for fun first.
Katy Caballeros is a freelance writer who enjoys scheming eclectic home design ideas for her apartment. She can usually be found with book and bottle of ginger beer on the weekends.
References
Source: Coldwell Banker Blue Matter Blog
Posted on October 3, 2017 at 9:01 am
Kappel Gateway Realty
|
Category:

cleaning, decorating, DIY, projects, real estate
|
Tagged

bamboo, clean, cleaning, Coldwell Banker Kappel Gateway, construction, durable, Flooring, floors, install, knowledgeable, linoleum, maintenance, pets, real estate tips, remodeling, spills, stone, tile, trusted advice, vinyl, water proof, wood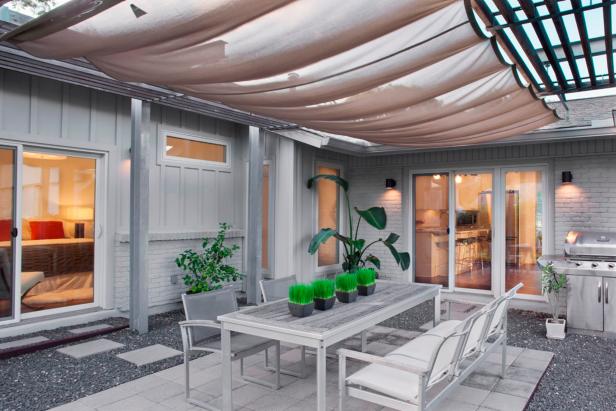 It's not just you…who ever said "I just love to mow the lawn and pull weeds"!  Here are some fab ideas for a grass free, easy maintenance yard!
While we can all agree that a lush, green backyard looks gorgeous, grass just doesn't work for everyone. And grass is definitely not a requirement for a chic and stylish outdoor space. Whether you skip the grass because of your climate, the care and upkeep reasons or simply because of your personal style, there are lots of great options for creating a fabulous grass-free outdoor space.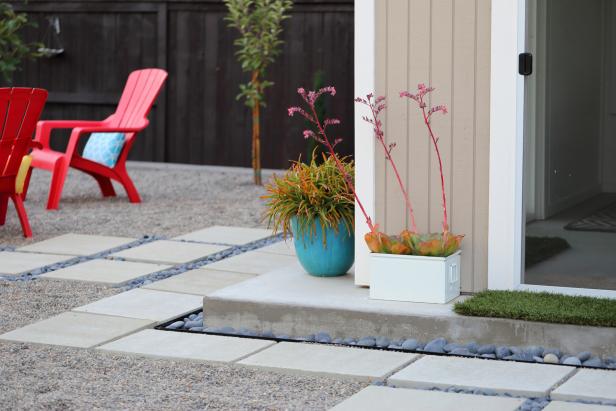 Joslyn Amato
We've rounded up 10 of our favorite concrete backyard spaces to help get you inspired for your summer outdoor makeover.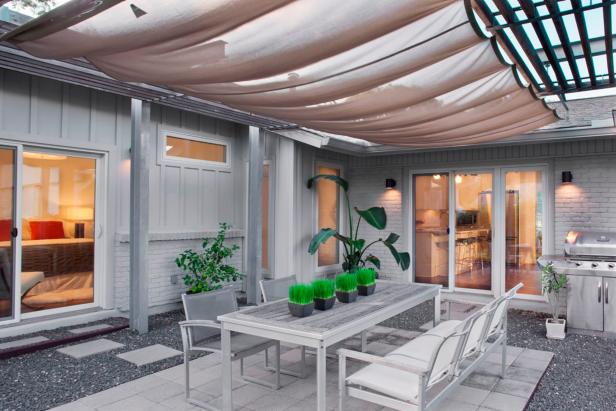 COLES HAIRSTON
Paula Ables Interiors created this shady outdoor dining space using a variety of textures and materials. The combo of gravel and concrete pavers, paired with the painted brick walls and overhead wood slats, helps bring a modern, fresh feel to this backyard.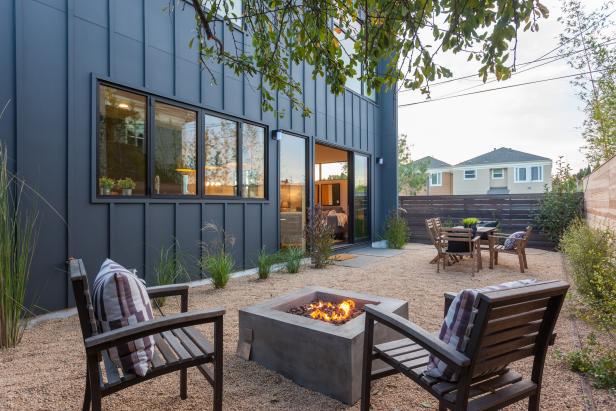 Peter Lyons
This outdoor space by Baran Studio Architecture is an easy, inexpensive solution for unused space in your backyard. Instead of grass, use pea gravel to cover the ground. The homeowners have a built-in fire pit; however, you could easily add a portable fire pit or chiminea for a similar look.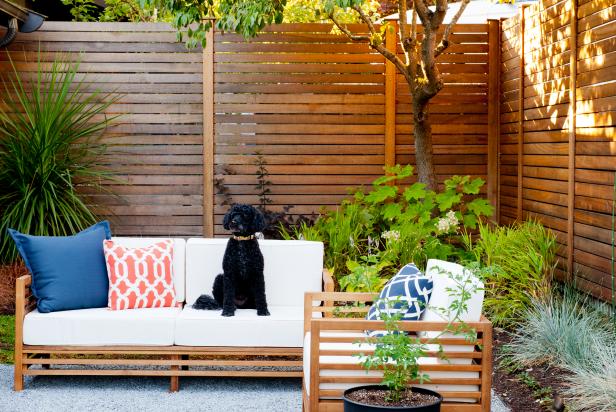 Coreen Schmidt Photography
If you're lucky enough to live in a milder climate, you might want to create an outdoor living room like this one by Project Groundwork. With a couple of well-placed pieces of outdoor furniture, you can set up a hangout area. Using gravel and some plants and shrubs, this outdoor space feels super cozy and inviting.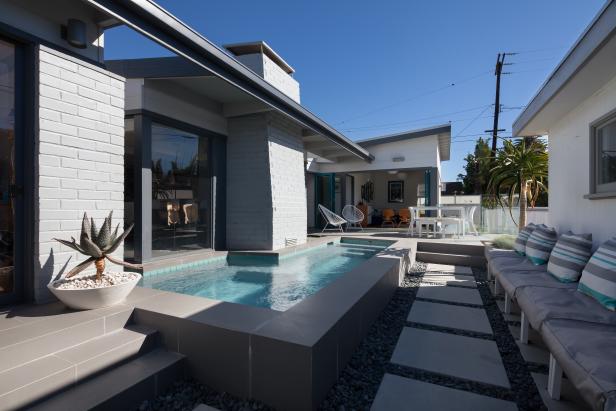 Chang Kyun Kim
Concrete and gravel are also a great choice of materials to use as a pool surround, like this one by Synthesis Builders. They used large concrete pavers to help create a visual distinction between the pool and seating area. The gravel provides a beautiful texture to the backyard.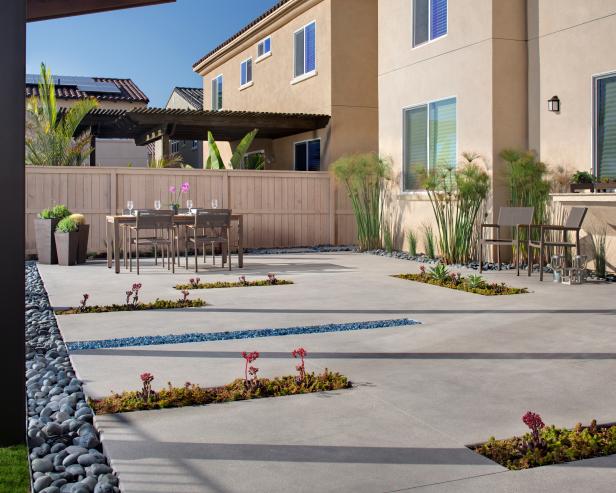 Zack Benson
Here's an example of a really clever way to break up a larger concrete outdoor space by landscape architect Angel Carrasco. These small cutouts in the ground filled with plants and shrubs create a break for your eyes and add beautiful pops of color and texture.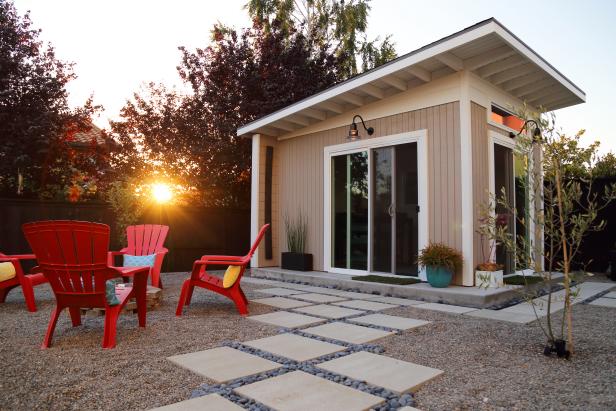 Joslyn Amato
If you have a larger backyard and want to add a studio, office or guest house, consider setting up your space like Landwell Design.

Source: HGTV.com Blog
Posted on June 6, 2017 at 3:50 pm
Kappel Gateway Realty
|
Category:

backyard, BBQ, decorating, DIY, Entertainment, grill, landscaping, lawn, maintenance, Pools, projects, real estate, Uncategorized
|
Tagged

10 No-Grass Backyards You Can Pull Off Anywhere, California real estate, Coldwell Banker Kappel Gateway, concrete, maintenance, no mow, pavers, real estate tips, stone, trusted advice