Whether you're buying, selling or staging a home, popular architectural styles and buzz-words can help you get the most out of your investment. Current and upcoming homebuyers have an "instant" mindset, are debt-savvy, and want all the luxuries of rural living in growing cities. Trending architectural styles, like shipping container and tiny homes, reflect the budget-friendliness and fast construction new homeowners want. Contemporary glass structures, modern farmhouse, and a Spanish-colonial revival make way for bigger homes and budgets.
Shipping Container
These days, building your own home is as easy as clicking around on a website or flipping through a catalog, mixing materials and adding desired features. The architecture that results is a Lego-like, innovative blend of textures and shapes that is "unique" to the homeowner's preferences and taste. These styles are known as shipping container style homes. Some simulate the appearance of or incorporate actual shipping container material in their textures. By selecting from pre-fab, mix and match elements, homeowners can be sure that these features are ready-to-go. They can get exactly what they want without wasting time or resources.
Tiny Home
Floor plans for both homes and apartments are getting smaller and smaller as the demand for land goes up and urban populations boom. Architects and builders are getting creative with their designs, finding new ways to make the most out of spaces as small as 300 square feet. This is "tiny home" size. These homes often sell at a lower price point than traditional-size homes, which makes the investment easier for modern homebuyers who are grappling with significant loan debt. These designs make the most out of every square inch with hidden storage, multi-use rooms and concepts like open space and indoor-outdoor living.
Santa Barbara
One of the most desired builds, right now, is the Santa Barbara style of architecture. This involves white stucco walls, wood beam ceilings and red tile roofs. It gets its name from the Spanish Colonial style that boomed in Santa Barbara in the early 1900s. The city set the trend for the rest of the country and homeowners are finding that the aesthetics of this style are a top choice for their dream homes.
Modern Glass
Homeowners are knocking out walls and replacing them with glass doors and walls to see through to their back yards or patios. Incorporating the outdoors into indoor spaces is a top trend, right now. With the glass features, homeowners tend to blend sleek materials like concrete or wood. Modern glass style homes allow the outdoors to flow into the indoors and vice versa. This is a great trick to make the most of your property.
Updated Farmhouse
The farmhouse style has been a long-standing architectural icon. However, these days, the style is changing to incorporate more modern elements. The result is known as the modern farmhouse. In many builds, the design begins as a modern home outfitted with rural accents like barn doors and farmhouse siding. For builds that begin in the farmhouse style, modern colors and mixed industrial textures bring the old into the new.
If you are considering a new construction, an architect can help you to stay on top of the trends so that your home will be a success on the market well into the future. According to HomeAdvisor, the average cost to hire an architect is $5,000. They can guide you through the process to help maximize on your time and resources.
Lauren White is a freelance writer who enjoys reading, hiking and traveling. She can usually be found on an outdoor adventure with her boyfriend and little sister on the weekends.
Source: CB Blue Matter Blog
Posted on February 5, 2018 at 12:52 pm
Kappel Gateway Realty
Category:
Homeowners
Tagged

architectural features, Coldwell Banker Kappel Gateway, first time home buyers, homes, real estate, real estate tips, remodeling, shipping containers, staging, tiny homes, trusted advice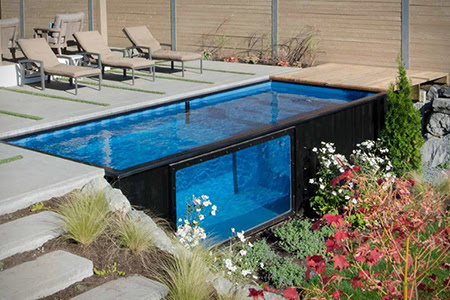 Shipping containers have long been found to have a myriad of uses, from storage to houses. Who knew a shipping container would make a terrific pool!!
One Canadian couple is making a splash transforming shipping containers into backyard swimming pools. (We always knew those shipping containers were universal!)
Paul and Denise Rathnam launched Modpools earlier this year and the idea has taken off, with orders mostly coming from the hottest locales in North America, particularly California, Nevada, Texas and Florida.
"The traditional pool is a symbol of excess and waste. This is a little more modern, more modest. We're repurposing something rather than recycling. This pool can be resold, and you can take it with you if you move," Paul Rathnam told Vancouver Sun.
It's an interesting concept, for sure, and the design, once installed, looks pretty slick. It's as if your backyard was always destined to house a shipping container.
The standard size Modpool is eight feet wide by 20 feet long, and just over five feet deep. It also comes with a clear, acrylic window on one side, which is actually a pretty spiffy design element. Customers can opt to add another acrylic window on the other side for a see-through look if they want one.
In Canada, after delivery, a Modpool will cost you $35,000 plus tax, which could be a cheaper alternative for families planning on installing an in-ground swimming hole.
Source: RisMedia
Posted on July 8, 2017 at 1:00 pm
Kappel Gateway Realty
Category:

backyard, Family Fun, Pools, real estate, shipping containers, summer, Uncategorized
Tagged

above ground pools, Are Shipping Containers the Future of Swimming Pools, backyards, California real estate, Coldwell Banker Kappel Gateway, in ground pools, pools, real estate tips, shipping containers, swimming, swimming pools, trusted advice