When you are selling your home, it can be easy to be in a vacuum. You have a certain idea of what the market should pay for your home and what may or may not be an issue. After all, you are king of your castle, right? Your home has x, y and z . The location can't be beat. It's just around the corner from (insert fabulous restaurant, park, coffee shop, school, etc. here).
However, when buyers and agents are coming through your home, it can be where distorted perception meets reality. Here are the top mistakes sellers make and how to avoid them.
1. Overpricing Your Home
If your home is overpriced, two things won't happen: showings or offers. The price is what sets the tone for showings. It is the nonverbal message that either invites or discourages activity. If it is too high, buyers that can afford it may be interested in something else, as they can go higher in price range, and the audience for whom it was intended price-wise are usually shut out. To avoid frustration over offers much lower than your set price, have an open discussion with your real estate agent to set the right price for your home.
2. Making Showings Difficult
Restricted showing times, no lockbox or having to be present for all showings can impact the ability of showing traffic through your home. If there are umpteen instructions or restrictions, agents and their buyers will simply move on to those properties with less rules. Work with your real estate agent to find a way to make showings convenient for both you as the seller as well as potential buyers.
3. Not Countering an Offer
While everyone would love to get the most for their home, a seller also needs to keep a realistic balance. It is too easy to get hung up on the starting number in an offer when the focus should be on what the end result is. The opening offer is simply that –a starting point. It gets a conversation going and results in hopefully a happy medium that is amenable to the buyer and seller. Not countering an offer is like having a one way conversation. It won't work. How can you move to sold if you can't have a dialogue of back and forth? It doesn't mean that the buyers aren't serious, they are simply being conservative in their first offer to get a feel for how the negotiation is going to go. It doesn't mean that is the most they are willing to pay unless the offer was positioned that way. Failure to counter sends a discouraging signal to the buyer that can create an uncomfortable situation, perceived or real. Buyers want to do business with sellers who are eager to do business with them. You don't have to give away the store to do so, but certainly responding with a number in good faith is a step in the right direction.
4. Property Condition Denial
Would you as a buyer pay top dollar for a home with original systems approaching the end of their life? In today's real estate climate, buyers, lenders, appraisers and inspectors are more scrutinous than ever. It is not only the buyer, but the lender, appraiser and the buyer's insurance company that could be making the call on a home's condition. Before you sell, be realistic about the condition of your home. Unless the home is deeply discounted below market value, which realistically means it would be far too low pricewise that you would agree to accept, the buyer will care about it and if they don't, their home inspector certainly will!
5. Selective Memory
Sellers often fear that if they disclose too much or provide too many details, that it could affect their ability to sell for top dollar; however, failure to disclose could open you up to liability after the sale. Leaving questions blank, or not being clear on the age of certain things only creates more red flags and concern for a potential buyer. If you answer the questions honestly and fully disclose any known issues or repairs that were made (with receipts to document and provide a history) it will eliminate buyer fear and doubt.
For more seller resources, or to find a real estate professional in your area, visit coldwellbanker.com.
Source: CB Blue Matter blog
Posted on November 6, 2017 at 8:36 am
Kappel Gateway Realty
|
Category:

appraisal, buying, curb appeal, Homeowners, Multiple offers, open houses, real estate, Sellers Market, selling
|
Tagged

Coldwell Banker Kappel Gateway, counter offer, first time home buyers, knowledgeable, open homes, overpriced, overpricing, owners, realtor, remodeling, sell my home, sellers, selling, showing, staging, trusted advice

Outdoor living can be constrained due to seasonality, but it doesn't have to be– especially if it means you'll utilize your patio area longer! As the temperatures get cooler and the days get shorter, it becomes harder to create a space outdoors that is comfortable and inviting. Here are some tips on how to continue to enjoy your outdoor living space indefinitely.
1. Outdoor Heater
Perhaps the more obvious of cool weather accommodations, adding heat to your outdoor space will allow you and your guests to relax in fresh air with warmth. Whatever your budget may be, there's a heater that will work for your space. Ranging from less than $100 to well over $1,000, they come in many varieties and power sources such as a table-top gas heater or a standing solar-powered heater.
Standing heaters are great for heating up a patio space, typically running off of propane or natural gas. Using natural gas is the more efficient of the two and you'll never run out of fuel. You also have the option of an electric heater, that has a lower upfront cost and costs less to run than a gas-powered heater. If you're looking for a cost effective and eco-friendly option, a solar-powered heater is just right for you–providing all the warmth from the sun's energy.
2. Fire Pit
Creating a space with warmth is key, but adding that element with an extra emphasis on aesthetic appeal is a bonus. You can easily create your own using bricks or large rocks to create the pit or purchase one installed by professionals, depending on your budget. Similar to outdoors heaters, there are a variety of fuel source options. If open wood burning isn't allowed, you can install a fire pit that is fueled by gas. One advantage is that you can fire up your pit in an instant.
Not only can fire pits add warmth and depth to your patio's hardscaping, but it also creates a collaborative social atmosphere– there's nothing more nostalgic than roasting marshmellows or telling scary stories around the flickering blaze of a real fire.
3. Coverage
There's nothing that really outlines a space like adding coverage by way of roof or walls, such as a pergola. As LawnStarter says, "pergolas give that "room" feeling to an open space." Adding in a pergola or retractable awning can definitely help curate a more suitable ambiance in the winter months. If you already have a covered patio, you can hang outdoor curtains to contain heat and to help keep out wind or rain. Hanging up curtains will also add a whimsical, potentially romantic look to your patio space, softening the corners and rigidness of hardscaping. With the selection of colors, patterns and styles, you won't have to sacrifice your fashion sense to keep the patio warm!
4. Cozy Fabrics
Creating an extra comfortable outdoor space means adding textiles that will repel warmth from their materials. These textiles include getting cozy outdoor couches, warm blankets, and throw pillows—all items that you or guests can curl up on and into. A couch with cushy cushions and throw pillows sure beats your run-of-the-mill patio furniture. Have a stack of low-cost, but decorative, blankets on hand when additional warmth is needed.
5. Hot Tub or Spa
Relaxing in a steamy hot tub or in-ground spa feels great all year long, but in cold weather, the temperature difference can make it feel even better. Although, using it during the cool months may require a little preparation before stepping out into cold weather in a swimsuit. Keep snow and ice off the path to the tub and the top of your tub or the spa cover to make it accessible whenever you want to use it–plus, it will help keep heating costs down.
To experience ultimate luxury post jacuzzi bathing, keep a towel warmer next to the spa. It's actually more practical than it sounds—a warm towel will keep your body temperature from dropping too quickly when you step from the tub.
6. Hot Beverages
Hot chocolate will always be the quintessential winter warm-up, why not be a bit more exciting? Take the time to create a personalized hot beverage that you, your family or guests can enjoy to help withstand the cool weather.
Warm Mulled Cider – Simmer apple cider with mulling spices, orange zest, and ginger. It smells as good as it tastes.
Mulled Wine With Cranberries – Simmer cranberry juice cocktail, cinnamon sticks and star anise for 15 minutes. Stir in the wine and cranberries and bring back to a simmer before serving.
Warm Hazelnut Toddy – Stir hot water into Frangelico and spoon that dollop of whipped cream onto the top.
7. Winter Grilling
Grilled meats and kabobs don't only have to be a summer food item, enjoy summertime barbeque inspired flavors in the winter months by utilizing your grill. For that matter, grilling can be done year-round, all you have to do is keep a pathway cleared if you're in a location that experiences snowfall. You might want to move the grill closer to the house for the winter to save yourself some steps when it's really bitter out.
If and when the temperatures are below freezing, it can take twice as long to preheat the grill and cook your food. Keep the lid closed as much as possible when cooking, the more often you open it the longer it will take due to the release of heat.
When preparing your home for winter, whether it be indoor or outdoor maintenance – save the storage time and carry summertime outdoor living over into the cooler months using these tips!
Source: CB Blue Matter
Posted on October 30, 2017 at 2:50 pm
Kappel Gateway Realty
|
Category:

backyard, decorating, real estate
|
Tagged

California real estate, Coldwell Banker Kappel Gateway, fire pit, heater, hot tub, lighting, outdoor, porch, real estate tips, remodeling, spa

Not a fan of granite countertops? Here are 6 beautiful alternatives.
Guest Post By Andrea Davis
Granite's durability and looks make it a popular investment for many homeowners. But there are other options aside from granite. Keep reading to learn more about six alternatives to granite countertops.
Butcher Block
Butcher block countertops provide visual warmth to modern spaces, particularly those with white cabinetry. These countertops are also very cost-effective, especially compared to natural stone.
You'll need to make oiling a regular part of your maintenance routine if you do install butcher block countertops. You'll also need to use trivets or pot holders under hot pots and pans to avoid burning your counters.
Soapstone
Soapstone is a natural stone that's easier to maintain than marble, but still requires more work than sealed granite. Soapstone is particularly vulnerable to liquids and acidic spills. Too much heat can also damage its appearance. Despite regular maintenance, soapstone is a beautiful alternative to granite.
Marble
Marble is a natural stone that is considerably softer and more porous than most other stone options. If you don't have a busy kitchen, marble can be a perfect material. For busy home chefs and homes with kids, marble may not be a good choice.
Ceramic Tile
Ceramic tile is a fun and incredibly durable countertop material. Unlike other countertops, ceramic tile isn't prone to damage from liquids or heat. Ceramic tiles can stain and chip over time, but individual tiles are easy to replace. Tile is also extremely inexpensive, making it an ideal choice for budget-conscious homeowners.
Stainless Steel
Stainless steel's sleek looks and durability make it the perfect material for modern or cooking-focused kitchens. You can wipe down stainless with a cloth, though special cleaner should be used from time to time as well. Stainless steel countertops can be expensive, but they're perfect for design- or cooking-obsessed homeowners.
Quartz
Quartz, also called Caesarstone or Silestone, is a man-made stone that's cost-effective and attractive in many spaces. Its uniform finish also appeals to many homeowners who feel that natural stone is too busy in terms of patterns. Quartz is easy to maintain and incredibly durable, making it the ideal choice for homeowners who use their kitchens regularly.
Andrea Davis is the editor at HomeAdvisor, which connects homeowners with home improvement professionals in their area for free. Connect with Andrea on Google+
Source: CB Blue Matter Blog
Posted on October 23, 2017 at 10:00 am
Kappel Gateway Realty
|
Category:

appliances, cabinets, decorating, Homeowners, kitchens, projects, real estate
|
Tagged

Coldwell Banker Kappel Gateway, concrete, counters, Formica botcher, granite, homes, kitchen, maintenance, marble, quartz, remodeling, remodels, wood

Here are a few big-picture renovations you can make in surprisingly little time, whether you do it yourself or hire help.
Guest Post by Lauren White 
Remodeling projects can seem like a distant fantasy when days off are usually consumed by errands and chores. What can you accomplish with the slim hours you have to spare? Here are a few big-picture renovations you can make in surprisingly little time, whether you do it yourself or hire help.
Instant Patio
Time: 4-6 hours
Budget: $3,000
Outdoor spaces are deceptively quick and affordable to make. If you have a half-day to spare, you can turn a patch of yard into a gorgeous patio before sundown. The processwill involve digging and leveling the area you need, preparing a base for proper drainage and laying your stones. Once the project is complete, you will have a relaxing outdoor living space to enjoy.
Keep your time down by choosing pavers or bricks that don't need to be cut. Interlocking patio pavers come in many variations and they eliminate the dilemma of fitting awkward pieces together.
One-Day Backsplash
Time: 2-8 hours
Budget: $30-$600
It only takes a few hours to install a new kitchen backsplash, but it could take less time depending on the material you choose. If you paint the backsplash, it will take mere hours of preparation and application. Painting costs as little as $30. If you use peel-and-stick ceramic tiles or rolls of faux metal, it will take roughly the same amount of time.
If you have more than a few hours, make a stand-out backsplash using an adhesive tile mat and individual tiles. The adhesive mat will ensure that heavy tile materials don't fall off, and requires less curing time than traditional, wet adhesive. Explore your tile options in HomeAdvisor's resource center.
Weekend Window Replacement
Time: 2-3 days
Budget: $5,000
High-efficiency windows are a strong investment, whether you are planning to sell or stay. These windows save homeowners anywhere from 10% to 30% in home energy costs. Efficiency is a top priority for today's buyers, and this project has over 70% return on investment.
Removing old windows, installing heavy panes and finishing up with framing is a complex process. Professionals can do it in a matter of days, where it might take you much longer. Hiring a pro is worth it, because this renovation will put money back in your pocket when it is done right.
72-Hour Countertops
Time: 1-3 days
Budget: $3,000
In most cases, you'll want to hire a professional to replace your countertops. Installation and cutting needs to be very precise, and most counter slabs weigh up to and over 400 lbs! With the right amount of muscle, you can finish this job in 1-3 days. Some materials and pre-fabricated pieces can even be installed in 3-7 hours.
Upgrading your countertops can do wonders to improve your kitchen and raise your home value. Granite, for example, can handle a lot of wear-and-tear. If your kitchen is like the Union Station of your house, this low-maintenance, high-resistance material is perfect for your counters.
For the adventurous weekend warrior, check out these countertops you can make yourself.
Two-Week Hardwood Floor Refinishing
Time: 2-14 days
Budget: $1,600
Flooring has a big impact on the appearance and value of your home. If your hardwood floors are in bad shape, you've probably already thought of refinishing them. Whether you hire a professional or do it yourself, you're going to need at least two days.In fact, you may need as many as fourteen.
You will need one day for sanding and one day per layer of polyurethane finish. Each layer will need 24 hours to dry. Two to three layers of finish are recommended. If you're going to stain the wood, add another day for that between sanding and finishing.
This project may take longer, but the results are worth it. Refinishing seals the wood against rot and moisture, and adds appeal for homebuyers. They will be more impressed by a glossy shine than rough, exposed wood. If you're not sure it's the right time for your floors, check out these answers to common questions to help you decide.
Investing in your property can mean a faster sale, or will at least give you a few extra luxuries to enjoy. See what you can accomplish with an afternoon or your next three-day weekend, and format your budget using these helpful cost guides.
Lauren White is a freelance writer who enjoys reading, hiking and traveling. She can usually be found on an outdoor adventure with her boyfriend and little sister on the weekends.
References
www.bhg.com/home-improvement/remodeling/budget-remodels/weekend-home-projects/
www.houselogic.com/remodel/remodeling-tips-advice/house-remodeling-how-long-does-it-take/
www.fix.com/blog/tile-kitchen-backsplash-in-one-day/
www.thespruce.com/easiest-and-cheapest-backsplashes-1821174
www.popularmechanics.com/home/outdoor-projects/a22394/how-to-build-a-bluestone-patio/
www.thespruce.com/process-of-installing-replacement-windows-1822901
www.replacementwindowsfordummies.com/articles/energy-efficient-windows-advantages-and-disadvantages
www.remodeling.hw.net/cost-vs-value/2017/
www.valentiflooring.com/blog/hardwood-floor-refinishing-project-how-long-does-it-take
www.thespruce.com/cost-to-refinish-hardwood-floors-1314853
www.homeadvisor.com/r/refinishing-hardwood-floors/
www.rempros.com/estimating-time/kitchen-countertop-replacement.html
www.diynetwork.com/how-to/rooms-and-spaces/kitchen/how-to-install-a-granite-kitchen-countertop
www.homeadvisor.com/cost/kitchens/tile-backsplash-install/
www.homeadvisor.com/cost/outdoor-living/install-a-patio-or-pathway/
www.homeadvisor.com/cost/doors-and-windows/install-windows/
www.homeadvisor.com/cost/flooring/refinish-wood-flooring/
www.homeadvisor.com/cost/cabinets-and-countertops/install-countertops/
Posted on October 13, 2017 at 11:52 am
Kappel Gateway Realty
|
Category:

construction, curb appeal, Fixer Uppers, kitchens, projects, real estate, upgrades
|
Tagged

bathroom, before you move, California real estate, Coldwell Banker Kappel Gateway, counter tops, first time home buyers, kitchen, maintenance, make over, moving, Patio, real estate, remodel, remodeling, windows

Now that October is here and it's officially fall, breezy colors and summery decor will start to feel out of place. Make holiday houseguests and potential buyers feel at-home with the comfy, cozy and even cheerful shades of the season. Follow along as we uncover eight trendy colors that will last through the new year.
1. Pumpkin Spice
As everyone is lining up for their long-awaited pumpkin spice lattes, the hue also has a well-earned spot in home decor. It's bold, exudes warmth and resembles the always festive holiday, Halloween. This color works well when painted on one wall, as shown above, or through accessories like rugs, pillows, and throws if you're color shy. It pairs well with neutral colors and monochromatic palettes as it takes the spotlight in all of its seasonal glory.
2. Autumn Red
If you don't use autumn red in autumn, when will you use it? Although it's a dramatic shade, it can infuse any room with a fiery and fun vibe. It adds intense energy to contemporary and modern rooms while being a happy addition to any playful, eclectic space. Use it intentionally and sparingly in a room to enhance its overall effect.
3. Emerald Green
There's so much to love about this deep shade of green. Unlike the previous colors that are more playful, emerald draws from its roots in Mother Nature to create a sense of calm in any space. Serving as the focus in this kitchen, emerald green cabinetry marries perfectly with blond wood tones and light countertops. Wouldn't you like to spend all holiday season here?
4. Navy Blue
Even darker and more daring than emerald green, navy is a close cousin to black. If you're not psyched about displaying the iconic holiday colors in your home, but still want to stay on the dark side of the spectrum, this shade of blue is perfect for you. Honoring its origin from the British Royal Navy, this color embodies ultimate elegance, sophistication and power. Bringing navy into your home this season can have surprisingly health benefits too. It's been shown to have a calming effect on the human body by slowing heart rate and metabolism.
5. Wine
Often an overlooked shade of purple, wine would make a lovely addition to any home this fall. Following suit with the deep tones discussed above, it has the strongest effect when used sparsely, as seen in this Chicago bedroom. Purple has historically been a color of royalty and power. Its wine pigment is no different, conveying richness and seduction in every capacity.
6. Steel Gray
Gray is one of the most versatile hues on the spectrum and can easily be used all year-round. Having said that, it's often hard to choose the right gray for the season. Light gray can be seen as a winter wonderland while charcoal can be hard to distinguish from black. Steel gray is a solid middle ground. It's the star of the show in this contemporary London kitchen with its sharp, clean and defined lines.
7. Mustard Yellow
A hue that echoes the falling leaves soon to come, mustard yellow provides warmth and joy to any space. It plays well with other bold colors, like the bright blue sofa and TV stand in this eclectic living room. For year-round summer lovers, this color can also serve as a happy reminder of the sunny days and will brighten up any interior.
8. Brown to Beige
Brown is a classic fall color, but too much of it can make a home feel more like a cave. Instead, use brown as an accent color and brighten it up with a lovely beige tone. Add in some white decor for a gorgeous layered look, like you see in this Denver bedroom.
Posted on October 6, 2017 at 8:44 am
Kappel Gateway Realty
|
Category:

Celebrate, color, curb appeal, decorating, interior decorating, real estate, summer, trends, Uncategorized
|
Tagged

blue, California real estate, Coldwell Banker Kappel Gateway, color, decorate, do it yourself, fall, first time home buyers, furniture, holidays, kitchen, maintenance, October, pumpkins, real estate, real estate tips, red, remodeling, staging, trendy, yellow

Is it possible to have children, pets, and beautiful flooring? Yes—but you've got spills, muddy feet and the occasional pet "accident" working against you. You just want to find flooring material that meets your needs, like:
Durability – The floors should be able to withstand untrimmed dog nails, kneading cats, and sippy cup spills.
Easy to clean – In a house full of kids and pets, messes are going to happen. What's important is that your flooring material is easy to mop, sweep, and clean with your preferred products.
Safety – The right flooring for your family is safe, soft and slip-resistant. You also want to check that it doesn't contain harmful chemicals—such as lead and phthalate.
Visual appeal – It's your home—you should enjoy your space! That means picking out flooring that makes you happy. Choose an appealing color and texture that compliments your space.
Price – According to HomeAdvisor, it costs an average of about $2,900 to install flooring in your home. Since new flooring is a big investment, it's best to pick a material that's cost effective and will last a few decades.
Here are materials that do and don't meet these specifications.
The Best
Bamboo Flooring
Bamboo floors are kid, pet, and earth friendly. Bamboo's surface is hard (on par with maple and oak flooring) and extremely durable. It's also stain resistant and can be easily cleaned using a mop, broom, or vacuum. And, its attractive exterior should be able to withstand scratches from toys and claws, making it the ideal choice for families.
Linoleum
Linoleum flooring makes the list because it's easy to clean, fairly water resistant, quiet, and hypoallergenic (a must with stray furs flying around). And, since its color and print design extends from the surface into the base, it's harder to detect scratches.
Vinyl
Vinyl flooring is among the most resilient flooring materials. Its tough surface will resist scratches, tear, and wear and is incredibly water resistant. And, it takes minimal maintenance to keep clean. Spills and stray hairs can be mopped, swept, or vacuumed away in minutes time and won't leave long-lasting stains. Just be sure not to skimp on the price—cheap vinyl won't offer the same durability and softness as higher end brands.
Tile or Stone
Tile flooring is a great option for families and pet owners because it can stand up to almost any mess or accident. It's water resistant, stain resistant, and incredibly durable. Terra cotta and natural stone are beautiful and will compliment almost any home. One drawback is the relative hardness of the flooring—what makes it so easy to clean is also what makes it uncomfortable to sit and play on. Counteract this by adding a soft play rug to rooms where animals and kids gather and keep the beautiful flooring for yourself.
Rethink Carpet
While this is one of the most popular types of flooring, it has many qualities that children and pets love—it's soft, warm, and slip resistant. However, it does a terrible job hiding pet accidents, fur and stains. It can also trap foul smelling odors! Even worse, looped cut carpet can catch on animal claws and cause a lot of pain. If you must have carpet, choose either polyester, nylon, or eco-friendly, triexta fibers. These types are known for their durability and stain resistance.
Choose Flooring That Will Last
Choosing the right flooring for your family is important—the floor is where you gather, play, and roam. Why spend that time worrying about spills and messes? The right flooring for your family will stand up to the chaos and provide a space for fun first.
Katy Caballeros is a freelance writer who enjoys scheming eclectic home design ideas for her apartment. She can usually be found with book and bottle of ginger beer on the weekends.
References
Source: Coldwell Banker Blue Matter Blog
Posted on October 3, 2017 at 9:01 am
Kappel Gateway Realty
|
Category:

cleaning, decorating, DIY, projects, real estate
|
Tagged

bamboo, clean, cleaning, Coldwell Banker Kappel Gateway, construction, durable, Flooring, floors, install, knowledgeable, linoleum, maintenance, pets, real estate tips, remodeling, spills, stone, tile, trusted advice, vinyl, water proof, wood

Add your own flair to your home through art with these creative & inexpensive ideas.
Your home should reflect your personality, interests, and all the people and things you love. One of the easiest ways to accomplish that is through the artwork you display around your home. When my husband & I moved into our apartment, we initially worried about finding art that was not only beautiful, but at a price point that wouldn't break our budget. Here's what we discovered:
Print Your Favorite Photos on Canvas
Some of our favorite artwork displayed in our home is actually photos we took ourselves while traveling, and had blown up & printed onto canvas. Snapfish allows you to create your own canvas photo art starting at $39, and it's the perfect way to show off your favorite family photos or pay homage to your favorite vacation spot as a reminder to get back out there!
One Word: Ikea
I have somewhat of an Ikea obsession, and their "decoration" department is no exception. Between their extensive collection of artistic prints, frames, and accessories, you could truly find something for every room in your home — and still have money left over for those Swedish meatballs on your way out.
Joss and Main
Clicking around on this website is like digging for treasure – except you always find one .. or two, or three. This site is beautifully curated with discounted art, furniture, rugs, bedding… you get the idea. The best part? You can browse by style, so if you're going for a certain vibe – coastal, bohemian, rustic – the site will only show you items that align with that style.
DIY
One of our favorite pieces of art in our home is one we made ourselves. I find my inspiration for these projects on – you guessed it – Pinterest! It's not only a great way to add something totally unique and special to your home, but it provides a great excuse to gather up your art supplies and enjoy a relaxing day of creativity. You can see a few of my favorite Pinterest DIY projects here, here, & here.
Need more home decor ideas? Click here to discover 12 ways to make your home even more awesome!
Posted on September 19, 2017 at 4:00 pm
Kappel Gateway Realty
|
Category:

color, curb appeal, decorating, Homeowners, interior decorating, real estate, staging, Uncategorized
|
Tagged

agent, art, before you move, California real estate, canvas, Coldwell Banker Kappel Gateway, first time home buyers, furniture, homes, moving, professional, real estate, realtor, remodeling, rugs, sell my home, staging, vase, wall art

Not sure what element to make the attention getter in your room? Find some great choices here.
Houzz Contributor, Gabrielle Di Stefano
Well-designed rooms often have a focal point — the first thing your eye sees when you enter. Choosing the right item to emphasize sets the tone and mood for a space. Whether it's an architectural feature, a texture, a color or a light fixture, putting the spotlight on one of these elements will help create a visually interesting and pleasing interior. But what's the best way to do this? Here are some ways to create a focal point that doesn't dominate or compete with other objects in a space.
Architectural feature. A central element, like this fireplace, can help you position your furniture in a room. Notice how the furniture in this space revolves around the fireplace. The stone surround also sets the color tone for the sofa, chairs and drapes.
Getting the size of the architectural element right in the room is vital. If it's too big, it can look and feel uncomfortable. If it's too small, your furniture will become the focal point, taking away from the main feature.
Artwork. This painting is positioned perfectly — centered between the two doors, above the console — to create an instant focal point that allows the rest of the room to shine.
The size and tone of your art are important. Choose a painting with the appropriate scale for your space, in tones that stand out and draw the eye in but don't clash with the rest of the room. One large, bold piece of art looks fantastic against a neutral wall and furniture. A series of prints can make an impact too, whether they're framed identically or have an eclectic mix of frames.
View. When you have a view like this, use your home's architecture to emphasize it and make it as big and grand as possible. This oversize window instantly makes the forest view the best focal point this room could have.
Choose simple furniture to complement a dream view like this. The minimalist bed and furniture allow the window to truly shine.
Revamp your space with a new bed
Texture. Add texture to create a focal point in a monochromatic color scheme, giving your room character and depth. Smooth, shiny objects will give off a cool vibe, while soft, raised textures add more warmth. This kitchen's neutral, minimalist palette immediately draws the eye to the texture and color of the counter-to-ceiling backsplash. The tile finish glistens against the stainless steel appliances.
Find new tile that makes a statement
Pattern. Pattern can be a striking focal point. If a room is lacking in architectural features, use a more permanent, patterned finish — like tile or stone — as a bold statement.
The organic, flowing pattern and subtle color of the granite feature wall carries this powder room — no need for other decorative elements. Clever backlighting highlights the stone and emphasizes the floating vanity top.
Highlighting the ceiling with wallpaper adds interest and character to a room. Directing the eye upward also makes the room look bigger.
Color. Narrow hallways can feel dull, but painting the doors a gutsy color and adding texture with studs created multiple focal points in this one.
Pay attention to how you can use color on your home's architectural elements to draw the eye to or away from certain parts of your home. Notice how emphasizing the skirting in this hallway with bright turquoise leads the eye from door to door.
One bold item, such as a colorful striped rug, instantly sets a playful mood. This look works particularly well in contemporary rooms with little or no architectural detailing.
Source: Coldwell Banker Blue Matter Blog
Posted on September 11, 2017 at 8:23 am
Kappel Gateway Realty
|
Category:

appliances, Buyers, buying, curb appeal, Homeowners, interior decorating, kitchens, Location, maximizing space, outdoors, projects, real estate, selling, staging, views
|
Tagged

architectural features, artwork, California real estate, Coldwell Banker Kappel Gateway, design rooms, fireplace, first time home buyers, focal point, knowledgeable, light fixtures, maintenance, real estate, real estate tips, realtor, remodeling, remodels, sell my home, staging, trustworthy, views

Save valuable elbow grease and time with these ideas for easy-to-maintain cabinets.
The heart of the home may also be the toughest room to keep clean. Every surface in your kitchen is susceptible to crumbs, dirt, stains and splatters. This is especially true of cabinets. Fortunately, there are practical ways to keep your cabinet maintenance on the lighter side. With ideas like choosing fewer decorative details and picking the right color, these nine tips will make your cabinets easier to maintain.
1. Choose a door style with minimal detail. Raised-panel door styles have nooks and crannies that are magnets for dust and dirt. Shaker-style and slab door fronts don't, so you won't have to spend time scrubbing every recess of your door fronts.
If you're designing a traditional kitchen and want a more decorative door style, select a stain or paint that has a glaze. The glaze will fill the doors' cracks and corners and better hide the dust and dirt that your cabinet doors will collect.
2. Opt for flush cabinet ends. You normally have two options for finishing the ends of your cabinets: flush ends or matching ends. Flush ends (above) are plywood ends that match the color of your cabinets. They are smooth and sleek, which means you can run a cloth over it with a few swipes. They can certainly speed up cleaning.
Matching ends feature a panel with the same style as the door fronts, and while they can bring elegance and character to your kitchen, you face the same maintenance issues with matching ends as you do with raised-panel doors. There's simply more to scrub.
3. Cut the trimmings. Designer details like crown molding, corbels, decorative legs and light rail molding add more to love but also more to clean, especially ornate styles.
There are other designer touches you can use that require less maintenance. Try a colorful cabinet paint, eccentric lighting or colored bar stools, like in this modern kitchen.
4. Pick a stain instead of a paint. Stains and paints have pros and cons. They can both show crumbs and fingerprints, and paint definitely shows food stains and splatters.
That said, a stain is easier to touch up than paint. You can give a scratched cabinet stain a quick spruce-up with a matching permanent marker. It's often harder with paint for two reasons. First, it's hard to find a marker that closely matches a specific paint. Often a touch-up kit from the cabinet manufacturer is needed. Second, paint doesn't take touch-ups the same way that stains do. You're more likely to notice a touch-up on paint.
5. Go for a grain with a dark stain. If you're set on a dark cabinet stain, select a wood species that features the grain, such as oak or hickory. Grains don't show scratches, stains and crumbs as much as a clean wood species like maple does. It's also harder to tell that a cabinet stain has been touched up when the surface has grains.
6. Invest in hardware. If you want fewer fingerprints and less wear and tear on your door fronts, purchase door pulls and knobs for all of your cabinets. They help preserve the integrity of your cabinets' surfaces.
Steer clear of stainless steel and chrome hardware. They show fingerprints and water spots and are harder to clean. Oil-rubbed bronze, satin bronze, polished nickel, brushed nickel and white hardware are the cream of the crop as far as easy maintenance goes. Choose the look that best suits the style of your kitchen.
7. Avoid glass door fronts. They may be windows to your kitchen's soul, but they're also extra surfaces to clean. They manage to attract their fair share of dust, dirt and smudges. Dirt can build up easily on glass door fronts that feature mullions. You also have to keep whatever is behind those glass doors tidy.
One benefit to glass door fronts is how inviting they can make your kitchen space feel. Luckily, there's more than one way to design a warm and welcoming kitchen. If you want a low-maintenance alternative to glass door fronts, stick with lighter cabinet stains like golden browns. They can make your guests feel just as cozy as glass door fronts do.
8. Reduce open shelving. Open shelving is a great canvas for displaying your favorite decor and cookware, whether it's on a wall, on an island or at the end of cabinets. But it takes more time and effort to ensure that these spaces are dusted and organized. The upkeep can become overwhelming along with your daily tasks.
To shorten your to-do list, place your decor on necessary surfaces like dining tables and countertops instead of unnecessary cabinet shelves. You can also use pillows, chairs, bar stools and lighting as decorative touches.
9. Protect your sink cabinet from moisture. This is more of a preventative measure — it will help you avoid issues down the road. There are a couple of ways to help protect your sink cabinet from moisture. You can order the cabinet with an all-plywood construction (most semicustom and prefabricated cabinets are constructed of a mixture of pressed wood and plywood). An all-plywood construction makes the cabinet less penetrable. You can also purchase a cabinet mat, which looks like a tray and is placed at the base of the sink cabinet. It will serve as a moisture barrier and catch any liquid leaks or spills.
More Kitchen Confidential: 10 Ways to Promote Aging in Place | 7 Ways to Mix and Match Cabinet Colors | 11 Islands With Furniture Style | The Case for Corbels | All Good in the Hood
Related Reads:
Choose Shaker Cabinets for Style and Simplicity
Easy-to-Clean Corbels for the Kitchen
Decorate With Eye-Catching Kitchen Lighting
Source: Coldwell Banker Blue Matter Blog
Posted on August 28, 2017 at 8:59 am
Kappel Gateway Realty
|
Category:

appliances, Buyer's Market, Buyers, buying, cabinets, color, cooking, Fixer Uppers, Homeowners, kitchens, real estate, Uncategorized
|
Tagged

back splash, before you move, buyers, cabinets, California real estate, Coldwell Banker Kappel Gateway, first time home buyers, floors, granite, kitchens, knowledgeable, laminate, maintenance, real estate, realtor, remodeling, remodels, sellers, sinks, staging
Can't quite figure out just exactly you are looking for when it comes to that color pop in the kitchen?
These fabulous ideas are worth a look!
Don't get me wrong: White kitchens are cheerful, clean and classic — it's no wonder why they're so popular. But since white kitchens are everywhere, it's easy to forget that there are other colors that can also look great in this space. Thinking about bucking the trend in your kitchen? Consider one of these options, from alternative neutrals to bright, bold hues.
You can't go wrong with these versatile picks.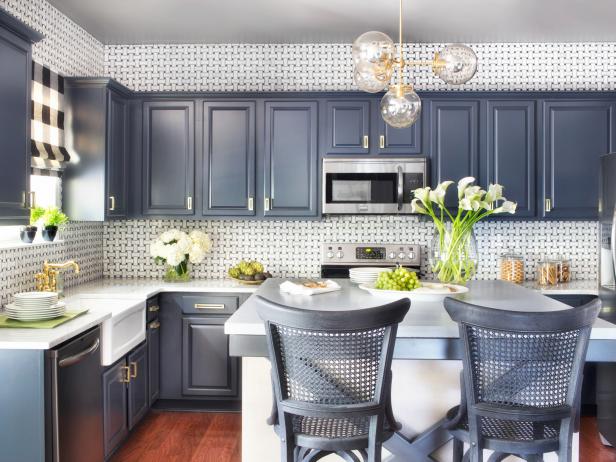 If you want a cool neutral that'll add a bit of drama to your kitchen, look to charcoal. Bright accent colors — or even white, as seen in this kitchen designed by Brian Patrick Flynn — really pop against it.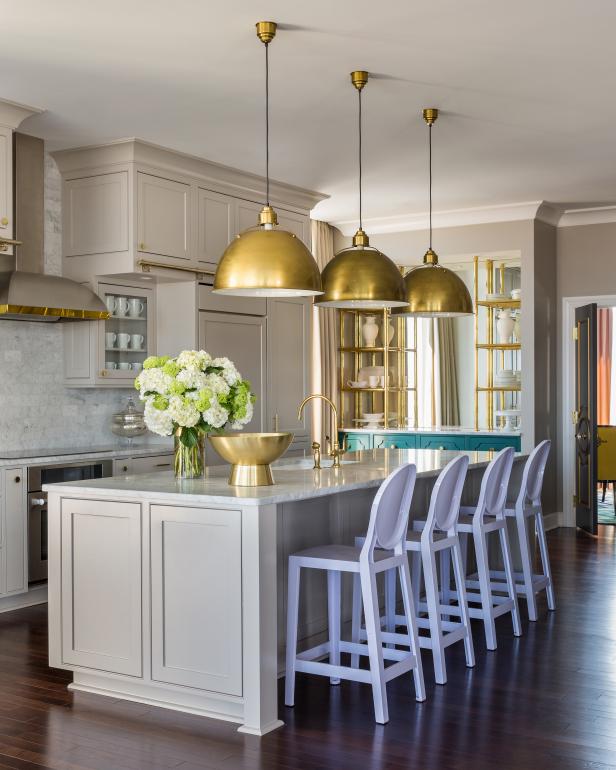 A mix between gray and beige, greige is an incredibly versatile neutral for the kitchen that can complement both warm and cool colors. In this space designed by Tobi Fairley, greige cabinets bridge the gap between warmer brass elements and cooler marble accents.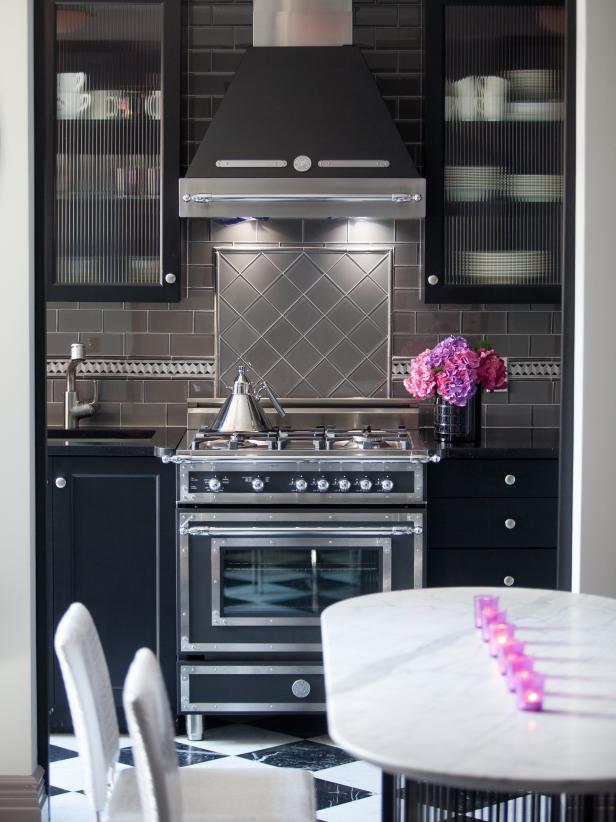 A black kitchen may sound dreary, but it can actually be stunning if done right. Just take this gorgeous room that goes all in with black cabinets, a black vintage stove and a black-and-white tiled floor. If you're not on board with an all-black kitchen, try adding one black element like a backsplash or a sink.
Add a touch of color without overpowering your space.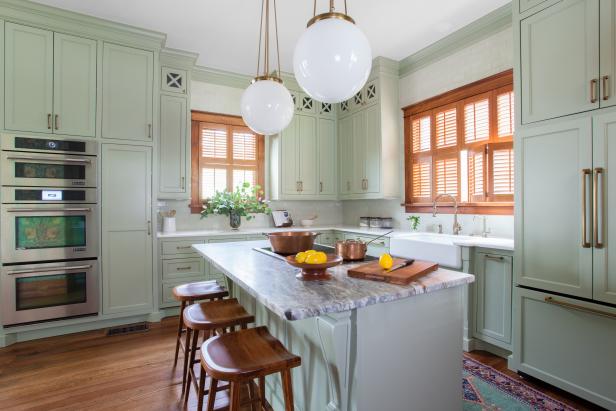 Hints of green in the stone countertops inspired the cabinet color in this country-style kitchen. The soft hue brings coziness to the space, yet still feels bright and fresh.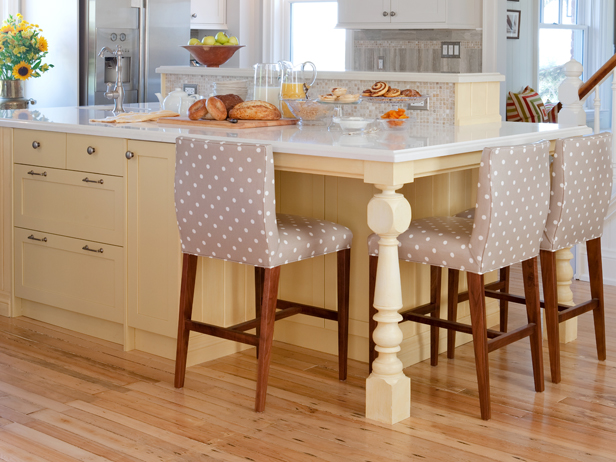 Particularly charming in a cottage- or farmhouse-style space, pale yellow adds a cheerful, sunny touch to a kitchen. Try it with robin's egg blue or with neutrals, as seen in this kitchen designed by Sarah Richardson.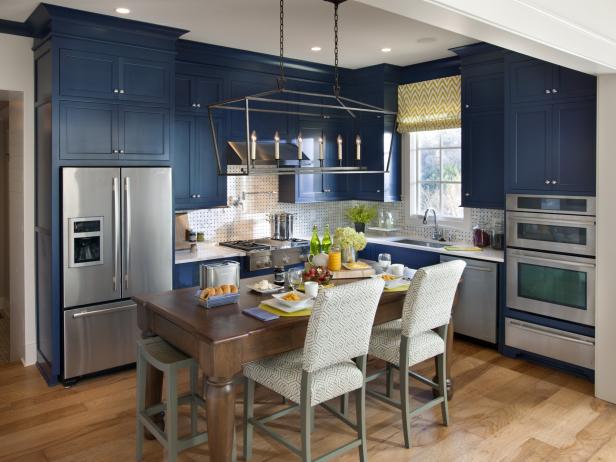 Navy is practically a neutral — it pairs beautifully with everything from tangerine to turqouise to chartreuse. In the HGTV Smart Home 2014 kitchen, navy cabinets are offset by a black-and-white basketweave backsplash for lots of eye-catching contrast.
Go all in with these daring shades.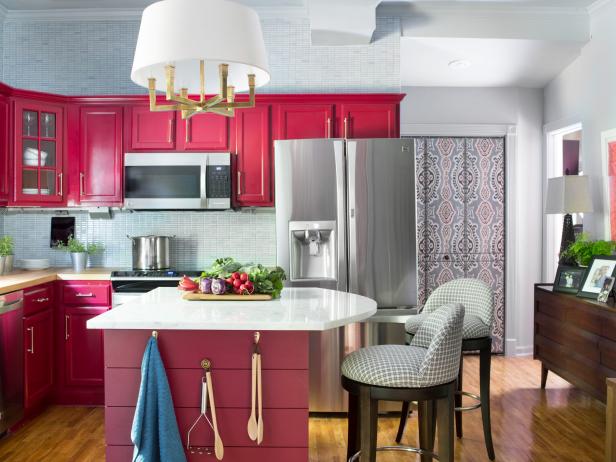 Want to instantly energize your kitchen? Just add a vibrant shade of red. To keep it from feeling overwhelming, try contrasting it with a cool color, like the blue-gray Brian Patrick Flynn used here. If you're not ready to commit to red cabinets or walls, incorporate the color in small doses with red countertop appliances, dish towels and other accessories.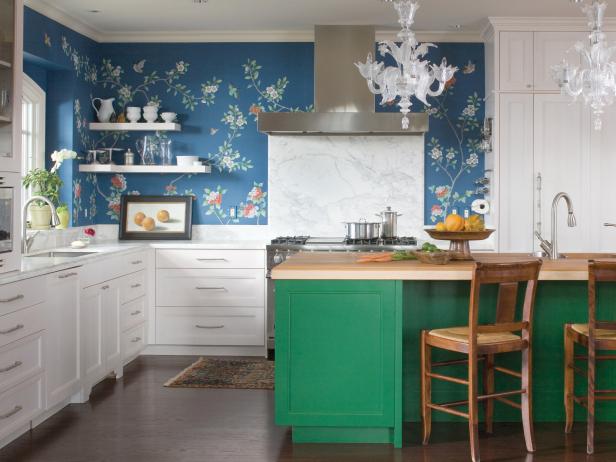 Just a splash of this gorgeous green will make a big impact in your kitchen. In this design, Andrea Schumacher painted only the island, pulling a color from the floral wallpaper to keep the space cohesive. For an ultra-rich look, pair emerald with other jewel tones.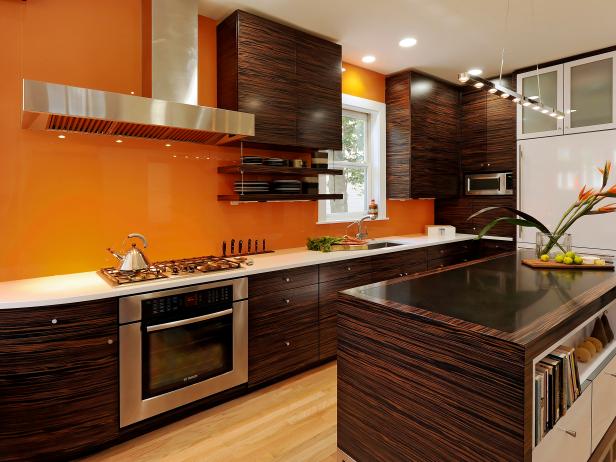 Orange is thought to stimulate the appetite, making it an ideal color choice for the kitchen. In this space by Jennifer Gilmer, an orange backsplash and zebrawood cabinets add warmth, keeping the contemporary design from feeling cold. Smaller orange accents, such as pendant lights or window treatments, can also liven up a kitchen.
Source: HGTV
Posted on June 29, 2017 at 7:17 pm
Kappel Gateway Realty
|
Category:

appliances, cabinets, color, decorating, interior decorating, kitchens, Paint, real estate, Uncategorized
|
Tagged

9 Kitchen Color Ideas That Aren't White, bold, cabinets, California real estate, Coldwell Banker Kappel Gateway, color, decorate, interior design, makeover, neutrals, paint, real estate tips, remodeling, trusted advice