Can't quite figure out just exactly you are looking for when it comes to that color pop in the kitchen?
These fabulous ideas are worth a look!
Don't get me wrong: White kitchens are cheerful, clean and classic — it's no wonder why they're so popular. But since white kitchens are everywhere, it's easy to forget that there are other colors that can also look great in this space. Thinking about bucking the trend in your kitchen? Consider one of these options, from alternative neutrals to bright, bold hues.
You can't go wrong with these versatile picks.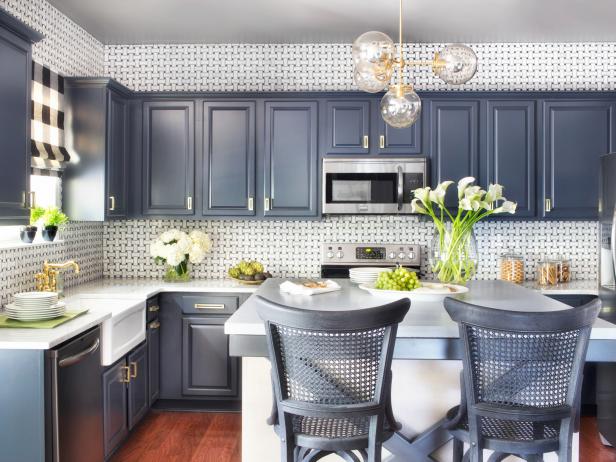 If you want a cool neutral that'll add a bit of drama to your kitchen, look to charcoal. Bright accent colors — or even white, as seen in this kitchen designed by Brian Patrick Flynn — really pop against it.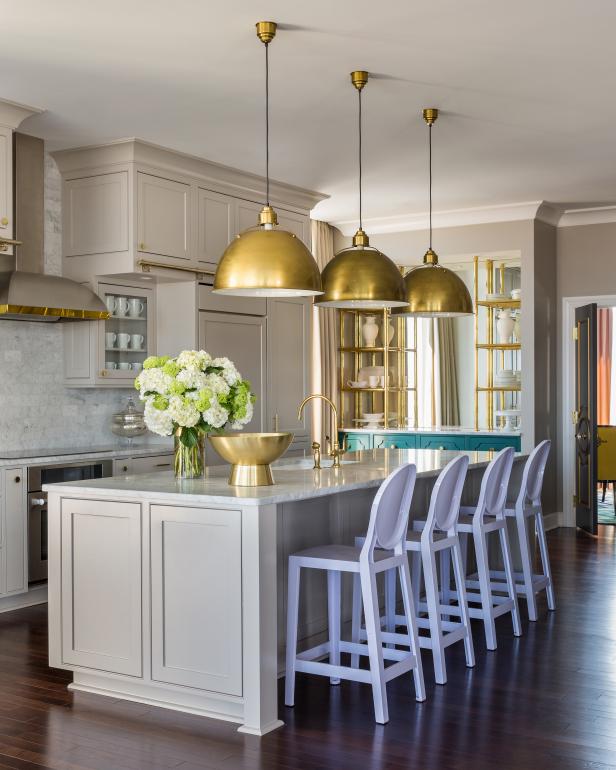 A mix between gray and beige, greige is an incredibly versatile neutral for the kitchen that can complement both warm and cool colors. In this space designed by Tobi Fairley, greige cabinets bridge the gap between warmer brass elements and cooler marble accents.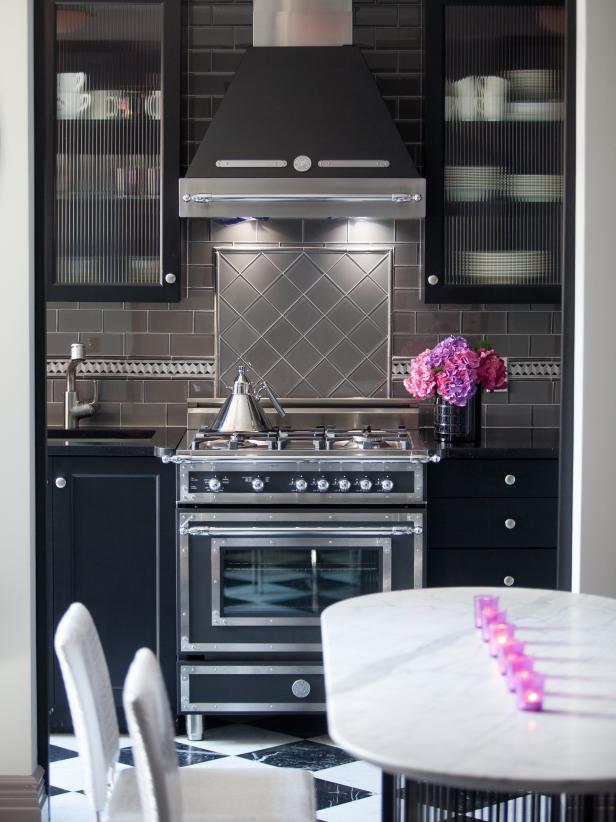 A black kitchen may sound dreary, but it can actually be stunning if done right. Just take this gorgeous room that goes all in with black cabinets, a black vintage stove and a black-and-white tiled floor. If you're not on board with an all-black kitchen, try adding one black element like a backsplash or a sink.
Add a touch of color without overpowering your space.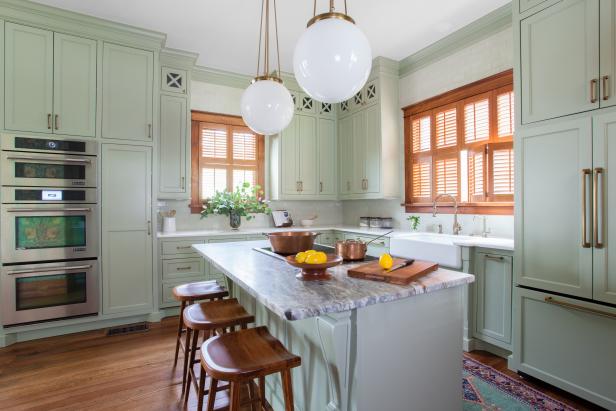 Hints of green in the stone countertops inspired the cabinet color in this country-style kitchen. The soft hue brings coziness to the space, yet still feels bright and fresh.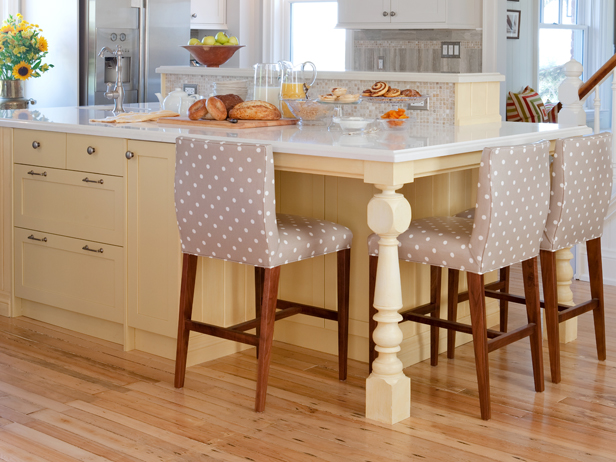 Particularly charming in a cottage- or farmhouse-style space, pale yellow adds a cheerful, sunny touch to a kitchen. Try it with robin's egg blue or with neutrals, as seen in this kitchen designed by Sarah Richardson.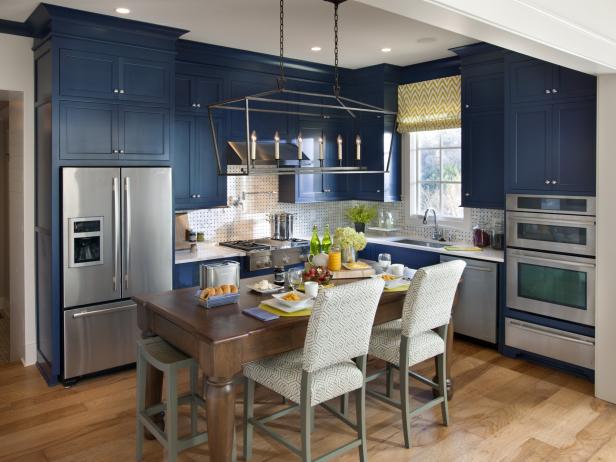 Navy is practically a neutral — it pairs beautifully with everything from tangerine to turqouise to chartreuse. In the HGTV Smart Home 2014 kitchen, navy cabinets are offset by a black-and-white basketweave backsplash for lots of eye-catching contrast.
Go all in with these daring shades.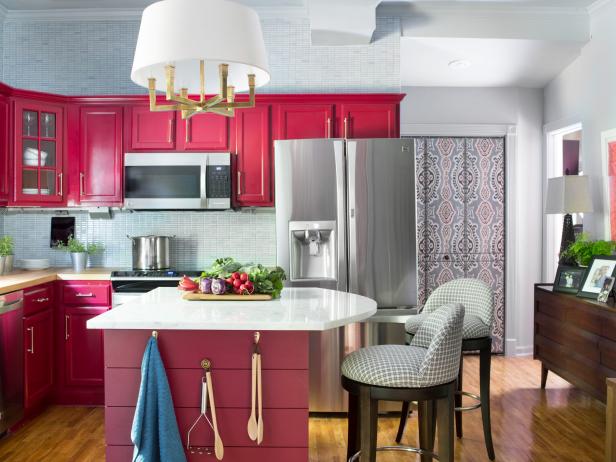 Want to instantly energize your kitchen? Just add a vibrant shade of red. To keep it from feeling overwhelming, try contrasting it with a cool color, like the blue-gray Brian Patrick Flynn used here. If you're not ready to commit to red cabinets or walls, incorporate the color in small doses with red countertop appliances, dish towels and other accessories.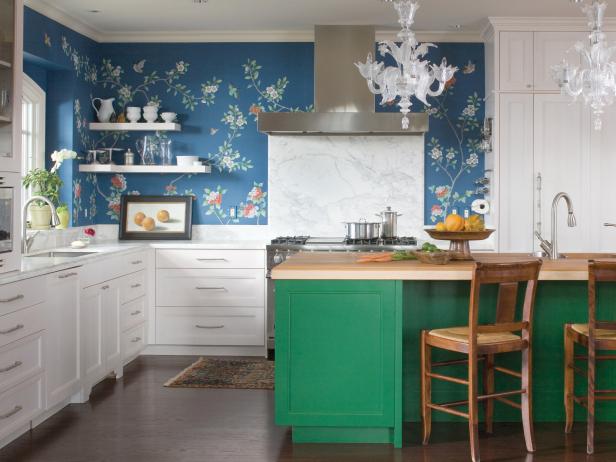 Just a splash of this gorgeous green will make a big impact in your kitchen. In this design, Andrea Schumacher painted only the island, pulling a color from the floral wallpaper to keep the space cohesive. For an ultra-rich look, pair emerald with other jewel tones.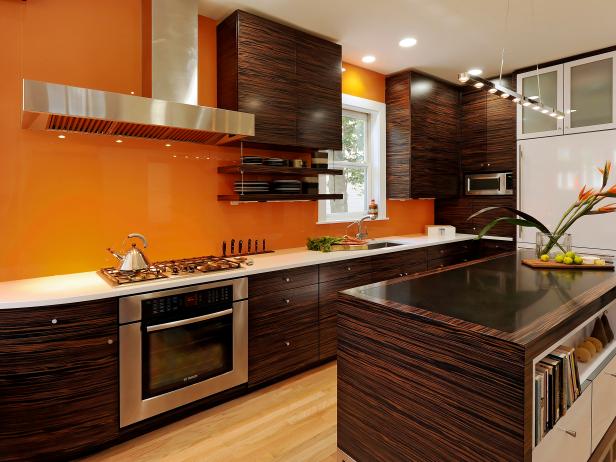 Orange is thought to stimulate the appetite, making it an ideal color choice for the kitchen. In this space by Jennifer Gilmer, an orange backsplash and zebrawood cabinets add warmth, keeping the contemporary design from feeling cold. Smaller orange accents, such as pendant lights or window treatments, can also liven up a kitchen.
Source: HGTV
Posted on June 29, 2017 at 7:17 pm
Kappel Gateway Realty
|
Category:

appliances, cabinets, color, decorating, interior decorating, kitchens, Paint, real estate, Uncategorized
|
Tagged

9 Kitchen Color Ideas That Aren't White, bold, cabinets, California real estate, Coldwell Banker Kappel Gateway, color, decorate, interior design, makeover, neutrals, paint, real estate tips, remodeling, trusted advice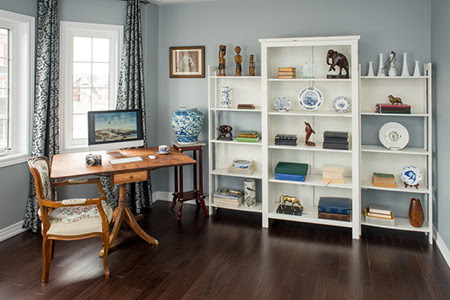 Paint can make or break a room…here are some handy tips before you pick up the old paint brush!
Paint colors play a crucial role in successfully selling a home, having the power to influence a homebuyer's decision to make an offer or move on and the best colors, according to a new Zillow  analysis, are blues and grays.
Homes with bathrooms that have soft blue walls (e.g., periwinkle, powder blue), specifically, sold for $5,440 more than expected in the analysis, as well as homes with a "greige" (beige/gray) exterior, which sold for $3,496 more than homes with brown or tan stucco exteriors. Homes with dark navy blue and/or slate gray front doors also sold for more: $1,514.
Certain colors, though, have the opposite effect, lowering sale prices by a few thousand dollars or more. In fact, homes with bathrooms that have white walls sold for $4,035 less than expected, while homes with darker walls (e.g., brick red, terracotta) sold for $2,031 less than expected.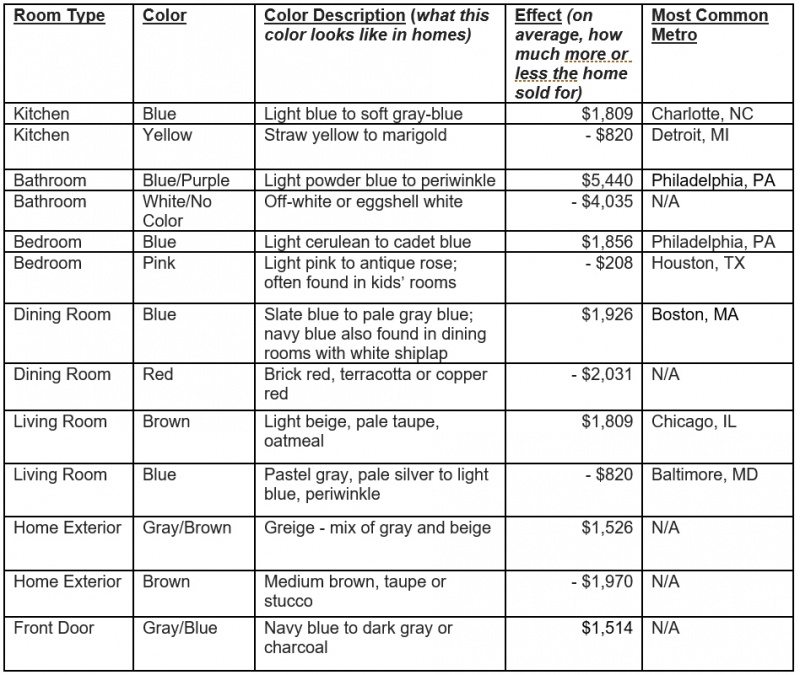 "Color can be a powerful tool for attracting buyers to a home, especially in listing photos and videos," says Dr. Svenja Gudell, chief economist at Zillow. "Painting walls in fresh, natural-looking colors, particularly in shades of blue and pale gray, not only make a home feel larger, but also are neutral enough to help future buyers envision themselves living in the space. Incorporating light blue in kitchens and bathrooms may pay off especially well, as the color complements white countertops and cabinets a growing trend in both rooms."
The analysis considered over 32,000 photos of sold homes across the U.S.
Source: RisMedia
Posted on June 6, 2017 at 10:42 am
Kappel Gateway Realty
|
Category:

decorating, interior decorating, Paint, real estate, staging, Uncategorized
|
Tagged

California real estate, Coldwell Banker Kappel Gateway, decor, decorating, interior design, paint, real estate tips, staging, The Paint Colors That Sell—and the Ones That Don't, trusted advice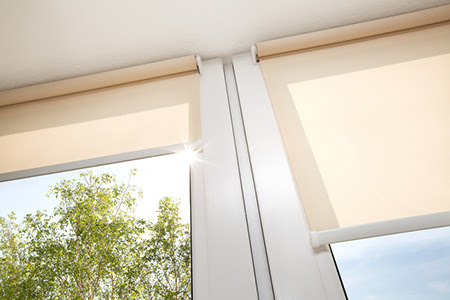 Light and airy rooms but still worried about people sharing your indoor privacy?  Then this is the read for you!
Want to let light in while keeping your nosy neighbors out? Special types of light-filtering window treatments enable you to illuminate your home with natural light while preventing others from viewing your personal space. Ultimately, these window shades may prove to be exceedingly valuable, particularly for homeowners who are searching for high-quality window treatments that are both stylish and practical.
Benefits
In addition to offering maximum privacy from passersby and neighbors, light-filtering window shades provide many benefits, including:
Energy Savings: The U.S. Department of Energy points out properly installed window shades offer some of the "simplest, most effective window treatments for saving energy."
Improved Insulation: Some light-filtering window shades have been shown to act as both insulation and air barriers, and control air infiltration more effectively than other types of window treatments.
Exceptional Value: Homeowners can enjoy light-filtering window shades that consist of UV-resistant and antimicrobial materials for superb quality, maintaining their value over time.
Eco-Friendly Styles: Some light-filtering window shade options are partly constructed from biodegradable materials.
Unparalleled Convenience: Light-filtering window treatments can be motorized or manual, allowing for ease of use both day and night.
Types of Light-Filtering Window Shades
Light-filtering window shades provide varying degrees of light infiltration. The most popular options include:
Cellular Shades
Cellular shades deliver year-round insulation and privacy. Meanwhile, they are constructed to allow small amounts of light to enter a room. Typically, cellular shades are sold in single or double thickness. They are available in multiple vibrant colors, along with various cell sizes and fabric styles to match your home decor.
Cellular shades also boast immense durability. They include an aluminum headrail and bottomrail and take only minutes to set up in any living space.
Roller Shades
Roller shades are easy to use and come in a wide range of lifts to complement any home's decor. Light-filtering roller shades are top choices for many homeowners, as these shades block visibility into your personal space. In addition, blackout roller shades are great choices for those who prefer extra privacy and will help you maximize light control consistently.
Roman Shades
For those who want to add a hint of luxury to th eir decor, there may be no better option than Roman shades. Top-down/bottom-up Roman shades allow you to control whether light will enter from the bottom or from above. The versatile options in fabric range from every color of the rainbow, as well as prints.
If you require additional privacy, select Roman shades that feature a thermal liner. Or, if you need total or near-total darkness (like in a bathroom or media room), Roman shades with a blackout liner may prove to be ideal.
Pleated Shades
Pleated shades are available with light-filtering and room-darkening liners, maximizing light control and privacy needs. With a light-filtering liner, pleated shades can deliver daytime light transmission indoors. To maximize privacy, use pleated shades with a privacy liner, so that only minimal shadows are visible from the outdoors.
On the other hand, a blackout liner offers maximum light obstruction. This liner may serve as a great selection in a child's bedroom or other settings where complete darkness is needed.
Vertical Cellular Shades
Ready to take your vertical window treatments to the next level? Thanks to vertical cellular shades, you can block harsh sunlight from entering large windows and patio doors.
Vertical cellular shades have been shown to deliver year-round insulation, sound absorption and ultraviolet protection. Moreover, they can include blackout fabric to provide you with the total privacy you need to get a great night's sleep. Keep in mind that the blackout fabric of vertical cellular shades features an opacity that prevents light from filtering through at all times.
Vertical cellular shades are ideal in climates with extreme hot and cold temperatures and can be specified to stack on either side, split down the middle or stack in the center for added convenience.
Examine your window treatment options closely, and you're sure to find window shades that match your personal style and budget perfectly, while offering privacy from prying eyes.
Source: RisMedia
Posted on May 16, 2017 at 3:04 pm
Kappel Gateway Realty
|
Category:

curb appeal, decorating, DIY, interior decorating, Privacy, projects, Uncategorized
|
Tagged

Bay Area, California real estate, Coldwell Banker Kappel Gateway, deocorating, interior design, knowledgeable, Light in, privacy, Prying Eyes out: Benefits of Light-Filtering Window Shades, shades, value, window treatments, windows