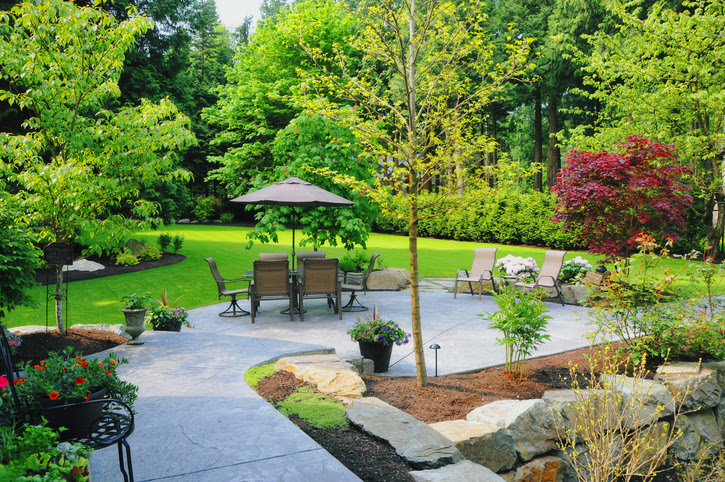 Your backyard should be your summer sanctuary…your perfect place away from the rest of the world. Here's how!
Summer is the season to be outdoors. It's the perfect time for backyard barbecues, neighborhood socials, and late-night evenings on the patio. You don't need to travel to a luxurious and exotic location to enjoy spending time outdoors. Make your own backyard a summer paradise with these eight simple suggestions.
Inspect and Update Wooden Decks
To make your backyard a summer haven, take some time to inspect and update your deck. Wooden patios and decks can be warped by cold weather, so you'll want to replace loose or missing slats as needed. Sand, stain, and seal your deck once you've made sure it's structurally sound. If you have a stone patio, check for missing pieces and update as needed. Once this is complete, you'll have a shiny and appealing deck you can decorate with patio furniture—creating a relaxing sitting area for summertime.
Purchase Patio Furniture and Essentials
Once you have a designated patio or deck space, you'll want to add some patio furniture so you can sit down, mingle with friends and family, and relax. Consider purchasing weatherproof patio furniture that is both comfortable and durable. Patio furniture can be exposed to harsh, seasonal weather, so you'll want to make sure it lasts for years.
Get the basics, including some lounge chairs, an umbrella, a hammock, and an outdoor table so you can enjoy meals or games outside. In addition to patio furniture, you may want to buy or build an outdoor fire pit. It's a simple feature that adds so much to your backyard. Sit around the fire and socialize, roast marshmallows or even cook dinner on your own backyard fireplace.
Add Colorful Cushions and Pillows
You'll want to add a splash of color to your patio so it's eye-catching and sings of summertime. Buy some bright-colored, comfortable throw pillows and cushions to spice up the furniture. The bright colors and fun patterns will entice people to sit down, relax, and enjoy your backyard paradise.
Get a Rug for the Patio
Consider adding a rug to the patio or deck area to make the space feel cozier. Outdoor rugs vary in material, size, and shape and are generally made to last in all types of weather. They make a great addition to your space, and can also protect your deck.
Install Outdoor Lighting
Nothing is more magical than twinkling lights against a royal-blue evening sky. Add strands of tea lights or other innovative lights to create a fairytale effect in your backyard. In addition to the decorative lighting, you'll want to consider adding sensor or smart lights to your backyard for added security. Smart lights are a great way to ensure the backyard is lit—you can even control smart lights with your smart phone.
Make the Backyard Private
You may love your neighbors, but that doesn't mean you want them always peeking into your backyard. Be creative when thinking of ways to ensure better backyard privacy. One easy way to create a private, secluded backyard paradise is to install a fence. Not only does it ensure privacy, but it is an essential safety measure. Install a strong, secure fence to create a private and safe backyard.
Update Your Landscaping
Landscaping can make or break your backyard. It's essential to take time to update your landscaping to create an outdoor paradise. You don't need extravagant plants or trees to make your backyard grand. Take some time to cut back unruly trees and bushes, pull the weeds, water and trim the lawn, and plant flowers around the yard. These simple updates will make a world of difference. You'll have your own secret garden in no time!
Secure Outdoor Belongings
Once you've created a magical backyard space, you'll want to take the necessary precautions to safeguard your belongings. Make sure your garden tools and supplies are in a locked shed—away from kids, pets, and burglars. Take time to assess the backyard for any security breaches. This will keep your family safe and protect your backyard, patio, and deck from major damage.
Summer is a wonderful time to relax and enjoy being outdoors. Update your own backyard and you'll have access to a private paradise any time you want.
Source: RisMedia
Posted on July 8, 2017 at 12:21 pm
Kappel Gateway Realty
|
Category:

backyard, BBQ, decorating, Entertainment, family, grill, landscaping, lawn, Pools, Privacy, projects, real estate, summer, Uncategorized
|
Tagged

8 Ways to Make Your Backyard a Summer Paradise, backyards, BBQ, California real estate, Coldwell Banker Kappel Gateway, Decks, decorating, grilling, paradise, patios, real estate tips, sanctuary, summer, trusted advice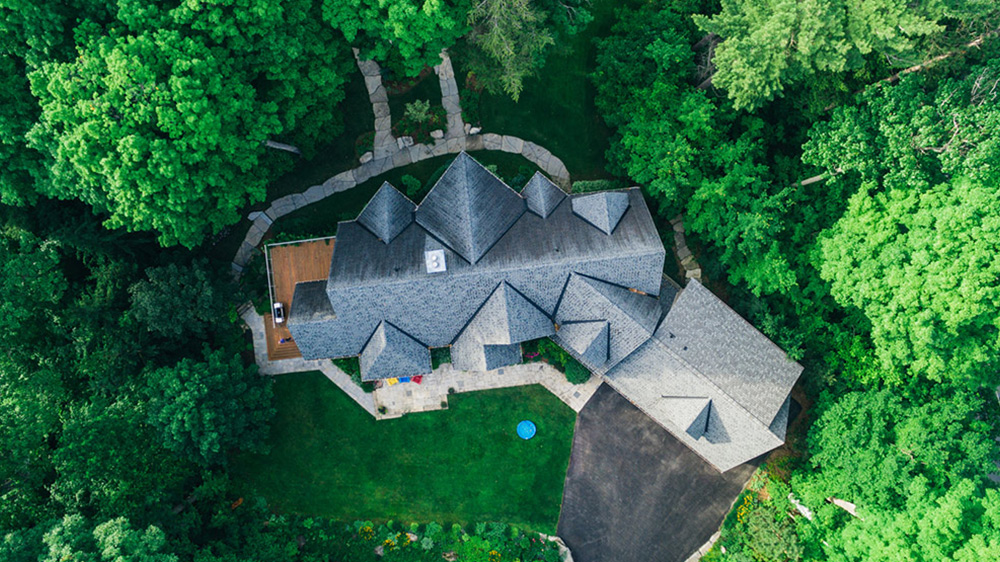 Here are some GREAT tips to get the skinny on houses that have made it to your hot list. Fire up your Google!
Search-engine sleuthing is worth the effort to unearth the niceties — and perhaps negatives — when searching for your new home.
There's probably not a day that goes by that you don't Google something — the weather, a foreign phrase, directions, or news, just to name a few. With all the information Google can provide through its bird's eye view, not Googling your address is practically a crime — especially when you're searching for a new home (whether you're house-hunting for a waterfront home in Benicia, or looking for a ranch house in Vacaville). Here's what you could find.
 Get a sense of the neighborhood using Google's Street View

We can't transport ourselves Star Trek–style to other places … yet, so the next best experience may be Google's Street View, sort of a pre-virtual-reality experience. Simply type in an address, and if there's an image of the property in the results, click on it. Other factors to note while on your Google stroll?  Scope out yard size, proximity to neighbors, how many trees are on the property and the privacy provided by them, a view of the front of the home, a view of the neighbors' homes (such as any nearby eyesores or hoarders), and the size of nearby roads. Don't forget to use the aerial view while you're at it, because it might let you know the condition of the roof (but keep in mind the image could be old.)

A caveat: Google Street View can be outdated, so it's possible you could be looking at old news. The house you're interested in might have been newly renovated, but you wouldn't know that if the remodel happened after Google was there.

2. Map the proximity of the house to potential health hazards

The last thing anyone wants is to find out their dream home is located near a former meth lab or directly under a busy flight path. These aren't just concerns for comfort; in unfortunate (and rare) cases, homes can be health hazards. When house hunting, be sure to search for whether or not that Los Angeles home for sale is in a safe area. The U.S. Drug Enforcement Administration maintains a database of homes that have been identified as drug labs, and some of these properties require intensive, expensive cleanup before they can be healthfully inhabited. Radon and industrial and airport zones are also pretty easily discoverable with a Google search and, in most states, via disclosures that most sellers will provide. (Some people find living near an airport or other noisy zone impacts their sleep, even if there is no chemical concern.)

3. Imagine your life in this home and its neighborhood

One of the deciding factors for saying "yes" to a house is if you can imagine yourself living there. Seeing listing photos and stats can let you know whether the house meets your specifications, but sometimes — especially with a long-distance home search — but to really imagine yourself living in that neighborhood could be difficult. Googling can help).

Kids can scope out their potential new school and spot signs of other kids living nearby, you might map your drive to the office, learn whether there's a local farmer's market nearby, or look to see whether the house is in a danger zone.

4. Get valuable details about the HOA

When you buy a home that is part of a homeowners' association (HOA), you should receive the bylaws in advance of your purchase. But if you dig a little deeper by Googling the association's name, you could find out that your new HOA is one of a surprisingly large number of HOAs that have been reviewed online. Grab your popcorn, because you'll most likely find a variety of rants (and raves) about the subdivision, complex managers, neighbors, and amenities.

5. Scope out the neighborhood's potential growth

Will you jump for joy to learn that Whole Foods is coming to town? Or is that just the sort of growth you're trying to escape? Google your potential new neighborhood's nearest major street or intersection for permit applications that have been filed recently. You might get lucky. If not, try searching the city or county planning departments. This can help you discover community plans for expansion in that area. Reading the online applications — and any notes from city council meetings discussing the permits — might help you understand the landscape of community-development issues at hand.
What surprising information has Google revealed during your house hunt?
Source: Trulia Blog
Posted on May 16, 2017 at 4:03 pm
Kappel Gateway Realty
|
Category:

buying, first time buyers, Google, HOA, neighborhood, Privacy, real estate, research, Uncategorized
|
Tagged

Be a Detective: Google the Address When House Hunting, before you move, Benicia, California real estate, Coldwell Banker Kappel Gateway, experienced, first time home buyers, google, hazards, HOA, knowledgeable, neighborhood, privacy, real estate tips, research, Vacaville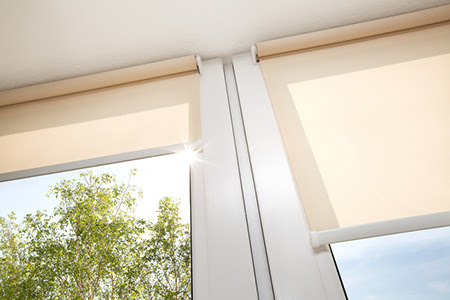 Light and airy rooms but still worried about people sharing your indoor privacy?  Then this is the read for you!
Want to let light in while keeping your nosy neighbors out? Special types of light-filtering window treatments enable you to illuminate your home with natural light while preventing others from viewing your personal space. Ultimately, these window shades may prove to be exceedingly valuable, particularly for homeowners who are searching for high-quality window treatments that are both stylish and practical.
Benefits
In addition to offering maximum privacy from passersby and neighbors, light-filtering window shades provide many benefits, including:
Energy Savings: The U.S. Department of Energy points out properly installed window shades offer some of the "simplest, most effective window treatments for saving energy."
Improved Insulation: Some light-filtering window shades have been shown to act as both insulation and air barriers, and control air infiltration more effectively than other types of window treatments.
Exceptional Value: Homeowners can enjoy light-filtering window shades that consist of UV-resistant and antimicrobial materials for superb quality, maintaining their value over time.
Eco-Friendly Styles: Some light-filtering window shade options are partly constructed from biodegradable materials.
Unparalleled Convenience: Light-filtering window treatments can be motorized or manual, allowing for ease of use both day and night.
Types of Light-Filtering Window Shades
Light-filtering window shades provide varying degrees of light infiltration. The most popular options include:
Cellular Shades
Cellular shades deliver year-round insulation and privacy. Meanwhile, they are constructed to allow small amounts of light to enter a room. Typically, cellular shades are sold in single or double thickness. They are available in multiple vibrant colors, along with various cell sizes and fabric styles to match your home decor.
Cellular shades also boast immense durability. They include an aluminum headrail and bottomrail and take only minutes to set up in any living space.
Roller Shades
Roller shades are easy to use and come in a wide range of lifts to complement any home's decor. Light-filtering roller shades are top choices for many homeowners, as these shades block visibility into your personal space. In addition, blackout roller shades are great choices for those who prefer extra privacy and will help you maximize light control consistently.
Roman Shades
For those who want to add a hint of luxury to th eir decor, there may be no better option than Roman shades. Top-down/bottom-up Roman shades allow you to control whether light will enter from the bottom or from above. The versatile options in fabric range from every color of the rainbow, as well as prints.
If you require additional privacy, select Roman shades that feature a thermal liner. Or, if you need total or near-total darkness (like in a bathroom or media room), Roman shades with a blackout liner may prove to be ideal.
Pleated Shades
Pleated shades are available with light-filtering and room-darkening liners, maximizing light control and privacy needs. With a light-filtering liner, pleated shades can deliver daytime light transmission indoors. To maximize privacy, use pleated shades with a privacy liner, so that only minimal shadows are visible from the outdoors.
On the other hand, a blackout liner offers maximum light obstruction. This liner may serve as a great selection in a child's bedroom or other settings where complete darkness is needed.
Vertical Cellular Shades
Ready to take your vertical window treatments to the next level? Thanks to vertical cellular shades, you can block harsh sunlight from entering large windows and patio doors.
Vertical cellular shades have been shown to deliver year-round insulation, sound absorption and ultraviolet protection. Moreover, they can include blackout fabric to provide you with the total privacy you need to get a great night's sleep. Keep in mind that the blackout fabric of vertical cellular shades features an opacity that prevents light from filtering through at all times.
Vertical cellular shades are ideal in climates with extreme hot and cold temperatures and can be specified to stack on either side, split down the middle or stack in the center for added convenience.
Examine your window treatment options closely, and you're sure to find window shades that match your personal style and budget perfectly, while offering privacy from prying eyes.
Source: RisMedia
Posted on May 16, 2017 at 3:04 pm
Kappel Gateway Realty
|
Category:

curb appeal, decorating, DIY, interior decorating, Privacy, projects, Uncategorized
|
Tagged

Bay Area, California real estate, Coldwell Banker Kappel Gateway, deocorating, interior design, knowledgeable, Light in, privacy, Prying Eyes out: Benefits of Light-Filtering Window Shades, shades, value, window treatments, windows