Breaking down walls and renovating an entire space is not only time-consuming, but it's also expensive and, in most cases, requires the help of professionals. Luckily, you don't have to do major construction to make small spaces feel bigger.
If you're not up for knocking down walls, focus on small DIY projects that can make your home feel bigger, the following of which are perfect for every homeowner, regardless of skill level or budget. From lighting to ceiling paint, consider how you can open up the space in your home without a sledgehammer and construction team.
Paint the Ceiling
The ceiling and trim have just as much an impact on the look and feel of the room as your furniture, yet they're easy to overlook when painting. To open up your home without construction, consider how you can tie your ceiling and trim into the rest of the room:
"Homeowners typically leave the trim and ceiling white in their living rooms when painting. Since the trim and ceiling both have as much impact as the walls, it's important to tie them in with the rest of the space, otherwise they'll stand out too much," says Brian Patrick Flynn with HGTV. When your ceilings stand out, the size of the space immediately feels smaller.
Flynn's suggestion for choosing the best paint colors: "A smart way to use one color consistently throughout a common area is to choose a slightly lighter shade than the wall color for the ceiling and a slightly darker shade for the trim." Talk with your local hardware or paint store to find the lighter shades that match with your current paint, or start over with a whole new color scheme.
Make it Brighter
A dark room always feels smaller, and this is an easy DIY fix: let in the light, as Coral Nafie, blogger for The Spruce, suggests: "Any room will look larger if it's well-lit, either by natural light or artificial lighting. Get rid of heavy draperies and open up the windows to let the light of the outdoors into the space." A few more ways to bring more light into the room include:
Sheer drapes
Ceiling lighting
Replace lamp shades with lighter colors or none at all
If the space has no windows at all, consider the costs for installing one or a few, depending on the size of the room. Take the DIY route and follow this tutorial from This Old House.
Convert the Basement
If you already have a finished, insulated basement, the next step is to turn it into a space where people want to spent time. When you do, your home suddenly feels bigger because you have an entirely new room to use. This added area is great for you now and is will be helpful if you're thinking of selling soon as well:
"All buyers want the maximum amount of living space they can get for their budget. Converting your basement into a living space is a great way to add additional square footage without having to build anything onto the house," according to Which Home Improvements Add the Most Value to Your Home.
This DIY project doesn't have to happen in one weekend. Instead, reduce the stress and cost by making upgrades slowly, over the course of 1 to 2 months. Install carpeting or update the flooring, followed by adding furniture and then some artwork on the walls. Final touches can be added as you find fun items or inspiration strikes.
Enjoy More Space
These simple projects will help you create the bigger home you'd always wanted. Instead of knocking down walls, tackle each project one-by-one for a budget-friendly, hassle-free upgrade. As you play with paint colors, lighting and more, you may even be inspired to tackle more fun DIY projects, and you can get some fun ideas here.
Source: CB Blue Matter Blog
Posted on December 13, 2017 at 12:21 pm
Kappel Gateway Realty
|
Category:

color, decorating, Paint, real estate
|
Tagged

brighter, California real estate, Coldwell Banker Kappel Gateway, construction, drapes, makeover, paint, painting, real estate, realtor, remodel, replace
Can't quite figure out just exactly you are looking for when it comes to that color pop in the kitchen?
These fabulous ideas are worth a look!
Don't get me wrong: White kitchens are cheerful, clean and classic — it's no wonder why they're so popular. But since white kitchens are everywhere, it's easy to forget that there are other colors that can also look great in this space. Thinking about bucking the trend in your kitchen? Consider one of these options, from alternative neutrals to bright, bold hues.
You can't go wrong with these versatile picks.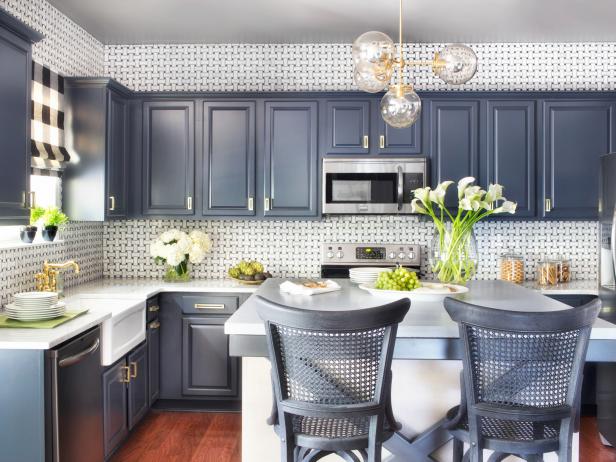 If you want a cool neutral that'll add a bit of drama to your kitchen, look to charcoal. Bright accent colors — or even white, as seen in this kitchen designed by Brian Patrick Flynn — really pop against it.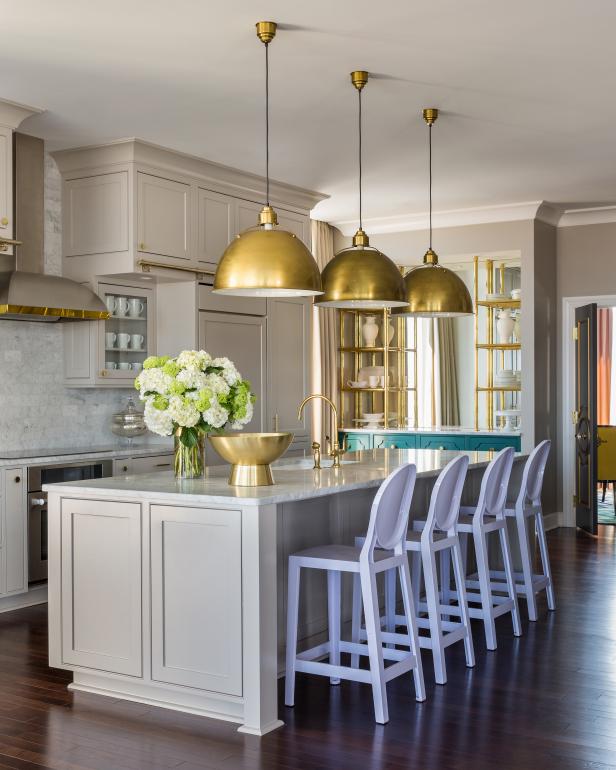 A mix between gray and beige, greige is an incredibly versatile neutral for the kitchen that can complement both warm and cool colors. In this space designed by Tobi Fairley, greige cabinets bridge the gap between warmer brass elements and cooler marble accents.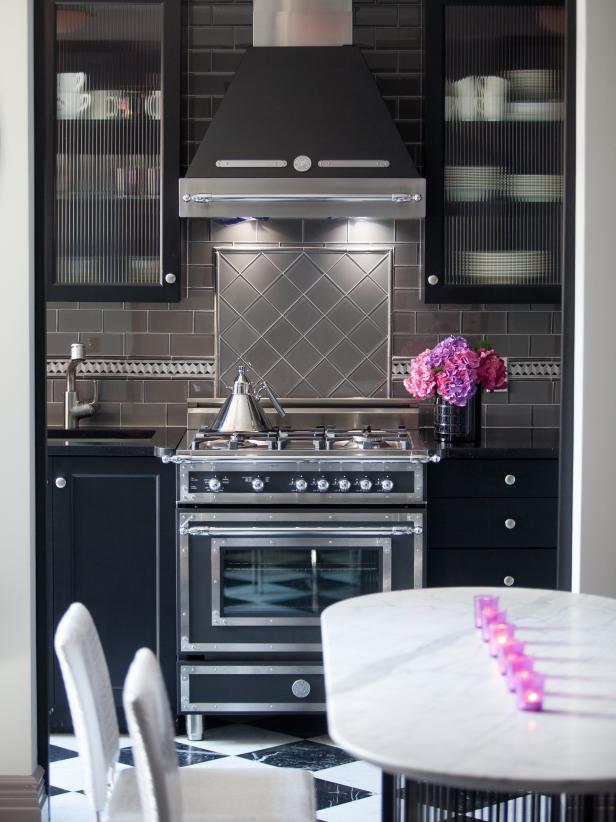 A black kitchen may sound dreary, but it can actually be stunning if done right. Just take this gorgeous room that goes all in with black cabinets, a black vintage stove and a black-and-white tiled floor. If you're not on board with an all-black kitchen, try adding one black element like a backsplash or a sink.
Add a touch of color without overpowering your space.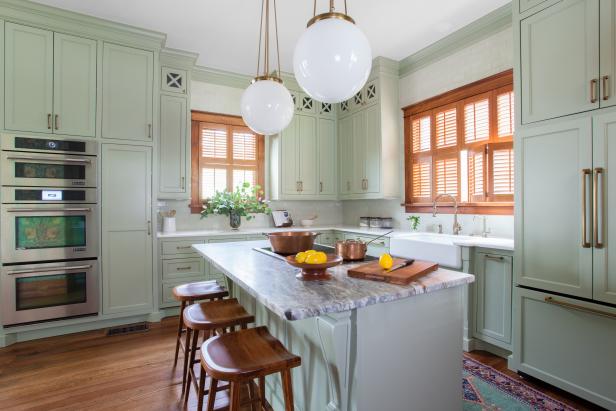 Hints of green in the stone countertops inspired the cabinet color in this country-style kitchen. The soft hue brings coziness to the space, yet still feels bright and fresh.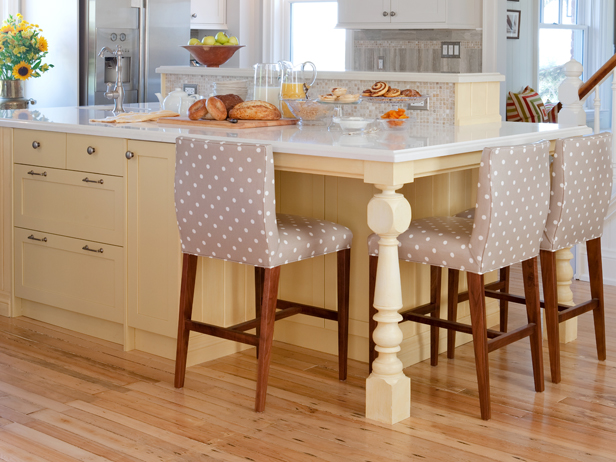 Particularly charming in a cottage- or farmhouse-style space, pale yellow adds a cheerful, sunny touch to a kitchen. Try it with robin's egg blue or with neutrals, as seen in this kitchen designed by Sarah Richardson.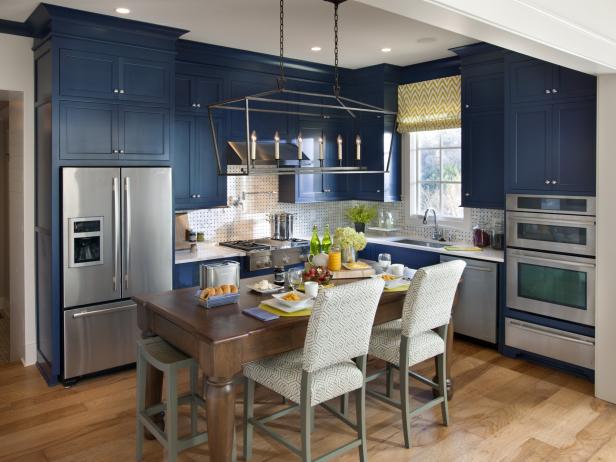 Navy is practically a neutral — it pairs beautifully with everything from tangerine to turqouise to chartreuse. In the HGTV Smart Home 2014 kitchen, navy cabinets are offset by a black-and-white basketweave backsplash for lots of eye-catching contrast.
Go all in with these daring shades.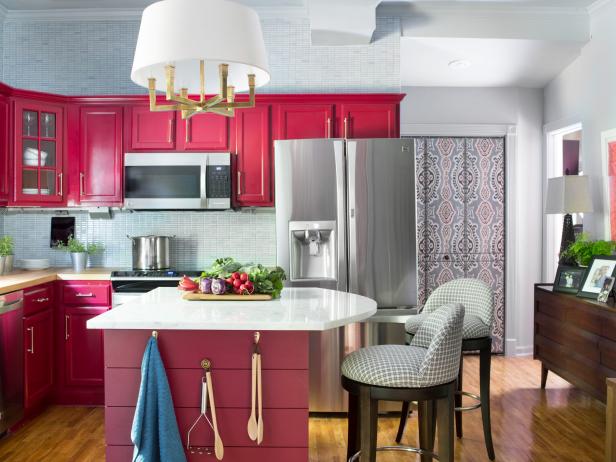 Want to instantly energize your kitchen? Just add a vibrant shade of red. To keep it from feeling overwhelming, try contrasting it with a cool color, like the blue-gray Brian Patrick Flynn used here. If you're not ready to commit to red cabinets or walls, incorporate the color in small doses with red countertop appliances, dish towels and other accessories.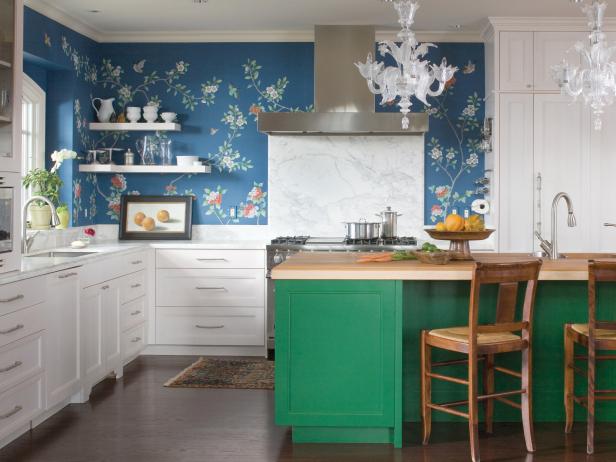 Just a splash of this gorgeous green will make a big impact in your kitchen. In this design, Andrea Schumacher painted only the island, pulling a color from the floral wallpaper to keep the space cohesive. For an ultra-rich look, pair emerald with other jewel tones.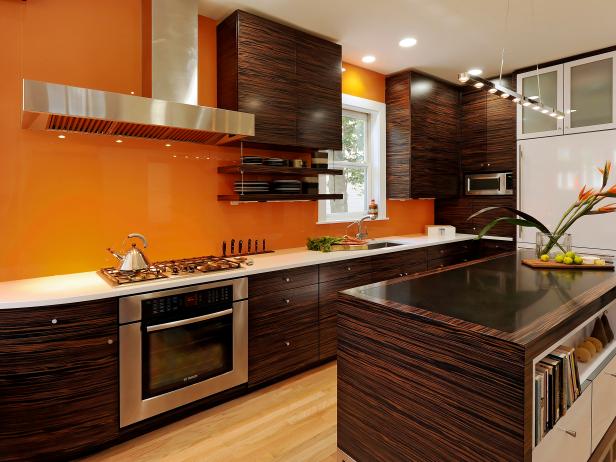 Orange is thought to stimulate the appetite, making it an ideal color choice for the kitchen. In this space by Jennifer Gilmer, an orange backsplash and zebrawood cabinets add warmth, keeping the contemporary design from feeling cold. Smaller orange accents, such as pendant lights or window treatments, can also liven up a kitchen.
Source: HGTV
Posted on June 29, 2017 at 7:17 pm
Kappel Gateway Realty
|
Category:

appliances, cabinets, color, decorating, interior decorating, kitchens, Paint, real estate, Uncategorized
|
Tagged

9 Kitchen Color Ideas That Aren't White, bold, cabinets, California real estate, Coldwell Banker Kappel Gateway, color, decorate, interior design, makeover, neutrals, paint, real estate tips, remodeling, trusted advice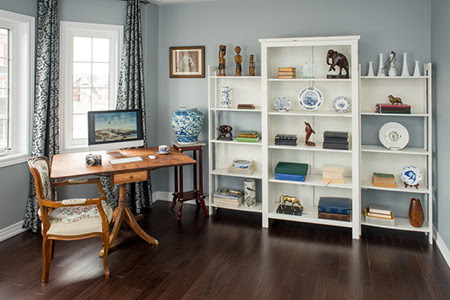 Paint can make or break a room…here are some handy tips before you pick up the old paint brush!
Paint colors play a crucial role in successfully selling a home, having the power to influence a homebuyer's decision to make an offer or move on and the best colors, according to a new Zillow  analysis, are blues and grays.
Homes with bathrooms that have soft blue walls (e.g., periwinkle, powder blue), specifically, sold for $5,440 more than expected in the analysis, as well as homes with a "greige" (beige/gray) exterior, which sold for $3,496 more than homes with brown or tan stucco exteriors. Homes with dark navy blue and/or slate gray front doors also sold for more: $1,514.
Certain colors, though, have the opposite effect, lowering sale prices by a few thousand dollars or more. In fact, homes with bathrooms that have white walls sold for $4,035 less than expected, while homes with darker walls (e.g., brick red, terracotta) sold for $2,031 less than expected.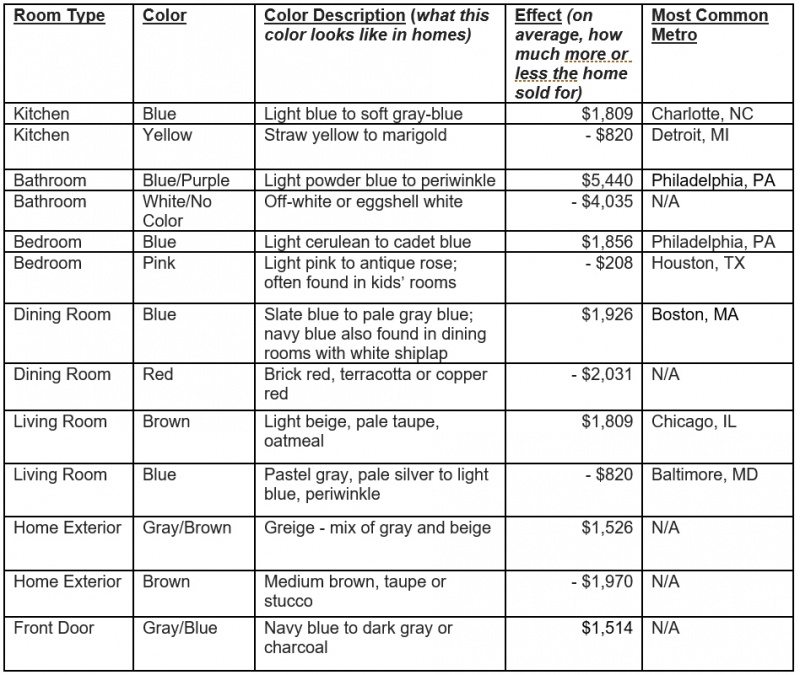 "Color can be a powerful tool for attracting buyers to a home, especially in listing photos and videos," says Dr. Svenja Gudell, chief economist at Zillow. "Painting walls in fresh, natural-looking colors, particularly in shades of blue and pale gray, not only make a home feel larger, but also are neutral enough to help future buyers envision themselves living in the space. Incorporating light blue in kitchens and bathrooms may pay off especially well, as the color complements white countertops and cabinets a growing trend in both rooms."
The analysis considered over 32,000 photos of sold homes across the U.S.
Source: RisMedia
Posted on June 6, 2017 at 10:42 am
Kappel Gateway Realty
|
Category:

decorating, interior decorating, Paint, real estate, staging, Uncategorized
|
Tagged

California real estate, Coldwell Banker Kappel Gateway, decor, decorating, interior design, paint, real estate tips, staging, The Paint Colors That Sell—and the Ones That Don't, trusted advice