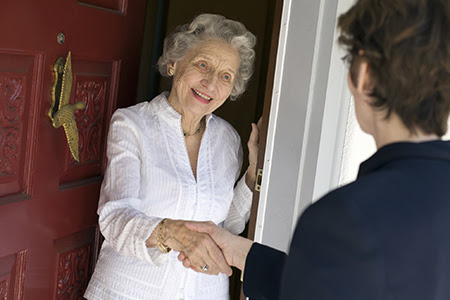 Moving is always stressful. You just want to settle in already!  Take a breather and checkout these tips!
Moving to a new city, whether it's 30 or 3,000 miles away from your last one, can be stressful to say the least—perhaps even more so after you've dealt with the last of the packing boxes, because now it's time to get to know your new community and begin to feel comfortable within it.
Relocation professionals offer practical tips to help you feel more at home faster:
Get connected. If they haven't already done so, don't wait for the neighbors to ring your doorbell. Knock on the doors of the neighbors to your left and your right to introduce yourself. Even if they don't become friends, they can be a good source of city information, as well as referrals for reliable window washers, babysitters, medical professionals and other service providers.
Walk or drive around town. Walking your neighborhood is the best way to pinpoint local stores, schools, libraries and more—and driving will widen your familiarity with the city and acquaint you with alternative driving routes.
Don't hesitate to say you are new in town. Wherever you happen to be, from the dry cleaners to the kids' new gymnastics school, let people know you are new in town. You may be surprised to find how much good information they will want to share with you about their favorites in the place they call home.
Use social media. Get online to browse upcoming local events, as well as trending restaurants, museums and other local attractions.
Find clubs, schools or shops of interest. Look online for appealing local activities for everyone in the family: Toastmasters, quilting shops, book clubs, photography classes or sports leagues. They can be your best source for meeting new people who share your interests.
Say yes to invitations. Agree to join colleagues for a drink after work or a neighbor's invitation to a fundraiser. The more people you meet as a newcomer, the more likely you will be to develop friendships.
Update your registrations. Finally, don't forget to register your car with the DMV, apply for any necessary licenses, and re-register to vote. Identifying with your new location will help make you feel more connected.
Posted on May 16, 2017 at 3:19 pm
Kappel Gateway Realty
|
Category:

buying, emptynester, moving, real estate, Uncategorized
|
Tagged

before you move, California real estate, Coldwell Banker Kappel Gateway, moving, new town, real estate tips, Relocating? Here's How to Feel at Home Faster, trusted advice
Posted on February 28, 2017 at 8:10 pm
Kappel Gateway Realty
|
Category:

buying, emptynester, first time buyers, maintenance, move up buyer, real estate, selling, Smart Homes, staging, Uncategorized
|
Tagged

Air Force, Alameda County, Army, Bay Area, before you move, Benicia, buy my house, Buyers Offer More for a Staged Home, California, California real estate, Carquinez Straits, close of escrow, close on your new house, closing, closing delays, Coldwell Banker Kappel Gateway, Contra Costa County, credit score, Delta, Dixon, escrow, experienced, Fairfield, FHA, first time home buyers, home value, knowledgeable, maintenance, Marine Corps, Military friendly, military knowledge, moving, Napa, Napa County, Navy, overpriced, priced for value, priced well, professional, real estate, real estate tips, realtor, reliable, remodeling, safety, San francisco, sell my home, showing, Solano County, staging, Suisun City, Suisun Marina, Travis AFB, trusted advice, trustworthy, VA, VA lending, Vacaville, Vallejo

If you're like many borrowers who have less than 20 percent of a home's value in equity or saved for a down payment, you need to know how mortgage insurance affects the cost of buying a home.
What Is Mortgage Insurance?
Mortgage insurance—also known as private mortgage insurance, or PMI—protects lenders from default on conventional mortgages in cases in which the borrower contributes a down payment of less than 20 percent of the home's purchase price. PMI is different from homeowners insurance, which protects the home and what's in it. It's also different from mortgage protection insurance or mortgage life insurance, which is an insurance policy that pays off the mortgage loan if the borrower passes away. Mortgage insurance is beneficial to both lenders and borrowers. Mortgage insurance lowers a lender's risk of giving a loan to borrowers with a low down payment. It also benefits the borrower, who, with mortgage insurance, might now qualify for a mortgage he wouldn't otherwise get approved for.
What You'll Pay for Mortgage Insurance
The cost of mortgage insurance depends on the type of home loan you have. You could pay anywhere from 0.3 percent to 1.15 percent of your home loan, according to realtor.com®.
Although insurance premium payments usually get paid monthly, you might have the option to pay it up front at closing or roll it into the home loan cost. Check with your lender.
Mortgage Insurance for Different Types of Home Loans
Mortgage insurance programs vary depending on the type of home loan. Generally, mortgage insurance is required when you get a conventional mortgage and put down less than 20 percent, or when you refinance a mortgage and your home equity is less than 20 percent.
Other types of mortgage insurance include:
Federal Housing Administration mortgage insurance (mortgage insurance premium): An MIP is required for all FHA loans. All borrowers pay their mortgage premiums directly to the FHA, and premiums are the same for everyone regardless of credit score—though if your down payment is less than 5 percent, you can expect to pay a little more. If you get an FHA loan, budget for both monthly MIP costs as part of your regular payment and an upfront payment included in your closing costs. FHA mortgage insurance rates are usually about 0.625 percent.
U.S. Department of Agriculture home loan insurance: U.S. Department of Agriculture insurance covers USDA home loans. It's a lot like FHA mortgage insurance but less expensive. USDA home loan insurance requires making a payment both at closing and as part of your monthly payments. You have the option to roll the upfront cost into your mortgage, but if you do this, you'll increase both your monthly payment and your overall loan cost.
VA home loan guarantee: VA loans come with a mortgage guarantee instead of mortgage insurance, but it provides similar benefits. Instead of a monthly mortgage insurance premium, you'll pay a funding fee upfront. The fee amount varies depending on factors like your military service type, down payment amount, disability eligibility, whether you are purchasing or refinancing, and if you've had a previous VA loan.
Alternatives to Mortgage Insurance
Although there are benefits to mortgage insurance, having it adds to the cost of getting a home loan. If you want to cut costs or are ready to get rid of PMI, consider these five alternatives to mortgage insurance.
Pay a higher interest rate.
When financing a home, some lenders might offer the option to avoid PMI by accepting a higher interest rate. If you choose this option, the higher mortgage rate cannot get canceled, so you'll have to refinance to lower your rate in the future.
Get your home reappraised.
If you believe you now have at least 20 percent equity in your home due to renovations or the rising local property values, get your home reappraised. You might have enough equity to cancel your mortgage insurance, but you'll have to pay for the appraisal up front.
Get a piggyback loan.
Whether your lender calls them piggyback loans or piggyback mortgages, these home equity loans or credit lines enable borrowers with low down payments to borrow more money. Before applying or signing for one, review the fine print carefully to see if your total monthly cost is actually cheaper than paying for mortgage insurance.
Ask your lender about other programs.
Some lenders offer programs that don't require mortgage insurance, even with down payments below 20 percent, though you'll likely have to prove that you have excellent credit to qualify. Before talking to your lender, focus on building your credit history, especially if you or your spouse has bad credit.
Save more for a down payment.
Sometimes it pays to wait and save up or to choose a home that requires a down payment you can afford. If you save 20 percent of the home's purchase price to use as a down payment, you might qualify for a conventional mortgage without mortgage insurance. A conventional loan comes with a lower interest rate, and you'll be able to avoid the headache of comparing mortgage insurance rates altogether.
Source: Rismedia
Posted on February 28, 2017 at 7:43 pm
Kappel Gateway Realty
|
Category:

buying, emptynester, first time buyers, insurance, mortgage, move up buyer, real estate, Uncategorized
|
Tagged

Air Force, Alameda County, Army, Bay Area, before you move, Benicia, buy my house, California, California real estate, Carquinez Straits, close of escrow, close on your new house, closing, closing delays, Coldwell Banker Kappel Gateway, Contra Costa County, credit score, Delta, Dixon, escrow, experienced, Fairfield, FHA, financing, first time home buyers, home value, insurance, knowledgeable, maintenance, Marine Corps, Military friendly, military knowledge, moving, Napa, Napa County, Navy, overpriced, priced for value, priced well, professional, real estate, real estate tips, realtor, reliable, remodeling, safety, San francisco, sell my home, showing, Solano County, staging, Suisun City, Suisun Marina, Travis AFB, trusted advice, trustworthy, VA, VA lending, Vacaville, Vallejo, What You Need to Know Before Buying Mortgage Insurance