Breaking out the paintbrushes, fabric samples and hitting Home Goods and Pinterest for some good ideas?  Here are some 8 steps you need to know before you get started!
Here's how to prioritize your game plan for your room makeover.
If you have a DIY decorating project on your horizon but don't know where to start, here's a practical guide to help you navigate the process.
1. Commit to a Budget and Timeline
First, figure out your total project budget. If you skip this step, you'll likely spend much more than you anticipated and make poor purchasing decisions you'll later regret.
Also pick a date to complete your project by, even if you don't have a looming reason to do so. Creating a complete-by date will fuel your project so it can take flight. Completing one stage of a project informs the next and the next. Otherwise, approaching your project piecemeal will delay completion, if you even complete it at all.
By Mitchell Parker 
Set up a good system to keep track of your expenditures. I use an Excel spreadsheet, but even a spiral notebook can work for smaller projects. The key is to keep it updated.
Here's an example of how I keep a running log of project expenses. While the main goal is tracking the total amount spent, I also indicate the store (which I left off here because stores will vary based on your location and preference), method of payment, general description and any notes, such as delivery fees — useful information that may come in handy later.
Keep all of your receipts together in one location. You can refer to them easily for warranty information and returns, if needed. I use a small zip pouch made for holding pens and pencils while I'm out shopping. After I return and enter them into the spreadsheet, I stapled each receipt to a piece of paper and store that neatly in a project folder.
Photo by Dina Holland Interiors 
2. Evaluate Your Needs and Lifestyle
Separating wants and needs is a hard one. Prioritize your needs by first creating a list of the furniture and accessories you envision going into your space. List any work you want to do, like painting or wallpapering, too. Then rate each item 1 through 5, with 1 indicating an absolute must and 5 reflecting a nonnecessity. Reorder the items on the list with the necessities at the top and the more wishful items at the bottom. Involve other family members in this process. They may identify overlooked items.
Also, be honest about your family's lifestyle requirements today instead of at some far-off idyllic future date. For example, if the kiddos use your family room as a playspace, include toy storage on your list. You may have some child safety needs too. Also note any special concerns about pets, such as shed fur or the potential for furniture to get clawed.
3. Decide What Stays and What Goes
Based on your list, identify any pieces of furniture or accessories that you absolutely want to keep in the space. Remove the pieces you don't plan to reuse; consider donating them if they're in good shape or selling them online or through a local consignment store.
4. Draw a Preliminary Furniture Plan
If your project is small, this step may not be necessary. However, if you're buying new furniture or just considering a new configuration, it's extremely helpful to try out pieces in different locations to see what fits and what doesn't. The last thing you want is to end up with a too-big piece of furniture. You'll need a tape measure or laser measuring tool to measure your space and a scale ruler to draw it to scale. A simple sketch illustrating only the outside dimensions is all that's necessary.
If you don't have these items or don't feel comfortable with drawing to scale, an alternative is to "draw" the outlines of furniture with masking tape on your floor or cut furniture-size shapes out of butcher paper to maneuver around on the floor.
Don't forget about circulation space. Ideally, you'll want to keep 18 inches between the edge of the sofa and the coffee table. Maintain 36 inches for comfortable general circulation. Since you may not have found specific furniture pieces yet and don't have detailed furniture dimensions, you may need to revise the size of some furniture pieces as your project progresses. Nonetheless, this exercise is a good starting point.
Also measure your entrance door and the pathway to the room, including building elevators if you live in a high-rise. Bring these notes with you when shopping. If there are any delivery dimension concerns, you can address them then and there.
Photo by Colordrunk Designs
5. Concentrate on Big Items First
Focus first on the big-impact items, then concentrate on smaller accessories. Too often people get hung up on a small detail that can derail the flow of the bigger items. The idea is to work from large to small.
Find furniture. Unless you're lucky to find the furniture you want in stock, most furniture takes eight to 12 weeks for fabrication. However, even in-stock furniture may not be delivered right away. If available, get a swatch of the upholstery or finish sample to help with other room selections.
Unless you're comfortable working with a complex color palette, minimizing your scheme to two colors, as in the space here, will make shopping easier — and your space will look sharp and put-together.
Work the walls. Compared with any other design material, wall paint gives a room the most bang for your buck. I find it easiest to select a wall paint color or wallpaper after the furniture is selected. You have much more leeway with paint color choices than furniture upholstery. Plan to get your space prepped and painted prior to the furniture delivery.
Photo by Sroka Design, Inc. 
Hit the ceiling. Color instead of conventional white on the ceiling is another cost-effective attention-grabber, especially if you have crown molding to separate it from the walls, like in this living room.
6. Move Toward the Mediums
After you've figured out your furniture layout and color scheme, focus on finding the midscale items that will pull your space together, such as an area rug. Your scaled drawing will also come in handy to see how prospective rugs will work with your furniture layout.
Photo by Country Curtains
Window treatments like Roman shades and drapery can offer lots of style compared to run-of-the-mill Venetian blinds. They can minimize less-than-perfect windows and help save on energy bills, too. New window treatments don't have to cost an arm and a leg, either. Ribbon-trimmed cordless shades like the ones shown here here can be ordered online for $100 to $125.
Photo by Meg Adams Interior Design 
A feature light fixture, like the one in this dining room, can become a stunning design focus.
7. Save the Small Stuff for Last
Fill in your scheme with decorative accessories toward the end of your project. You'll be able to see what areas need attention and have a better sense of scale, especially with artwork. With the furniture in place, you'll also have easy access to key dimensions, like the clearance between shelves.
I also like to shop for table lamps, particularly lamps that will sit behind a sofa, after the furniture is delivered so I can see how all the heights work or don't work together. Cord lengths and switch locations are also easier to evaluate when the furniture is in place.
Photo by Larette Design 
8. Leave Room for the Unexpected
You may come across something surprising in your decorating journey that has special meaning or even adds a bit of humor, like these Hulk hand bedpost toppers. Don't discount originality or quirkiness; it's what makes your home truly yours.
Source:  CB Blue Matter / RisMedia
Posted on May 16, 2017 at 3:29 pm
Kappel Gateway Realty
|
Category:

curb appeal, decorating, DIY, interior decorating, projects, real estate, staging, trends, Uncategorized
|
Tagged

8 Steps You Need to Know Before Redecorating Your Home, budget, California real estate, Coldwell Banker Kappel Gateway, interior decorating, maintenance, real estate tips, Redecorating, remodeling, timeline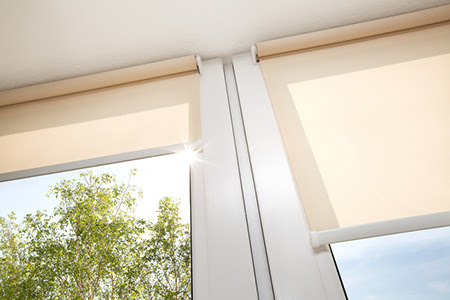 Light and airy rooms but still worried about people sharing your indoor privacy?  Then this is the read for you!
Want to let light in while keeping your nosy neighbors out? Special types of light-filtering window treatments enable you to illuminate your home with natural light while preventing others from viewing your personal space. Ultimately, these window shades may prove to be exceedingly valuable, particularly for homeowners who are searching for high-quality window treatments that are both stylish and practical.
Benefits
In addition to offering maximum privacy from passersby and neighbors, light-filtering window shades provide many benefits, including:
Energy Savings: The U.S. Department of Energy points out properly installed window shades offer some of the "simplest, most effective window treatments for saving energy."
Improved Insulation: Some light-filtering window shades have been shown to act as both insulation and air barriers, and control air infiltration more effectively than other types of window treatments.
Exceptional Value: Homeowners can enjoy light-filtering window shades that consist of UV-resistant and antimicrobial materials for superb quality, maintaining their value over time.
Eco-Friendly Styles: Some light-filtering window shade options are partly constructed from biodegradable materials.
Unparalleled Convenience: Light-filtering window treatments can be motorized or manual, allowing for ease of use both day and night.
Types of Light-Filtering Window Shades
Light-filtering window shades provide varying degrees of light infiltration. The most popular options include:
Cellular Shades
Cellular shades deliver year-round insulation and privacy. Meanwhile, they are constructed to allow small amounts of light to enter a room. Typically, cellular shades are sold in single or double thickness. They are available in multiple vibrant colors, along with various cell sizes and fabric styles to match your home decor.
Cellular shades also boast immense durability. They include an aluminum headrail and bottomrail and take only minutes to set up in any living space.
Roller Shades
Roller shades are easy to use and come in a wide range of lifts to complement any home's decor. Light-filtering roller shades are top choices for many homeowners, as these shades block visibility into your personal space. In addition, blackout roller shades are great choices for those who prefer extra privacy and will help you maximize light control consistently.
Roman Shades
For those who want to add a hint of luxury to th eir decor, there may be no better option than Roman shades. Top-down/bottom-up Roman shades allow you to control whether light will enter from the bottom or from above. The versatile options in fabric range from every color of the rainbow, as well as prints.
If you require additional privacy, select Roman shades that feature a thermal liner. Or, if you need total or near-total darkness (like in a bathroom or media room), Roman shades with a blackout liner may prove to be ideal.
Pleated Shades
Pleated shades are available with light-filtering and room-darkening liners, maximizing light control and privacy needs. With a light-filtering liner, pleated shades can deliver daytime light transmission indoors. To maximize privacy, use pleated shades with a privacy liner, so that only minimal shadows are visible from the outdoors.
On the other hand, a blackout liner offers maximum light obstruction. This liner may serve as a great selection in a child's bedroom or other settings where complete darkness is needed.
Vertical Cellular Shades
Ready to take your vertical window treatments to the next level? Thanks to vertical cellular shades, you can block harsh sunlight from entering large windows and patio doors.
Vertical cellular shades have been shown to deliver year-round insulation, sound absorption and ultraviolet protection. Moreover, they can include blackout fabric to provide you with the total privacy you need to get a great night's sleep. Keep in mind that the blackout fabric of vertical cellular shades features an opacity that prevents light from filtering through at all times.
Vertical cellular shades are ideal in climates with extreme hot and cold temperatures and can be specified to stack on either side, split down the middle or stack in the center for added convenience.
Examine your window treatment options closely, and you're sure to find window shades that match your personal style and budget perfectly, while offering privacy from prying eyes.
Source: RisMedia
Posted on May 16, 2017 at 3:04 pm
Kappel Gateway Realty
|
Category:

curb appeal, decorating, DIY, interior decorating, Privacy, projects, Uncategorized
|
Tagged

Bay Area, California real estate, Coldwell Banker Kappel Gateway, deocorating, interior design, knowledgeable, Light in, privacy, Prying Eyes out: Benefits of Light-Filtering Window Shades, shades, value, window treatments, windows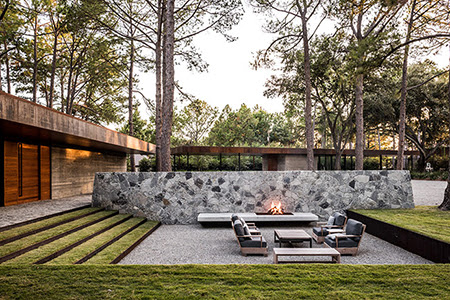 With summer swiftly approaching, it could be time for sprucing up the ole backyard a bit!  Here are some great DIY projects that are sure to add some summertime family fun and enjoyment!
Remember backyards? Those things we've been ignoring for the past four months? They're back! They might not be looking as sharp as they did before winter, but we've got some rad DIY backyard projects to bring it back to life.
1. Ground-Level Trampoline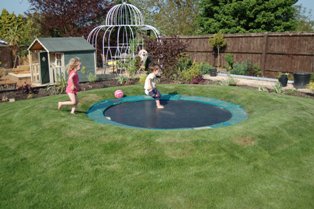 Photo Credit: Little Green Fingers
Do you live in constant fear of your kids falling off the trampoline? Honestly—parenting fears aside—trampolines might be fun, but they're pretty ugly structures. Well, with these sunken trampolines, you'll never have to worry about either of those things. Just dig a hole, place your trampoline, and voila! (Ground-Level Trampoline Instructions)
2. The Only Thing Better Than a Tree House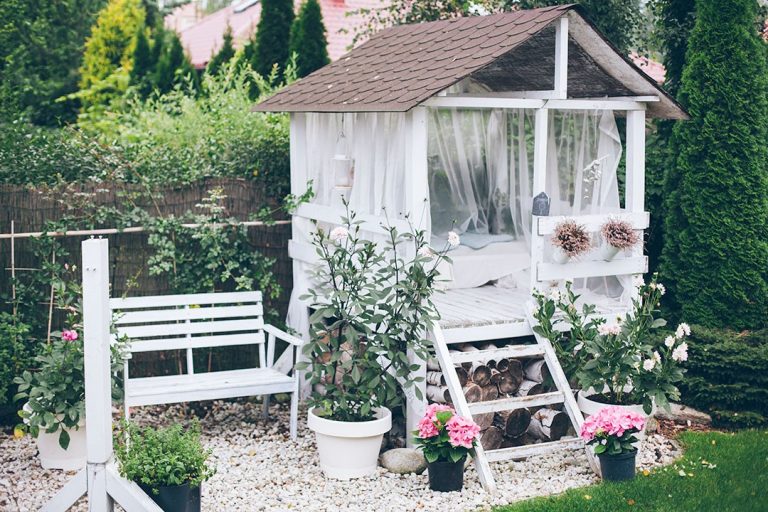 Photo Credit: LazySundayCooking.com
Marta Potoczek was looking for a treehouse alternative, something that looked nice but offered a little distance from the main house. Her solution was this adorable garden house, originally for her daughter to play in and now a perfect woman cave. Moral of the story: Your treehouse need not be on a tree.
3. Tin Can Lanterns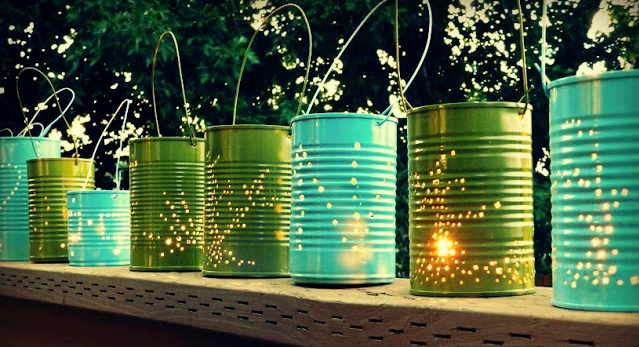 Photo Credit: GrowCreativeBlog.com
This project is both DIY and eco-friendly (because recycling is good). They are easy to make, and will elevate your backyard to the next level. It's a win-win! (Tin Can Lantern Instructions)
4. How About Some Outdoor Tic-Tac-Toe?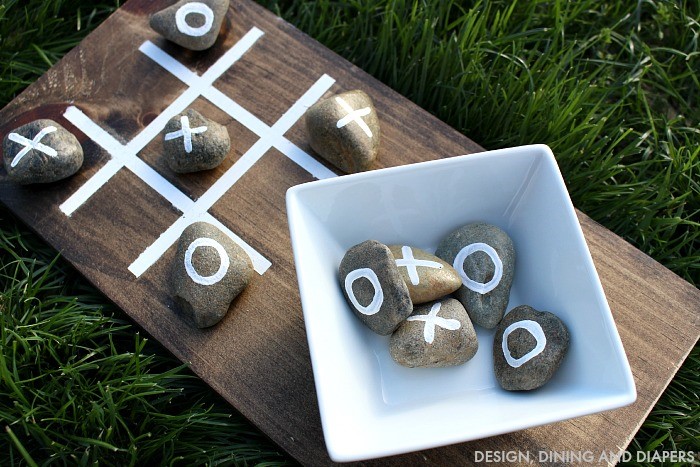 Photo Credit: DesignDiningandDiapers.com
I don't have a backyard, but I'm considering making one of these anyways. Not only is Tic-Tac-Toe the best (especially when you're super good at it), but it also scores high in decorative value. With little effort, you'll come across as cool and tasteful. (Outdoor Tic-Tac-Toe Instructions/Supply List)
5. Vertical Garden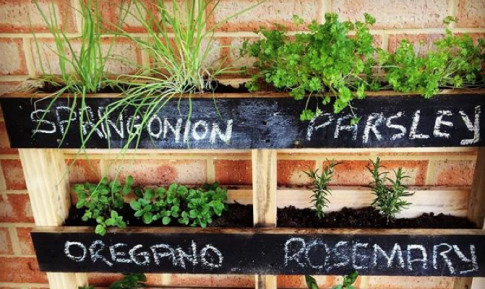 Photo Credit: 99Pallets.com
Since we've already installed a sunken trampoline, a play house/woman cave, and have a Tic-Tac-Toe board lying around, how about we go for space efficiency with this one? A vertical garden can cover any and all walls. It looks good, it smells nice, and you can eat it! That is the best of all the worlds, if you ask me. (Vertical Garden Instructions)
6. Last, but Not Least: I Promised a Fire Pit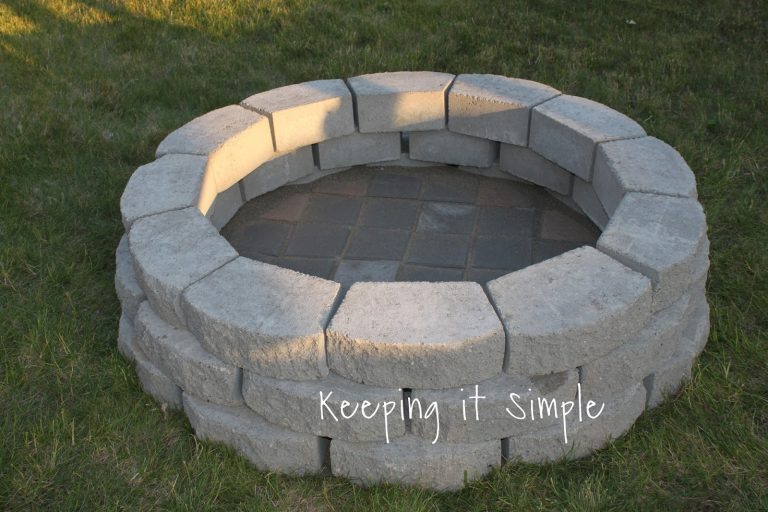 Photo Credit: KeepingItSimpleCrafts.com
If you can't roast s'mores in your backyard, is it even a backyard? I'm going to go with no. This DIY project costs only $60 to make, but look how fancy. This fire pit will make the perfect centerpiece for the intense fantasy backyard we just built together. (Also: s'mores.)
An awesome backyard is just one DIY away.
Source: RisMedia
Posted on May 4, 2017 at 10:04 pm
Kappel Gateway Realty
|
Category:

backyard, decorating, DIY, projects, real estate, summer, Uncategorized
|
Tagged

6 DIY Backyard Projects From Lighting to Fire Pits, backyards, California real estate, DIY, maintenance, p;roject, summer