Now that October is here and it's officially fall, breezy colors and summery decor will start to feel out of place. Make holiday houseguests and potential buyers feel at-home with the comfy, cozy and even cheerful shades of the season. Follow along as we uncover eight trendy colors that will last through the new year.
1. Pumpkin Spice
As everyone is lining up for their long-awaited pumpkin spice lattes, the hue also has a well-earned spot in home decor. It's bold, exudes warmth and resembles the always festive holiday, Halloween. This color works well when painted on one wall, as shown above, or through accessories like rugs, pillows, and throws if you're color shy. It pairs well with neutral colors and monochromatic palettes as it takes the spotlight in all of its seasonal glory.
2. Autumn Red
If you don't use autumn red in autumn, when will you use it? Although it's a dramatic shade, it can infuse any room with a fiery and fun vibe. It adds intense energy to contemporary and modern rooms while being a happy addition to any playful, eclectic space. Use it intentionally and sparingly in a room to enhance its overall effect.
3. Emerald Green
There's so much to love about this deep shade of green. Unlike the previous colors that are more playful, emerald draws from its roots in Mother Nature to create a sense of calm in any space. Serving as the focus in this kitchen, emerald green cabinetry marries perfectly with blond wood tones and light countertops. Wouldn't you like to spend all holiday season here?
4. Navy Blue
Even darker and more daring than emerald green, navy is a close cousin to black. If you're not psyched about displaying the iconic holiday colors in your home, but still want to stay on the dark side of the spectrum, this shade of blue is perfect for you. Honoring its origin from the British Royal Navy, this color embodies ultimate elegance, sophistication and power. Bringing navy into your home this season can have surprisingly health benefits too. It's been shown to have a calming effect on the human body by slowing heart rate and metabolism.
5. Wine
Often an overlooked shade of purple, wine would make a lovely addition to any home this fall. Following suit with the deep tones discussed above, it has the strongest effect when used sparsely, as seen in this Chicago bedroom. Purple has historically been a color of royalty and power. Its wine pigment is no different, conveying richness and seduction in every capacity.
6. Steel Gray
Gray is one of the most versatile hues on the spectrum and can easily be used all year-round. Having said that, it's often hard to choose the right gray for the season. Light gray can be seen as a winter wonderland while charcoal can be hard to distinguish from black. Steel gray is a solid middle ground. It's the star of the show in this contemporary London kitchen with its sharp, clean and defined lines.
7. Mustard Yellow
A hue that echoes the falling leaves soon to come, mustard yellow provides warmth and joy to any space. It plays well with other bold colors, like the bright blue sofa and TV stand in this eclectic living room. For year-round summer lovers, this color can also serve as a happy reminder of the sunny days and will brighten up any interior.
8. Brown to Beige
Brown is a classic fall color, but too much of it can make a home feel more like a cave. Instead, use brown as an accent color and brighten it up with a lovely beige tone. Add in some white decor for a gorgeous layered look, like you see in this Denver bedroom.
Posted on October 6, 2017 at 8:44 am
Kappel Gateway Realty
|
Category:

Celebrate, color, curb appeal, decorating, interior decorating, real estate, summer, trends, Uncategorized
|
Tagged

blue, California real estate, Coldwell Banker Kappel Gateway, color, decorate, do it yourself, fall, first time home buyers, furniture, holidays, kitchen, maintenance, October, pumpkins, real estate, real estate tips, red, remodeling, staging, trendy, yellow

Is it possible to have children, pets, and beautiful flooring? Yes—but you've got spills, muddy feet and the occasional pet "accident" working against you. You just want to find flooring material that meets your needs, like:
Durability – The floors should be able to withstand untrimmed dog nails, kneading cats, and sippy cup spills.
Easy to clean – In a house full of kids and pets, messes are going to happen. What's important is that your flooring material is easy to mop, sweep, and clean with your preferred products.
Safety – The right flooring for your family is safe, soft and slip-resistant. You also want to check that it doesn't contain harmful chemicals—such as lead and phthalate.
Visual appeal – It's your home—you should enjoy your space! That means picking out flooring that makes you happy. Choose an appealing color and texture that compliments your space.
Price – According to HomeAdvisor, it costs an average of about $2,900 to install flooring in your home. Since new flooring is a big investment, it's best to pick a material that's cost effective and will last a few decades.
Here are materials that do and don't meet these specifications.
The Best
Bamboo Flooring
Bamboo floors are kid, pet, and earth friendly. Bamboo's surface is hard (on par with maple and oak flooring) and extremely durable. It's also stain resistant and can be easily cleaned using a mop, broom, or vacuum. And, its attractive exterior should be able to withstand scratches from toys and claws, making it the ideal choice for families.
Linoleum
Linoleum flooring makes the list because it's easy to clean, fairly water resistant, quiet, and hypoallergenic (a must with stray furs flying around). And, since its color and print design extends from the surface into the base, it's harder to detect scratches.
Vinyl
Vinyl flooring is among the most resilient flooring materials. Its tough surface will resist scratches, tear, and wear and is incredibly water resistant. And, it takes minimal maintenance to keep clean. Spills and stray hairs can be mopped, swept, or vacuumed away in minutes time and won't leave long-lasting stains. Just be sure not to skimp on the price—cheap vinyl won't offer the same durability and softness as higher end brands.
Tile or Stone
Tile flooring is a great option for families and pet owners because it can stand up to almost any mess or accident. It's water resistant, stain resistant, and incredibly durable. Terra cotta and natural stone are beautiful and will compliment almost any home. One drawback is the relative hardness of the flooring—what makes it so easy to clean is also what makes it uncomfortable to sit and play on. Counteract this by adding a soft play rug to rooms where animals and kids gather and keep the beautiful flooring for yourself.
Rethink Carpet
While this is one of the most popular types of flooring, it has many qualities that children and pets love—it's soft, warm, and slip resistant. However, it does a terrible job hiding pet accidents, fur and stains. It can also trap foul smelling odors! Even worse, looped cut carpet can catch on animal claws and cause a lot of pain. If you must have carpet, choose either polyester, nylon, or eco-friendly, triexta fibers. These types are known for their durability and stain resistance.
Choose Flooring That Will Last
Choosing the right flooring for your family is important—the floor is where you gather, play, and roam. Why spend that time worrying about spills and messes? The right flooring for your family will stand up to the chaos and provide a space for fun first.
Katy Caballeros is a freelance writer who enjoys scheming eclectic home design ideas for her apartment. She can usually be found with book and bottle of ginger beer on the weekends.
References
Source: Coldwell Banker Blue Matter Blog
Posted on October 3, 2017 at 9:01 am
Kappel Gateway Realty
|
Category:

cleaning, decorating, DIY, projects, real estate
|
Tagged

bamboo, clean, cleaning, Coldwell Banker Kappel Gateway, construction, durable, Flooring, floors, install, knowledgeable, linoleum, maintenance, pets, real estate tips, remodeling, spills, stone, tile, trusted advice, vinyl, water proof, wood

Guest post by Laura McHolm
Designing a floor plan in your new home is a step that is frequently overlooked. However, it is essential to create a floor plan for your new home before you move.  Not only is it the step that saves you money on moving day, it also transforms a new house into your new home.
If you have a plan for where each piece of furniture will be placed in your new home, you will save time and money on moving day. The movers will not be rearranging your furniture for hours while on the clock. Sadly, the easy act of creating a floor plan before a move is a rarity. If you are not an interior designer it can be extremely challenging to know how to create a floor plan and envision a layout for your new home. So naturally, I called upon an experienced pro, Interior Designer Kathy Geissler Best of Kathy Best Design, to unwrap the secrets behind creating a beautiful and functional floor plan.
Here are Kathy's seven steps to create a well-designed floor plan:
1. Edit
Edit your furniture. Move only pieces you love and use. Now is the time to get rid of furniture. You want your new home to look open and feel fresh. Give items that you no longer love to the Goodwill, Habitat for Humanity, a family member, or sell at a consignment store.
2. Measure
Once edited, measure your key pieces. You don't need to measure every piece of furniture, just the large items like sofas, beds and main tables.
3. Take a Field Trip
With furniture measurements in hand, take a trip to your new home. Stand in each room and think about how you are going to use each space. Rooms will be used more often if they have multiple purposes. For instance, a living room can be both for entertaining and a family game room, and a guest room can double as a home office.
4. Don't Rush
Walk around the new home. Experience the light in each room at different times of the day and if possible on different days. Think about how you want to use each room and what will be the focal point of each room.
5. Take Note
Once you have a purpose and a feel for each room, it's time to make a sketch. Draw a rough sketch of the room and jot down measurements. Note locations of electrical outlets, windows, light switches, chandeliers. This information will help you place furniture and décor later. Be sure to measure the path of entry to be sure big furniture items will fit through doorways, halls, and stairs.
6. Play & Design
Another way to get ready for the move is to make templates of the large furniture pieces on butcher-block paper. Move the templates around and play with them, rearranging them in different places of the room, until you find a layout that feels right. Then adjust to these pro rules:
Think about where you want to look in each room. At the fireplace, the view, TV? Face the furniture to work with this focal point.
Figure out where you want the bigger pieces and then build around them.
If you can, place dressers in the bedroom closets to open up space in the bedroom.
Leave an open welcoming path into each room. For example, do not have the back of a sofa facing the entrance to a living room.
Think about seat heights. A dining chair is taller than a lounge chair. You want chairs and a sofa to be at the same level in a sitting area.
Leave at least 18 inches to walk around beds. If guest rooms are not large, a queen bed will make the room appear bigger.
Use rugs to define areas. For instance, define a reading space in the living room with a separate rug. Be sure to make note of where rugs go so the movers can lay them down first in the correct locations.
7. Sketch & Post
Now that you have figured out where you want each large piece of furniture, complete your sketches. Tape the drawings of each room layout in the rooms. The movers will know where to place the furniture.
Congrats, you have a plan and the fun part is just beginning! At the end of move day, you will be walking into a home that fits you. The furniture staples will be placed just where you want and need them and now you get to add the décor accents! Furniture is like a wardrobe, dress it up with seasonal throw pillows, side tables and other accessories. You want to feel happy when you walk into each room. With the layout done now you can make your new home your happy place.
Posted on September 29, 2017 at 8:36 am
Kappel Gateway Realty
|
Category:

appliances, Buyers, curb appeal, decorating, DIY, interior decorating, moving, real estate, remodeling
|
Tagged

decor, design, family room, floor plan, furniture, kitchen, living room, moving

Guest post by Katy Caballeros 
Between the toilet, shower, and sink, your bathroom accounts for nearly 60% of your home's water usage. With water scarcity estimated to affect 2/3 for the global population by 2025, water costs are bound increase. Make a water-saving change and an investment in the future, without sacrificing performance. Read about the three simple bathroom upgrades that have a positive impact on your wallet and the world.
1. Install a Low-Flow Faucet Aerator
Although a sink doesn't seem to use as much water as the shower or toilet, it can pour out around 3 gallons of water per minute (gpm). Those extra gallons add up, especially if occasionally forget to turn off the sink while you shave or brush your teeth. By installing a low-flow faucet aerator on your bathroom sink, you can cut your water waste in half, reducing it by as much as 1,400 gallons per year. Purchasing an aerator for your sink is one of the cheapest conservation renos, with aerators available for as little as $1.
2. Switch Out Your Showerhead
It's easy to waste water in the shower—many of us use the shower to relax or perhaps leave the water running as we wait for it to warm. While taking shorter showers can definitely help with water conservation, new energy-efficient showerheads can help reduce water waste without sacrificing enjoyment.
WaterSense labeled products are certified by the Environmental Protection Agency (EPA) to help save water and are worth consideration as you search for the right products for your home. Showerheads labeled "low flow" are another option for your bathroom reno, as they deliver 2.5 gpm instead of the wasteful 5 gpm of older showerheads.
Newer models, like Evolve's showerheads, have features like smart home technology, which conserve water and reduce energy use. Here's how it works: instead of wasting water as you wait for the shower to warm, this technology automatically reduces the water flow to a trickle when it reaches 95 degrees. When you're ready to shower, you pull on the showerhead's built in lever and the flow returns to normal. No more letting energy-burning hot water flow down the drain. They estimated this showerhead technology can save homeowners 2-6 gallons of water per shower!
3. Replace Your Old Toilet
The toilet is the most water-wasteful piece of plumbing in most homes. Nearly 1/3 of a household's total water consumption is flushed down the toilet. They can use as much as 7 gallons per flush! Luckily, toilet technology has come a long way in the past few decades. Newer energy-saving models can reduce water waste up to 67%. There are three main types of water efficient toilets:
Low Flow Toilets
Duel Flush Toilets
Pressure Assist Toilets
Some toilets use a combination of low flow, duel flush, and pressure assist to create a conservation-friendly commode. Low flow toilets are designed to use significantly less water than older models, whereas duel flush toilets customize each flush for either solid or liquid waste. Pressure-assist toilets use an air cartridge to push water from the tank, which means using as little as one gallon per flush. With thousands of gallons a year in water savings at stake, a toilet reno is a must for water-conscious homeowners.
HomeAdvisor surveyed homeowners and found that replacing a toilet cost an average of $377. Compare that to savings up to $2,200 over its lifespan, and that's more than a 580% return on investment.
Luckily, with innovations in water-saving technology, it's easy to drastically cut back on water consumption without sacrificing performance. And, compared to other home updates, purchasing and installing water-saving products is relatively cheap and promise big savings on your water and energy bills. Whether you're conserving water for your wallet, the environment, or state regulations upgrading bathroom fixtures can make a positive impact.
Posted on September 25, 2017 at 8:54 am
Kappel Gateway Realty
|
Category:

appliances, decorating, energy, flood insurance, inspections, interior decorating, real estate, Utilities, watering
|
Tagged

aerator, bathroom, before you move, California real estate, Coldwell Banker Kappel Gateway, faucets, first time home buyers, gallon, hose, kitchen, low-flow, real estate tips, sink, trusted advice, water

Add your own flair to your home through art with these creative & inexpensive ideas.
Your home should reflect your personality, interests, and all the people and things you love. One of the easiest ways to accomplish that is through the artwork you display around your home. When my husband & I moved into our apartment, we initially worried about finding art that was not only beautiful, but at a price point that wouldn't break our budget. Here's what we discovered:
Print Your Favorite Photos on Canvas
Some of our favorite artwork displayed in our home is actually photos we took ourselves while traveling, and had blown up & printed onto canvas. Snapfish allows you to create your own canvas photo art starting at $39, and it's the perfect way to show off your favorite family photos or pay homage to your favorite vacation spot as a reminder to get back out there!
One Word: Ikea
I have somewhat of an Ikea obsession, and their "decoration" department is no exception. Between their extensive collection of artistic prints, frames, and accessories, you could truly find something for every room in your home — and still have money left over for those Swedish meatballs on your way out.
Joss and Main
Clicking around on this website is like digging for treasure – except you always find one .. or two, or three. This site is beautifully curated with discounted art, furniture, rugs, bedding… you get the idea. The best part? You can browse by style, so if you're going for a certain vibe – coastal, bohemian, rustic – the site will only show you items that align with that style.
DIY
One of our favorite pieces of art in our home is one we made ourselves. I find my inspiration for these projects on – you guessed it – Pinterest! It's not only a great way to add something totally unique and special to your home, but it provides a great excuse to gather up your art supplies and enjoy a relaxing day of creativity. You can see a few of my favorite Pinterest DIY projects here, here, & here.
Need more home decor ideas? Click here to discover 12 ways to make your home even more awesome!
Posted on September 19, 2017 at 4:00 pm
Kappel Gateway Realty
|
Category:

color, curb appeal, decorating, Homeowners, interior decorating, real estate, staging, Uncategorized
|
Tagged

agent, art, before you move, California real estate, canvas, Coldwell Banker Kappel Gateway, first time home buyers, furniture, homes, moving, professional, real estate, realtor, remodeling, rugs, sell my home, staging, vase, wall art
Living in a big city doesn't mean you don't have great outdoor spaces. Take a look at some of our favorite urban backyard and terraces on coldwellbanker.com tailor-made for summer entertaining.
How alive the city is, how alive, how alive, how alive."

– Alfred Kazin
Contrary to popular belief, there is no better time of year to be in a big city than during summer.  Sure, the subway stations feel like they're 123 degrees, but apart from sweltering train commutes, the city is a magical place during this time of year.
In a big city anything can happen, especially during summer – and only in the best ways. A trip to the farmer's market can lead to day long expeditions to unexplored neighborhoods in town, and a cup of coffee with friends can lead to great conversations with strangers at a rooftop party later in the day. The great weather and relative calm that comes with a less congested city make summer a time for coming together, meeting new people and discovering new reasons to fall in love with your city and your home.
While we may not have sprawling residences or acres of backyard space, we do in fact have outdoor areas tailor-made for entertaining come summertime. Our yards are our little havens from busy city life, and our terraces are where we sit and admire the ingenuity of man.
In honor of summer in the city, our latest "Summer Fridays" post pays homage to a few of our favorite urban yard and terraces from homes listed for sale on coldwellbanker.com. Let's take a look!
This urban refuge offers up sweeping views of Puget Sound, Mt. Rainier, The Olympic Mountains and downtown Seattle! Featuring not just one but two outdoor terraces, this home gives you plenty of space to enjoy beautiful Summer nights with good company.
Sometimes the best views of New York City come from just outside New York City. This meticulously renovated brownstone on the Hudson River features a sprawling terrace that offer up some of the best Manhattan skyline views you'll find anywhere!
This home really does have it all. You're located in the heart of Chicago, but it also feels like you're tucked away on your own little private island. It doesn't get more zen and restful than this sprawling rooftop terrace with ample spaces for relaxing and enjoying that great Chicago summer weather.
This penthouse residence at the Park Hyatt has the tallest balcony in the prized building, offering you unobstructed water and glitzy downtown Chicago views.
Miami!! The city where you can at once feel like you're living in a city and right on one of the finest beaches in the world at the very same time! This beautiful home offers up stunning waterfront views and even a pool out on the terrace..because it is Miami.
——-
Join us next Friday for another installment of our "Summer Fridays" series.
Source: Coldwell Banker Blue Matter Blog
Posted on August 4, 2017 at 8:57 am
Kappel Gateway Realty
|
Category:

backyard, BBQ, community, curb appeal, decorating, Fixer Uppers, Homeowners, interior decorating, Location, maximizing space, neighborhood, outdoors, Privacy, projects, real estate, remodeling, staging, Uncategorized, views
|
Tagged

balcony, downtown, Fridays, nights, outside, Patio, Patio Furniture, rooftops, summer, terraces, views, waterfront

This isn't your Grandmother's veranda!  Take a peek at these great outdoor seating spaces. Enjoy!
If you have to sit, you might as well do it outside and during summer! Here are a few of our favorite outdoor seating areas from homes for sale on coldwellbanker.com
In limited web research, I've gleaned that on average, we're seated for an astonishing 7.7 hours per day. Those almost 480 daily seated minutes are mostly spent at our desks as we type away diligently, in our cars as we sit in traffic, and on our couches as we binge watch our "shows" – because you know, it's the golden age of television…we have a duty to watch these things.
Today I boldly proclaim that it is summer and if you have to sit, you might as well do it outside! You can catch up on Game of Thrones another day! Do you smell that? It's called non-recycled air. Enjoy it while the weather is great. Here are a few of our favorite outdoor places to sit from homes listed for sale on coldwellbanker.com.
Locals call this house Hale Palekaiko, or House of Paradise –  and for good reason. The home is located on world renowned Kailua Beach, but who would want to leave home when your home is basically a resort?
$9,750,000 – Santa Barbara, CA
This exquisite home in Santa Barbara transports you to the Mediterranean. Kick back with some local red wine, some good friends and enjoy those sweeping mountain views. This is how you summer!
As the saying goes, what happens in Vegas stays in Vegas…well if I were to ever visit this awesome 37th floor residence and all the amenities the building offers – I'd stay in Vegas too. Forever.
Take your pick. Sit on one of the numerous terraces and balconies as you look out at your three acre kingdom, or get closer to the action by taking to the pool and patio areas to soak up some Vitamin D.
$5,850,000 – Roslyn Harbor, NY
What's better than an all-brick restored roaring 20s estate resting on over 3.9 pristine acres of land? Not much. One of my favorite parts of this seriously hip turn of the century home is this seating area surrounded by lush gardens and vegetations all around.
Source: CB Blue Matter
Posted on July 26, 2017 at 3:18 pm
Kappel Gateway Realty
|
Category:

backyard, decorating, outdoors, real estate, seating, staging, Uncategorized, views
|
Tagged

backyard, decorating, outdoors, seating, Summer Fridays: Outdoor Seating Areas That Wow, views

Photographs…your real time window to the past…even better than a memory in your head. Decorate with them? Absolutely!
Decorating with photos is an awesome way to spice up your home in a really dramatic way without spending a whole lot of money. Don't worry if you haven't got a lot of money; your own photos are probably better than anything you'd buy.
Dial up the gorgeous drama of your Northern California home with a fun photo decor DIY project. Photographs, like art, can help us express ourselves in many different ways. They can help us play up our sentimental side, make important statements, and complete the canvas of our homes. Learning how to decorate with photos, as simple as it sounds, can be quite daunting once you put your mind to it. How exactly should you go about it? Should you hang provocative art in your living room where everyone can see it? Is it cheesy to hang photos of your entire family on your fridge? What's the right thing to do?
The Right Way Is Your Way
Don't worry that you'll end up decorating with photos that people may think are cheesy or that are too much. Photographs are an expression and extension of yourself, so you're hanging and displaying them to express your vision. Of course, if you have children regularly visiting your home, you don't want to hang something for mature audiences only in a room where everyone gathers. You know who you invite into your home; use your judgment.
Use Your Own Photos
There are photographic gems you probably aren't even aware of (or even remember exist) buried inside your very own camera or flash drives. Photos of vacations past, a child's birthday party, a lonely street at night — any of these could be striking or thought-provoking enough to make perfect wall art. You don't have to use the whole image; maybe it's a detail of an image that's frame worthy. If you don't have the scene you're looking for, create it: Your child's feet as they leap off the ground; your grandmother's smile the instant she bursts into laughter upon hearing an off-color joke; your cat's profile as she watches a bird outside the window. The possibilities are literally endless.
Display Them In Innovative Ways
You can rarely go wrong with square or rectangular black frames backed by white matte when it comes to framing your pictures, but there are many different ways you can display your photos. Attach a series of photos individually on metallic clips and hang them from a metal wire grid that takes up your entire wall. Put some vintage photos inside of old mason jars. Blow up a favorite photo to life-size stats and hang it front and center in your main living area or passageway.
Source: CB Blue Matter
Posted on July 26, 2017 at 2:59 pm
Kappel Gateway Realty
|
Category:

decorating, interior decorating, photography, projects, real estate, Uncategorized
|
Tagged

decorating, DIY: Decorating Your Home With Photos, interior decorating, photographs, wall art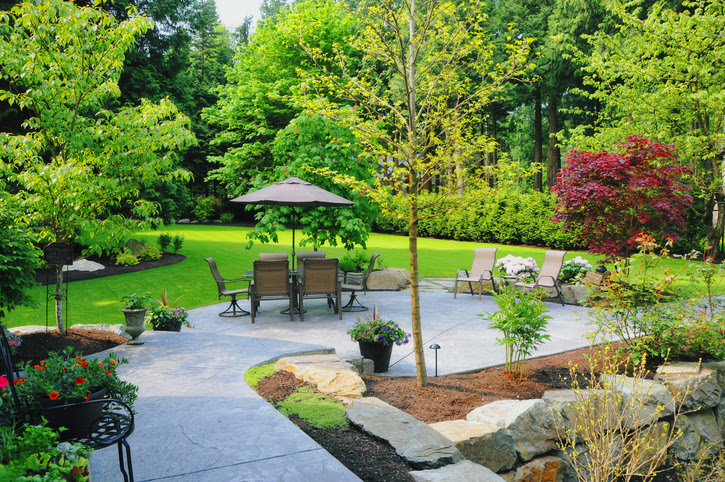 Your backyard should be your summer sanctuary…your perfect place away from the rest of the world. Here's how!
Summer is the season to be outdoors. It's the perfect time for backyard barbecues, neighborhood socials, and late-night evenings on the patio. You don't need to travel to a luxurious and exotic location to enjoy spending time outdoors. Make your own backyard a summer paradise with these eight simple suggestions.
Inspect and Update Wooden Decks
To make your backyard a summer haven, take some time to inspect and update your deck. Wooden patios and decks can be warped by cold weather, so you'll want to replace loose or missing slats as needed. Sand, stain, and seal your deck once you've made sure it's structurally sound. If you have a stone patio, check for missing pieces and update as needed. Once this is complete, you'll have a shiny and appealing deck you can decorate with patio furniture—creating a relaxing sitting area for summertime.
Purchase Patio Furniture and Essentials
Once you have a designated patio or deck space, you'll want to add some patio furniture so you can sit down, mingle with friends and family, and relax. Consider purchasing weatherproof patio furniture that is both comfortable and durable. Patio furniture can be exposed to harsh, seasonal weather, so you'll want to make sure it lasts for years.
Get the basics, including some lounge chairs, an umbrella, a hammock, and an outdoor table so you can enjoy meals or games outside. In addition to patio furniture, you may want to buy or build an outdoor fire pit. It's a simple feature that adds so much to your backyard. Sit around the fire and socialize, roast marshmallows or even cook dinner on your own backyard fireplace.
Add Colorful Cushions and Pillows
You'll want to add a splash of color to your patio so it's eye-catching and sings of summertime. Buy some bright-colored, comfortable throw pillows and cushions to spice up the furniture. The bright colors and fun patterns will entice people to sit down, relax, and enjoy your backyard paradise.
Get a Rug for the Patio
Consider adding a rug to the patio or deck area to make the space feel cozier. Outdoor rugs vary in material, size, and shape and are generally made to last in all types of weather. They make a great addition to your space, and can also protect your deck.
Install Outdoor Lighting
Nothing is more magical than twinkling lights against a royal-blue evening sky. Add strands of tea lights or other innovative lights to create a fairytale effect in your backyard. In addition to the decorative lighting, you'll want to consider adding sensor or smart lights to your backyard for added security. Smart lights are a great way to ensure the backyard is lit—you can even control smart lights with your smart phone.
Make the Backyard Private
You may love your neighbors, but that doesn't mean you want them always peeking into your backyard. Be creative when thinking of ways to ensure better backyard privacy. One easy way to create a private, secluded backyard paradise is to install a fence. Not only does it ensure privacy, but it is an essential safety measure. Install a strong, secure fence to create a private and safe backyard.
Update Your Landscaping
Landscaping can make or break your backyard. It's essential to take time to update your landscaping to create an outdoor paradise. You don't need extravagant plants or trees to make your backyard grand. Take some time to cut back unruly trees and bushes, pull the weeds, water and trim the lawn, and plant flowers around the yard. These simple updates will make a world of difference. You'll have your own secret garden in no time!
Secure Outdoor Belongings
Once you've created a magical backyard space, you'll want to take the necessary precautions to safeguard your belongings. Make sure your garden tools and supplies are in a locked shed—away from kids, pets, and burglars. Take time to assess the backyard for any security breaches. This will keep your family safe and protect your backyard, patio, and deck from major damage.
Summer is a wonderful time to relax and enjoy being outdoors. Update your own backyard and you'll have access to a private paradise any time you want.
Source: RisMedia
Posted on July 8, 2017 at 12:21 pm
Kappel Gateway Realty
|
Category:

backyard, BBQ, decorating, Entertainment, family, grill, landscaping, lawn, Pools, Privacy, projects, real estate, summer, Uncategorized
|
Tagged

8 Ways to Make Your Backyard a Summer Paradise, backyards, BBQ, California real estate, Coldwell Banker Kappel Gateway, Decks, decorating, grilling, paradise, patios, real estate tips, sanctuary, summer, trusted advice
Can't quite figure out just exactly you are looking for when it comes to that color pop in the kitchen?
These fabulous ideas are worth a look!
Don't get me wrong: White kitchens are cheerful, clean and classic — it's no wonder why they're so popular. But since white kitchens are everywhere, it's easy to forget that there are other colors that can also look great in this space. Thinking about bucking the trend in your kitchen? Consider one of these options, from alternative neutrals to bright, bold hues.
You can't go wrong with these versatile picks.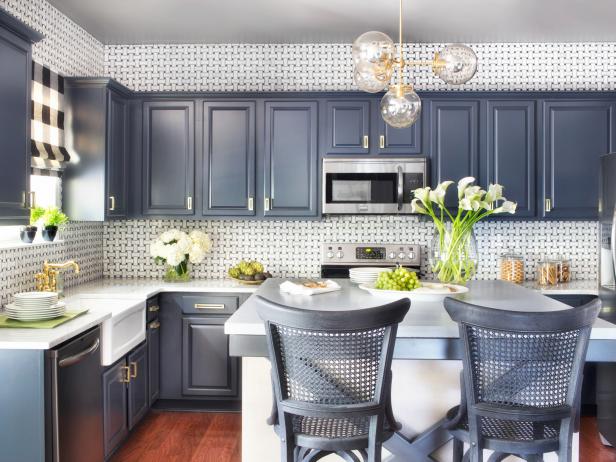 If you want a cool neutral that'll add a bit of drama to your kitchen, look to charcoal. Bright accent colors — or even white, as seen in this kitchen designed by Brian Patrick Flynn — really pop against it.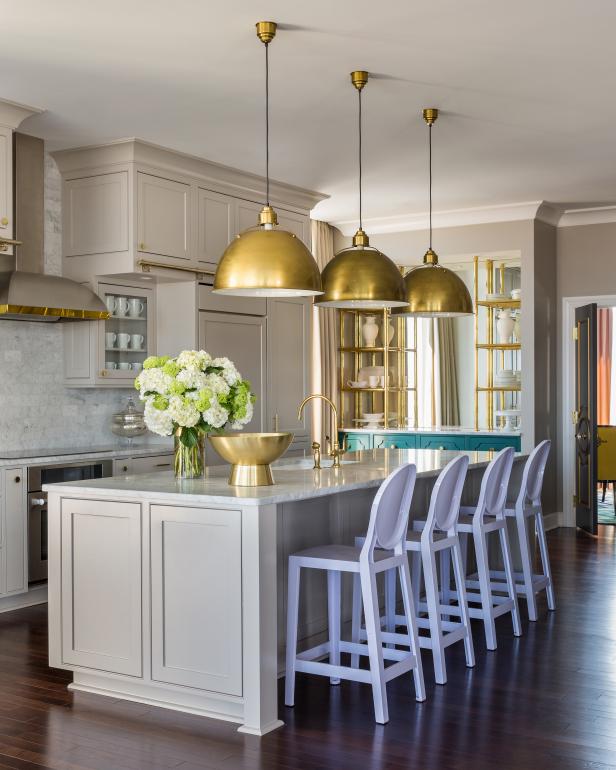 A mix between gray and beige, greige is an incredibly versatile neutral for the kitchen that can complement both warm and cool colors. In this space designed by Tobi Fairley, greige cabinets bridge the gap between warmer brass elements and cooler marble accents.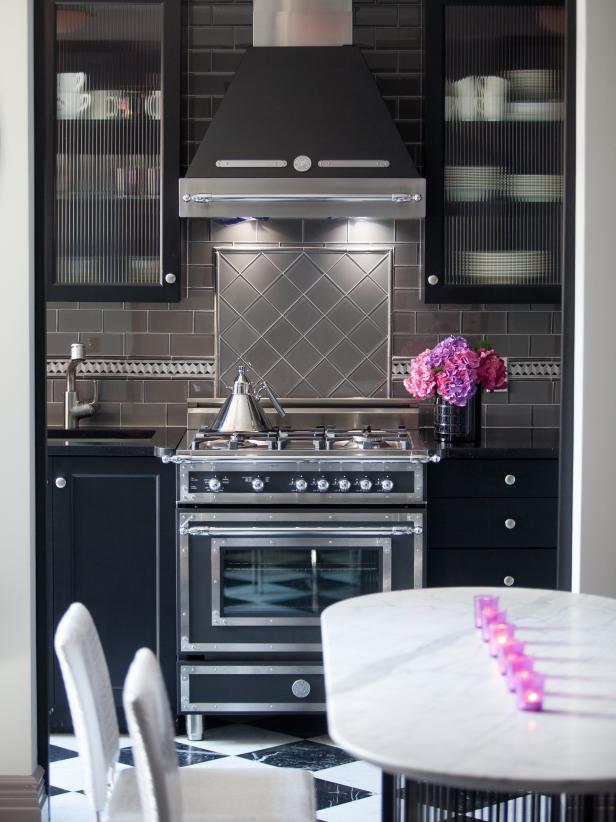 A black kitchen may sound dreary, but it can actually be stunning if done right. Just take this gorgeous room that goes all in with black cabinets, a black vintage stove and a black-and-white tiled floor. If you're not on board with an all-black kitchen, try adding one black element like a backsplash or a sink.
Add a touch of color without overpowering your space.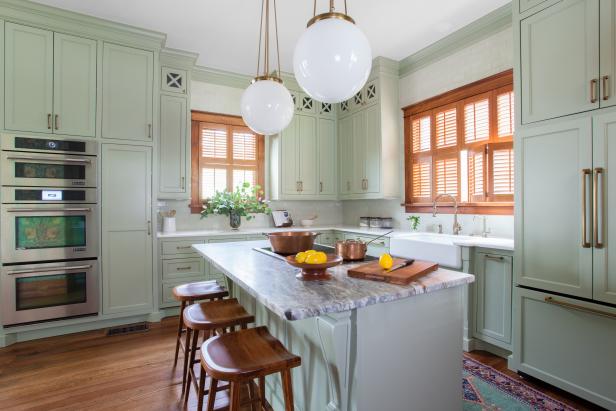 Hints of green in the stone countertops inspired the cabinet color in this country-style kitchen. The soft hue brings coziness to the space, yet still feels bright and fresh.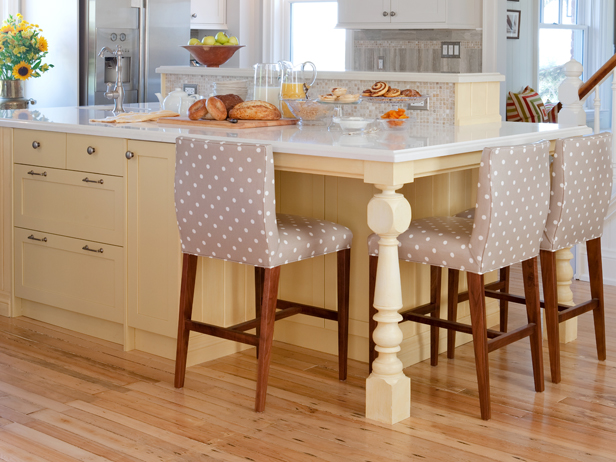 Particularly charming in a cottage- or farmhouse-style space, pale yellow adds a cheerful, sunny touch to a kitchen. Try it with robin's egg blue or with neutrals, as seen in this kitchen designed by Sarah Richardson.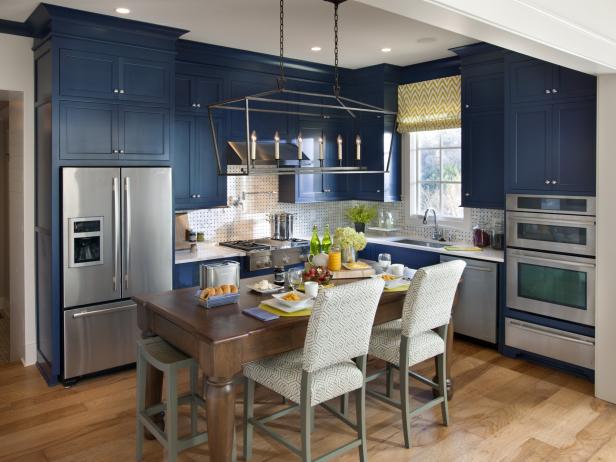 Navy is practically a neutral — it pairs beautifully with everything from tangerine to turqouise to chartreuse. In the HGTV Smart Home 2014 kitchen, navy cabinets are offset by a black-and-white basketweave backsplash for lots of eye-catching contrast.
Go all in with these daring shades.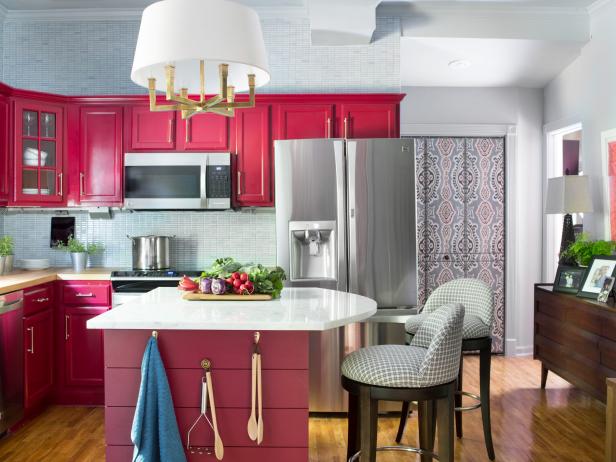 Want to instantly energize your kitchen? Just add a vibrant shade of red. To keep it from feeling overwhelming, try contrasting it with a cool color, like the blue-gray Brian Patrick Flynn used here. If you're not ready to commit to red cabinets or walls, incorporate the color in small doses with red countertop appliances, dish towels and other accessories.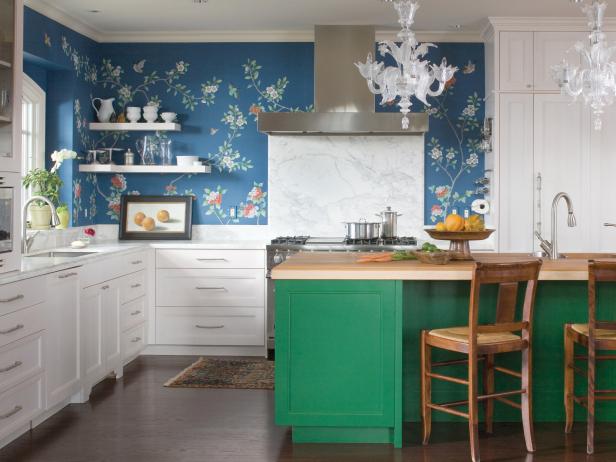 Just a splash of this gorgeous green will make a big impact in your kitchen. In this design, Andrea Schumacher painted only the island, pulling a color from the floral wallpaper to keep the space cohesive. For an ultra-rich look, pair emerald with other jewel tones.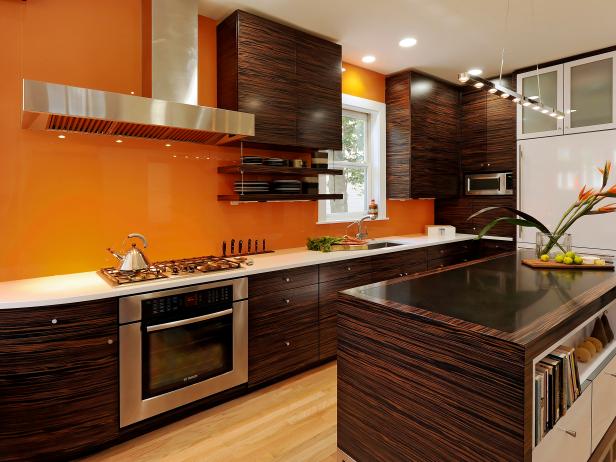 Orange is thought to stimulate the appetite, making it an ideal color choice for the kitchen. In this space by Jennifer Gilmer, an orange backsplash and zebrawood cabinets add warmth, keeping the contemporary design from feeling cold. Smaller orange accents, such as pendant lights or window treatments, can also liven up a kitchen.
Source: HGTV
Posted on June 29, 2017 at 7:17 pm
Kappel Gateway Realty
|
Category:

appliances, cabinets, color, decorating, interior decorating, kitchens, Paint, real estate, Uncategorized
|
Tagged

9 Kitchen Color Ideas That Aren't White, bold, cabinets, California real estate, Coldwell Banker Kappel Gateway, color, decorate, interior design, makeover, neutrals, paint, real estate tips, remodeling, trusted advice