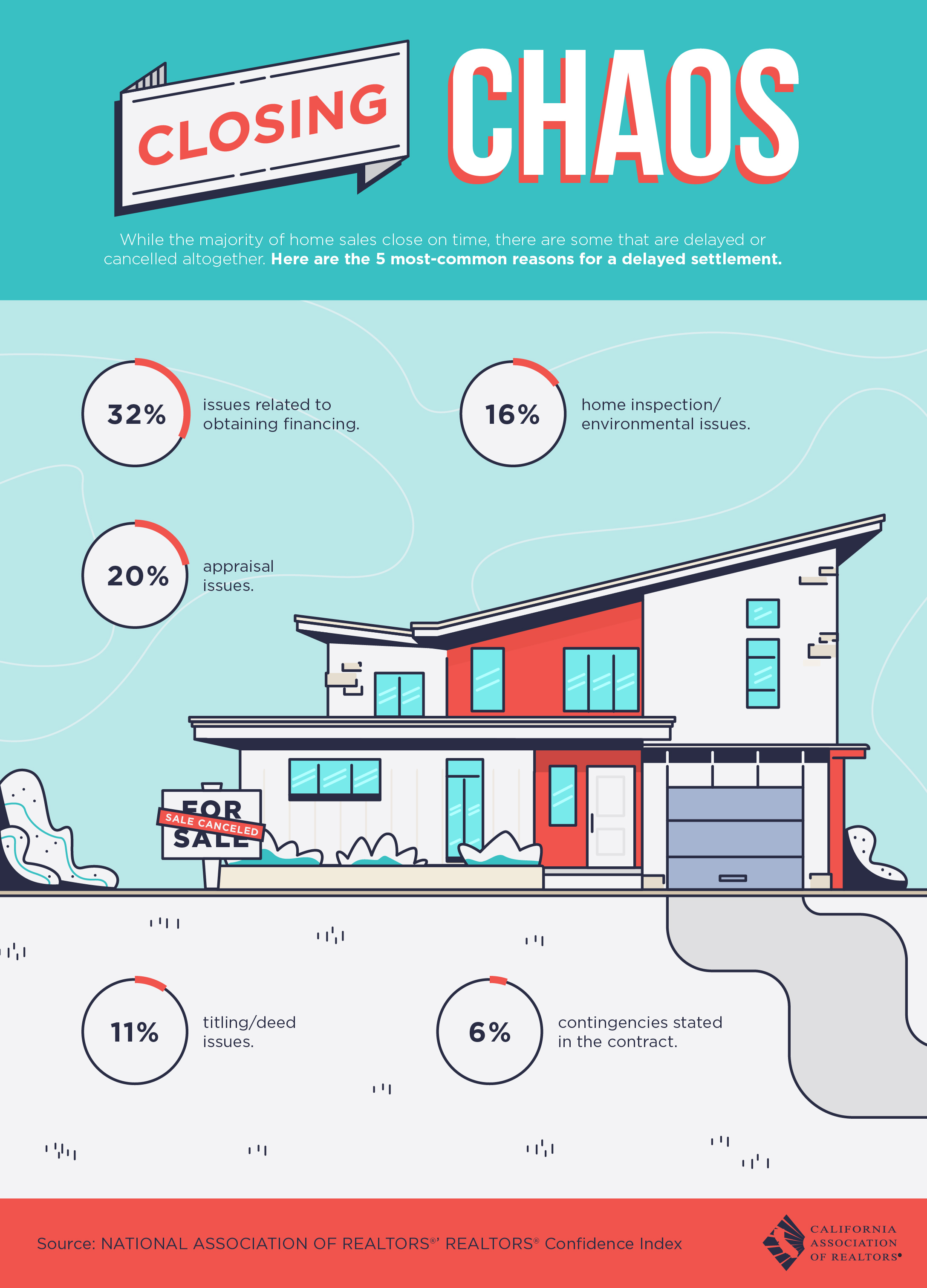 Source: CAR/One cool thing
Posted on January 10, 2018 at 12:05 pm
Kappel Gateway Realty
Category:
closing
Tagged

agent, California real estate, closing, Coldwell Banker Kappel Gateway, first time home buyers, real estate, real estate tips, remodeling, Solano County, trusted advice
You listed your home for sale, but the home isn't selling! Learn the simple things you can do to sell your home faster with Coldwell Banker real estate agents.
You listed your home for sale with high hopes. You love your property and you felt certain that it would sell in a reasonable amount of time. But it's been several months since you listed your home.
You've had some interests and several showings. You've received a few lowball offers. Maybe you've even experienced the emotional turmoil of watching a contract fall apart. Regardless of the details, one fact is clear: your property is very much still for sale.
What went wrong? What can you do? Here are 8 effective tips to facilitate a faster sale.
Depersonalize
If your house has been on the market for six weeks or more without so much as a nibble of interest, it's time to take a hard look at what might be putting buyers off.
If buyers can't imagine themselves living in a home, they'll be reluctant to make an offer.
To make your home appealing, pack away all of your family pictures, child artwork, and mementos. Paint your walls a neutral color like beige, cream or white. Pack away any polarizing or controversial pieces of artwork or decor. Depersonalize and try to make your home look like a model home.
Declutter
Buyers like to see clean, wide-open living spaces. If you have physical or visual clutter in the room, you're sending a message to the buyer that you don't have enough storage space.
Don't send that message. Instead, get those moving boxes and start packing. You may not have a contract yet, but if you minimize your possessions and declutter the space, you'll make the rooms look larger and create the impression of having tons of storage space.
Remove Evidence of Pets
We love our four-legged friends, but their food and water dishes, crates, and even just hair on the carpet can be a big turn-off to buyers who don't like animals.
If you know that someone is coming to look at your home, put the food dishes away, store the crate in the garage or outside, and make sure to remove all signs of pet fur and dander.
Freshen Up the Space
Don't let buyers turn up their nose at your home. Smell is the first thing potential buyers notice when they walk into a house.
Clean your home to get rid of any dusty or musty smells. If the weather is nice, open the windows to let your home air out. Install all-natural room fresheners or light scented candles in discreet places like the bathroom closet, laundry room, and garage. Choose a neutral and natural scent, like vanilla, rather than a pungent floral scent.
You could also consider investing an essential oil diffuser to leave running during home showings. Sage, lemon, lavender, and cinnamon are all subtle, relaxing, and inviting scents that help brighten your living space.
Work on Curb Appeal
Some buyers won't even step into your home if they don't think the property has curb appeal. Clean the windows and make sure that there are no visible cobwebs. Mow your yard and trim the edges, prune the bushes, plant fresh flowers, and spruce up your shutters by giving them a fresh coat of paint. You may even want to install a new mailbox and outdoor light fixtures.
Consider an Affordable Mini-Renovation
Not everyone likes a fixer-upper. Stained carpets and less than appealing paint colors may look like dollars needed for (and the hassle of) renovation in the buyer's eyes.
Small renovations may lead to big payoff. Consider painting the walls a neutral color, installing a smart thermostat, replacing hardware and fixtures and other fairly inexpensive changes that will take away the label of a fixer-upper.
Stage Like an Expert
You've depersonalized, decluttered, renovated, and worked on curb appeal. Now it's time to stage your home like a pro.
Place brand new, neatly folded towels and candles in the bathroom. Place a decorative bowl filled with bright red or green apples, lemons, or limes in the kitchen. Fill a clear glass cookie jar with fresh cookies on the kitchen counter.
Ask Your Agent About Pricing
If your home isn't selling after you've done everything above, it's time to talk to your real estate agent about adjusting the price.
This is where your agent's knowledge of your market and the amenities of your home come into play. If your home is priced competitively, buyers will feel like they're getting a great deal. A $5,000-$10,000 reduction may be all it takes to motivate the right buyer.
Make Your Home More Accessible
Make your home available for showings. If you limit your home to pre-scheduled viewings, you're definitely not going to be able to sell as quickly. If you're flexible with when you allow buyers to come see your property, you'll have a better chance of getting more foot traffic and more potential buyers into your home.
Source: Coldwell Banker Blue Mattter Blog
Posted on August 7, 2017 at 9:06 am
Kappel Gateway Realty
Category:

appraisal, Bidding, closing, equity, first time buyers, Homeowners, market trends, mortgage, Offers, overpricing, real estate, Resale Value, selling, Uncategorized, value
Tagged

buyers, California real estate, closing, Coldwell Banker Kappel Gateway, fees, homes, homes for sale, knowledgeable, listings, real estate, real estate tips, realtor, sellers, selling

First time home buyers…this ones for YOU!  Must read!
What are closing costs? What should I know before getting my next loan?
What Are Closing Costs?
Closing costs are fees paid in connection with the refinance or transfer of ownership in real property. They are paid by either the buyer or the seller on the settlement date.
These fees will always vary. What you pay for one refinance or property transfer will not be the same as another. This is due to the different parties involved, different types and locations of property, the financial capacity of a buyer and many more factors.
The law requires lenders to give you a loan estimate within three days of receiving your application. This document sets out what your closing costs will be. These fees, however, are not set in stone and subject to change.
Your lender should provide a closing disclosure statement at least three business days before the closing date. This is a more reliable estimate of your closing costs. Compare it to the loan estimate you've received and ask your lender to explain the fees and the reasons for any changes.
What Is Included in Closing Costs?
Your costs will differ depending upon the transaction. Types of costs include:
Credit report fees (the cost of checking your credit record)
Loan origination fees (which consists of the cost to your lender for processing your loan)
Attorney fees
Inspection fees (for inspections requested by either you or the lender)
Appraisal fee
Survey fee (so that both you and the lender know where your property boundaries lie)
Escrow deposit which may cover private mortgage insurance and some property taxes
Pest inspection fee
Recording fee paid to a county or city authority to file a record of the property transfer and/or new mortgage lien against the property
Underwriting fee to cover the cost of processing a loan application
Discount points (money you pay your lender to get a lower interest rate)
Title insurance (protection for you and the lender should there be any issues with title to the property)
Title search fees (costs incurred by the company who checks the title on the property)
These fees can range anywhere from 2% to 5% of a property's selling price. It's smart to get estimates from two or three lenders so that you can take these costs into consideration before making an offer. For the easiest way to compare lenders who may use different terminology to describe their fees, simply ask for a loan estimate from each.
Can I Negotiate These Costs?
Some fees, such as document, processing, service, underwriting and courier charges are open to negotiation. However, third party fees such as an appraisal or survey, are not.
If you're worried about how much you'll need at closing you can find a bank that doesn't escrow real estate and homeowners insurance. Often, banks will escrow six months of real estate taxes and several months of homeowners insurance premiums. When added to the other closing costs, this can be quite a large sum.
Keep in mind, however, that you will be responsible for paying your homeowners insurance and property taxes when they're due rather than relying on your lender to pay them for you.
Where allowed by law, you can negotiate with the seller to have them pay some closing costs normally attributed to the buyer.
Can I Add my Closing Costs to the Loan?
Most loan programs will allow for a percentage of the purchase price to go towards closing costs. The easiest way to do this is to ask for a seller credit towards the closing costs.
The seller credit means that the seller will receive a smaller 'net' amount at closing, however there is a way to make a seller credit more palatable to the seller. If you can qualify for a higher purchase price – say 2.5% over list – the seller won't lose any money and you can use the seller credit towards the closing costs.
In this scenario, what you're doing is financing your closing costs over the life of the loan.
You can also do a lender credit. Like a no-cost refinance, you agree to a higher interest rate so that the lender will pay some of the closing costs. You can potentially get a lender credit of $2,000 to $4,000 – a sizeable amount of fees.
Keep in mind, however, that should you continue paying the same mortgage over the life of the loan, you could end paying more than if you were to pay up front.
What Can I Expect?
Before closing day arrives, contact your agent to confirm that he or she has everything for the transaction to go as smoothly as possible. Pull together any paperwork that you have received and keep it on hand for easy reference on closing day.
Be prepared to take your time reading through all of the closing documents. Make sure you completely understand all of the terms you're agreeing to. If some of the terms are missing or incomplete, don't sign until they are resolved to your satisfaction.
Your lender will send money to the closing agent via a wire transfer and may require that you set up a new escrow account with them to pay your property taxes and homeowners insurance together with your monthly mortgage payment.
You should be advised before closing day how much money you'll need to have for closing, so bring your checkbook with you to cover any necessary escrow and/or closing costs.
Among the many documents you'll be signing, three of the most important documents will be the:
Hud-1 Settlement Statement – a document which sets out the costs incurred with your closing.
Deed of Trust or Mortgage – a document in which you agree to a lien being placed against your property as security for repayment of your loan.
Promissory Note – a document which can be described as a legal "IOU" which sets out your promise to pay according to the terms of the agreement.
Source: CB Blue Matter
Posted on June 29, 2017 at 7:27 pm
Kappel Gateway Realty
Category:

Buyers, closing, closing costs, escrow, first time buyers, real estate, Uncategorized
Tagged

buyers, California real estate, close of escrow, close on your new house, closing, closing costs, Coldwell Banker Kappel Gateway, first time home buyers, real estate, real estate tips, trusted advice, What Are Closing Costs?