For some sports fans, there's more to the game day experience than the game itself. Sure, it's great to cheer on your favorite team through a white-knuckle competition, but it's just as fun to explore the smorgasbord of delicious food that every stadium and arena across America has to offer. Food is a big part of the stadium experience, whether you're sharing a snack with friends or chowing down on a full meal from the comfort of the stands.
Nachos, chili cheese dogs, cotton candy and pretzels are just some of the classic foods you'll find spectators noshing on—and don't forget liquid accompaniments ranging from lemonade to beer. But as tasty as they are, these treats can do a number on your waistline. Fortunately, it's relatively easy to replicate your favorite game day snacks at home—and with creative and healthy twists—no matter which team you root for.
Hot Dogs
America's pastime isn't complete without a ballpark frank—and that goes double for Chicago Cubs fans, who gobble down Chicago-style hot dogs by the thousands each season. Topped with a garden of veggies—including tomato slices, white onion, pickle relish, sport peppers and a pickle spear—a Chicago dog is a much smarter choice than a chili cheese dog. And with a few simple substitutions—like chicken sausage instead of beef, organic veggies, and whole wheat buns—you won't feel guilty going back for seconds. Or thirds.
Chicken Wings
Buffalo, New York is most famous for three things: the Buffalo Bills, the Buffalo Sabres, and the tangy, spicy, bright orange sauce that works so perfectly on chicken wings. Traditionally, buffalo wings should be fried, but grilling is a healthy and delicious alternative (and baking works just as well). Make sure you have a big stack of napkins for this snack, and don't forget the celery and bleu cheese.
Peanuts
Peanuts are the perfect handheld snack that can feed tons of sports fans with very little effort. Rich in protein, they can be sweet, spicy, salty or sometimes all three. Southern sports fans have a penchant for boiled peanuts, which can be whipped up in a crock pot, while roasted peanuts have universal appeal.
French Fries
If you're making fries at home, you might as well kick it up a notch. Northern California is famous for its garlic and, as a result, its garlic fries. So it comes as no surprise that the dish is one of the most popular menu items at San Francisco's AT&T Stadium, home of the Giants. If you follow this recipe, you won't even need a deep fryer.
Pretzels
If there's one thing New York Yankees and New York Mets fans can agree on, it's that a baseball game isn't complete without a soft pretzel and a side of spicy mustard. But if you're gluten intolerant, you often miss out on this handheld treat. Luckily, pretzels are surprisingly easy to make at home—even without the wheat.
Nachos
Stadium nachos are notorious for their neon yellow cheese sauce and a few other suspicious toppings. At home, you can load up your tortilla chips with whatever you want. Miami fans swear by Cuban-style nachos, which add a Caribbean twist to the traditional recipe by topping gluten-free tortilla chips with slow-cooked pork, ham and a light Swiss cheese sauce.
Cracker Jacks
By the time the seventh-inning stretch rolls around, you're going to be craving something sweet—that's the real reason Cracker Jacks are prominently featured in "Take Me Out to the Ball Game." By substituting sugar with maple syrup, you can make caramel corn that's as good as the Cracker Jacks you remember from childhood baseball games—but without all the calories (or, sadly, the toy surprise).
Lemonade
After all the hot dogs, peanuts and other snacks, you're going to need something to quench your thirst. With just three ingredients—lemons, water, and honey—you can make ballpark-park quality lemonade at a fraction of the price.
Once you've gathered your snacks and turned on the game, it's easy to recreate the stadium experience at home. Just gather your favorite sports fans, sit back and dig in.
Source: CB Blue Matter Blog
Posted on November 7, 2017 at 9:00 am
Kappel Gateway Realty
Category:

BBQ, cooking, grill, kitchens, real estate
Tagged

chicken wings, Coldwell Banker Kappel Gateway, dip, first time home buyers, food, game night, hot dogs, kitchen, nachos, peanuts, snacks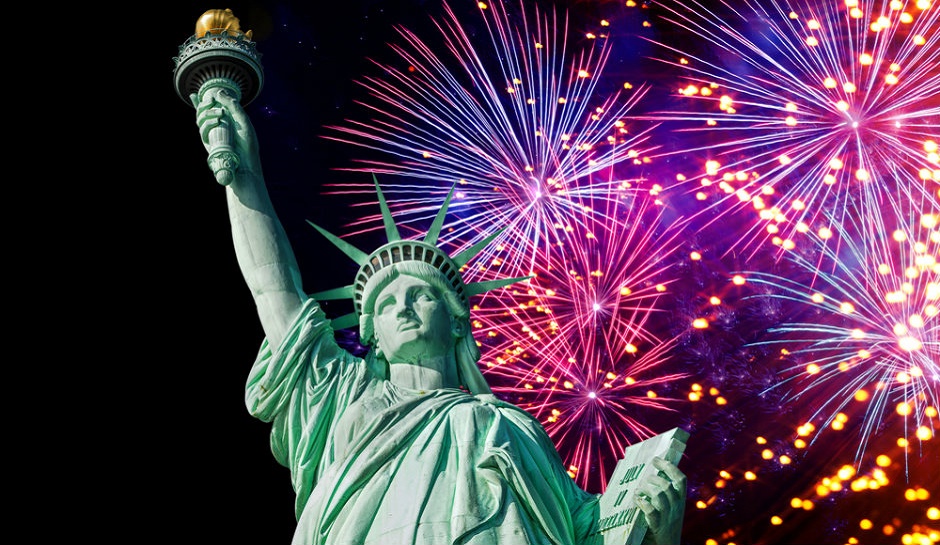 Come check out CBKG's guide to the BEST 4th of July Celebrations in our area.
Lots of fun to had here people!  Let's Get out there and Celebrate!
Suisun City Independence Day Spectacular
Where: Suisun City, Harbor Plaza in the Waterfront District
When: July 4, 11 a.m. – 10:30 p.m.; Fireworks at 9:15 p.m.
>> Details

Picnic in the Park and Fireworks
Where: Benicia, Benicia City Park
When: July 4, noon – 7 p.m., Fireworks at 9 p.m.
>> Details

Six Flags Discovery Harbor July 4th Fest
Where: Vallejo, Six Flags Discovery Kingdom
When: July 2, 3 & 4, 10:30 a.m. – 10:00 p.m., Fireworks all 3 nights at 9:30 p.m.
>> Details

Vacaville 4th of July Fireworks & Creekside Concert
Where: Vacaville, Andrews Park
When: July 4, 6:30 p.m., Fireworks at dusk
>> Details

Fairfield Independence Day Parade
Where: Fairfield, Texas Street, downtown Fairfield
When: July 4, 10:00 a.m.
>> Details

Napa County Fair & Fireworks
Where: Calistoga, Napa County Fairgrounds
When: July 4, 11:00 a.m. – 10:00 p.m., Parade at 11:00 a.m. Fireworks at 9:30 p.m.
>> Details

Watch A's Fireworks From the Field
Where: O.co Coliseum
When: July 2, after the A's play the Pirates there will be a special "Salute to Armed Forces Fireworks."
>> Details

Celebrate Concord 4th of July
Where: Downtown Concord, Todos Santos Plaza
When: July 4, 8 a.m. – 10 p.m.; 5K/Kids run at 8 a.m., parade at 10 a.m., festival at 4 p.m. and fireworks at 9 p.m.
>> Details

Alameda County Fair 4th of July Fireworks Spectacular
Where: Alameda County Fair, Pleasanton
When: July 4, Fireworks at 9:30 p.m. featuring the Oakland Symphony
>> Details

Vallejo 4th of July Parade
Where: Vallejo, Downtown Vallejo
When: July 4, 12:00 a.m.
>> Details

American Canyon 4th of July Festivities
Where: American Canyon, Community Park II
When: July 4, 10:30 a.m. – 10:00 p.m., Parade at 10:30 a.m. Fireworks at 9 p.m.
>> Details

Dixon's Family 4th of July in Hall Park
Where: Dixon, Hall Park
When: July 4, 8:00 p.m., Fireworks at dusk
>> Details

Antioch's An Old Fashioned Hometown 4th of July
Where: Antioch, Downtown Antioch & Contra Costa County Fairgrounds
When: July 4, 11:00 a.m. – 11:00 p.m., Parade at 11:00 a.m., Fireworks at 9:30 p.m.
>> Details

West Sacramento Fourth on the Field
Where: West Sacramento, Rayley Field
When: July 4, 6:00 p.m. – 10:00 p.m..
>> Details

Pleasant Hill Fourth of July Celebration
Where: Pleasant Hill, Downtown Pleasant Hill & PH Aquatic Park & College Park High School
When: July 4, 8:00 a.m. – 11:00 p.m., Firecracker 5k fun Run at 8:00 a.m. Parade at 9:30 a.m., Fireworks at 9:15 p.m.
>> Details

Napa 4th of July Festival & Fireworks
Where: Napa, Downtown Napa & Oxbow Commons & Veterans Park
When: July 4, 10:00 a.m. – 10:00 p.m. Parade at 10:00 a.m., Festival at 1:00 p.m., Fireworks at 9:30 p.m.
>> Details

Folsom Pro Rodeo
Where: Folsom, Dan Russell Rodeo Arena
When: July 1-3, 6:00 p.m. – midnight. Gates open at 6:00 p.m., Live music at 9:45 p.m.
>> Details

Sacramento Independence Day Celebration
Where: Sacramento, Cal Expo
When: July 4, 5:00 p.m. – 10:00 p.m. Gates open at 5:00 p.m., Fireworks at 9:30 p.m.
>> Details
 
 
Posted on June 28, 2017 at 1:19 pm
Kappel Gateway Realty
Category:

4th of July, BBQ, Celebrate, community, Dixon, Fairfield, Family Fun, Festivals, Fireworks, grill, Parades, real estate, Rodeo, Suisun City, Uncategorized, Vacaville
Tagged

6 flags, Alameda, antioch, Benicia, celebrate, Coldwell Banker Kappel Gateway, community, concord, Dixon, Fairfield, Family Fun, fireworks, folsom pro rodeo, Fourth of July Family Fun Events, Napa, parades, picnics, real estate tips, rodeo, sacramento, Suisun City, trustworthy, Vacaville, Vallejo, west sac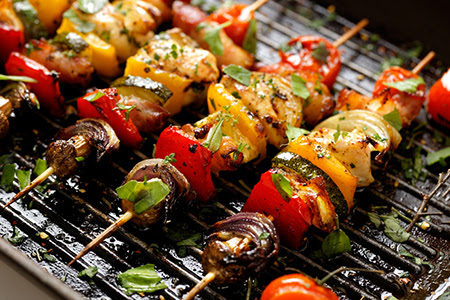 Ahhhhh, the sweet smells of summer BBQ!  Nothing beats grilling and chilling!
There's nothing better than the flavor and presentation of food cooked on a grill. The slightly smoky flavor and ease of preparation makes grilling one of the top cooking methods any time of the year. Even when there is a chill in the air, stepping outside to grill a meal is quick and easy.
Now that summer is around the corner, many of us are dining al fresco, and that often includes a grilled dish. Almost any food can be grilled, from steak to Portobello mushrooms, and occasionally a food that you wouldn't imagine, such as thickly cut Greek cheese (Halloumi), which grills perfectly.
For those who don't have access to an outdoor grill, I've had success with cast-iron indoor grilling pans. Indoor grilling pans, which can be found in any cookware store, add a depth of flavor similar to outdoor gas grilling. I own two square ones that fit over a burner and can accommodate two servings of protein or four pieces of fresh corn or sliced eggplant.
Here are some of my tips to make the most of your grilling.
What to Grill
Most important, you need to know which foods are best grilled. Any cut of meat or chicken is ideal for grilling.
For dark-meat chicken, I recommend cooking it first in the oven to get it about three quarters done and then finishing it on the grill to avoid overly dark or blackened skin. Chicken breasts cook quickly about three minutes per side. I recommend you pound the chicken to an even thickness to assure perfect doneness.
Fish is best if you choose steak fish (such as tuna, salmon, swordfish or shark) or whole fish (such as snapper or bass). Shellfish, including shrimp, scallops, clams and lobster, are wonderful on the grill and can be served room temperature or as part of a salad. I tend to avoid thin fish fillets for grilling as they are too delicate for the high heat and difficult to move off the grill.
All kinds of grilled vegetables are wonderful. My personal favorites are asparagus, mushrooms, onions, peppers, zucchini, eggplant, cauliflower, unripe tomatoes and corn. Consider buying a grill basket for smaller veggies to avoid them falling into the grill. For the vegetarians among us, both tofu and tempeh are delicious in their grilled form, especially paired with a flavorful marinade.
Get the Grill Ready
To prepare the grill, heat is of utmost importance for a guaranteed non-stick surface. If your food is not ready to turn easily, simply leave it another minute to ensure the proper sear. If you are grilling something with little to no marinade, be sure to spray the grill lightly with vegetable cooking spray or brush lightly with olive oil.
The Marinade
My favorite element in grilling is the marinade. A marinade can be as simple as vinaigrette with a few fresh herbs mixed in, and sauces such as salsas, pestos and reserved boiled marinades add a ton of flavor to just about any grilled food.
Because there's no sauce or fat in the pan, and most grilled foods cook fairly quickly, a marinade not only tenderizes, but adds flavor. I usually marinate dishes for at least two hours at room temperature or overnight in the refrigerator, depending on what you're preparing.
I recommend reserving the leftover marinade and bringing it to a boil in a small saucepan for four or five minutes, to kill any bacteria, along with a little red wine, if desired, and you have an amazing sauce to drizzle over your grilled dish.
There's the Rub
Fish is one exception where the marinade can actually cook the fish, so don't marinate fish and shellfish for more than an hour. This is where a spice rub can be the perfect flavor enhancer. I often use spice rubs for tuna, salmon or shrimp.
Simply toast a few of your favorite spices, such as cumin, mustard seeds, peppercorns and coriander. Grind them in a coffee or spice grinder, coat the fish lightly with olive oil, then sprinkle the spices and a pinch of sea salt. You've now elevated your fish to another level.
Grilled Bread
I love the taste of grilled bread and often serve it lightly brushed with extra virgin olive oil and rubbed with a cut clove of garlic, as you might enjoy in Tuscany. Grill the bread for three or four minutes on each side and serve with chopped tomatoes, olives and mushrooms, or, serve it plain, with a few shavings of Parmigiano-Reggiano. I often make hummus or a spread, such as a white bean puree, to serve guests while they are having a chilled glass of wine.
Source: RisMedia
Posted on June 6, 2017 at 10:35 am
Kappel Gateway Realty
Category:

backyard, BBQ, cooking, Entertainment, Family Fun, grill, real estate, summer
Tagged

BBQ, chilling, cooking, entertainment, Family Fun, grilling, How to Make the Most of Grilling Season, summer