There is more to mowing grass than just pushing the mower back and forth. Did you know there are correct ways to mow your grass? Plus, knowing what the proper cutting length is and what to do about lawn clippings are important in keeping a healthy lawn.
Mow at the Right Frequency
There is a correct way to mow a lawn to get the cleanest, well-kept look. By keeping the grass at the right length, it keeps your grass stress-free and healthy. Grass should be a little longer during the hot summer months, especially in places that are in USDA Plant Hardiness Zone 9b like Houston, Phoenix, New Orleans, and Tampa. When grass is permitted to grow a little longer, the roots grow deeper, and the grass gives the soil cover from the hot sun. It forms an insulation that lets the soil better maintain its moisture.
Mowing at the right frequency is key. During fall, the most common lawn mowing frequency in Houston is bi-weekly, or every two weeks, with 83 percent of Houstoniteschoosing this option. However, if you get lawn treatment and water more frequently, you may want to consider weekly.
Plus, the blade of the mower needs to be sharp. If the blade is dull, then it will shred the tops of the grass. Shredded grass tips can leave grass susceptible to diseases.
The Correct Way to Mow Your Grass
The first thing to do is to adjust the height of the mower so that the mower doesn't butcher the grass. Also, if the lawn is shady, then it will benefit from setting the mower blades at a higher height. Because photosynthesis helps grass grow, a longer blade of grass has more surface for conducting photosynthesis. This is one secret to developing a healthy lawn when parts or all of it stay in the shade.
Also, don't scalp the grass by cutting it too short. When a lawn is scalped, it becomes vulnerable to disease and invites weeds. By scalping a lawn, it exposes the soil, and the grass becomes sparse and weak. Plus, this gives the sun an opportunity to feed the weed seeds in the soil so that they start to grow. A lawn that is cut too short will have a system of poorly developed roots and this will cause damage to a lawn from hot days or drought.
The best rule of thumb is to follow the one-third rule: If more than a one-third of the grass blade is cut off, it can damage the grass.
Another tip is to mow when the grass is dry. When grass is mowed when wet, it's not harmful to the lawn, but the results can look mediocre. This is because grass that's wet will clog the mower and this makes it more difficult to mow. The grass also clumps and causes an uneven cutting pattern. In addition, if clumps of wet grass are left on the lawn, then it can kill the grass under the clumps.
When you mow in the middle of the day in the sun, it causes the lawn stress. The individual blades of grass will lose water quickly and recover more slowly. You can either mow in the cooler part of the day or mow the area when it's covered in shade. This will let the grass rebound quicker. Also, when mowing, don't always follow the same pattern. This can create ruts and compacts the soil. Compacted soil and ruts can cause unhealthy grass, which can provide places for weeds to start growing.
What to Do With Grass Clippings?
One problem that crops up is what do you do with the grass clippings when finished? A solution to that is called "grasscycling." This is when you let the grass clippings lay on the lawn after it's cut. When this is done, it can provide up to 25 percent of what the lawn needs as fertilizer. It also saves money on fees and yard waste bags. A specialized mulching mower isn't necessarily required, but you can put a mulching blade on the mower that you already have. Grasscycling works well if your grass is mowed often. It can be done on grass that is cut when it's longer — if you don't have a mulcher, rake the piles of clippings flat after mowing and then run the mower back over them.
As you can see, there is more to mowing grass than just pushing the mower around the yard. If done correctly, it can revitalize your lawn.
Katie Kuchta is a marketing guru, gardening and outdoor living expert, and self-proclaimed foodie. She can often be found cooking in the kitchen or on the hunt for the best tacos. Follow her on Instagram @atxtacoqueen.
Source: CB Blue Matter Blog
Posted on November 13, 2017 at 8:59 am
Kappel Gateway Realty
Category:

backyard, curb appeal, Homeowners, lawn, outdoors, real estate
Tagged

blade, Coldwell Banker Kappel Gateway, dry, gas, grass, mowing, real estate, summer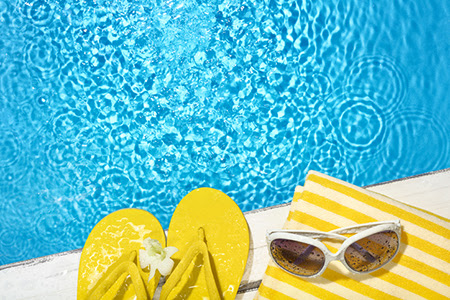 Armed with a little know how – you can make your pool season trouble free!
1. Evaluate the Task at Hand
Always check for leaks at the start of the season—all you need is a bucket. Just fill it three-fourths of the way full and mark the water line inside, place it in the pool, mark the line on the outside and let it float for a couple days. If the water goes down the same amount inside and out, it is from evaporation, but if it goes down more on the outside, there is a leak and you'll need to call a pro.
2. Keep It Clean
Skim Debris – If you have trees, bushes or other plants nearby, the wind can blow debris into the pool. To keep it clean, increase the water circulation and use fewer chemicals, and use a skimmer to scoop out the debris out on a weekly basis.
Vacuum Frequently – Not all debris floats on top, so to get the hard-to-reach debris, you should vacuum the pool on a weekly basis for about half an hour. You can always buy an automated vacuum that runs on a schedule, so you don't have to worry about it.
Filter and Pump – To keep water clean and save energy, run the pump daily for every 10 degrees (e.g., if it's 80 degrees outside, run the pool pump for eight hours). Keep water healthy and clear by cleaning the filter every other week. Simply empty the filter bag or remove the filter and hose it down. If the pump is unusually loud, leaking or doesn't hold pressure, it's time to call a professional. If you have a home warranty with pool coverage, you'll also save time and energy not having to find a qualified service professional yourself.
3. Get an A in Chemical Chemistry
Test water levels weekly with a home pool water test kit to make sure chemicals are balanced and safe. Optimal chemical levels vary depending on the season and weather conditions, but the pool's pH levels should fall between 7.2 and 7.8 consistently for the cleanest water. This will also help protect your pool equipment. Water becomes more acidic with lower pH levels, which can cause costly damage to your pump, filter and anything else that it comes in contact with.
Source: RisMedia
Posted on July 26, 2017 at 2:50 pm
Kappel Gateway Realty
Category:

backyard, maintenance, Pools, real estate, safety, summer, Uncategorized
Tagged

maintenance, Pool School: A Study Guide, pools, safety, summer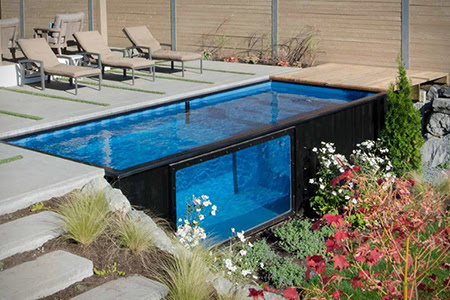 Shipping containers have long been found to have a myriad of uses, from storage to houses. Who knew a shipping container would make a terrific pool!!
One Canadian couple is making a splash transforming shipping containers into backyard swimming pools. (We always knew those shipping containers were universal!)
Paul and Denise Rathnam launched Modpools earlier this year and the idea has taken off, with orders mostly coming from the hottest locales in North America, particularly California, Nevada, Texas and Florida.
"The traditional pool is a symbol of excess and waste. This is a little more modern, more modest. We're repurposing something rather than recycling. This pool can be resold, and you can take it with you if you move," Paul Rathnam told Vancouver Sun.
It's an interesting concept, for sure, and the design, once installed, looks pretty slick. It's as if your backyard was always destined to house a shipping container.
The standard size Modpool is eight feet wide by 20 feet long, and just over five feet deep. It also comes with a clear, acrylic window on one side, which is actually a pretty spiffy design element. Customers can opt to add another acrylic window on the other side for a see-through look if they want one.
In Canada, after delivery, a Modpool will cost you $35,000 plus tax, which could be a cheaper alternative for families planning on installing an in-ground swimming hole.
Source: RisMedia
Posted on July 8, 2017 at 1:00 pm
Kappel Gateway Realty
Category:

backyard, Family Fun, Pools, real estate, shipping containers, summer, Uncategorized
Tagged

above ground pools, Are Shipping Containers the Future of Swimming Pools, backyards, California real estate, Coldwell Banker Kappel Gateway, in ground pools, pools, real estate tips, shipping containers, swimming, swimming pools, trusted advice