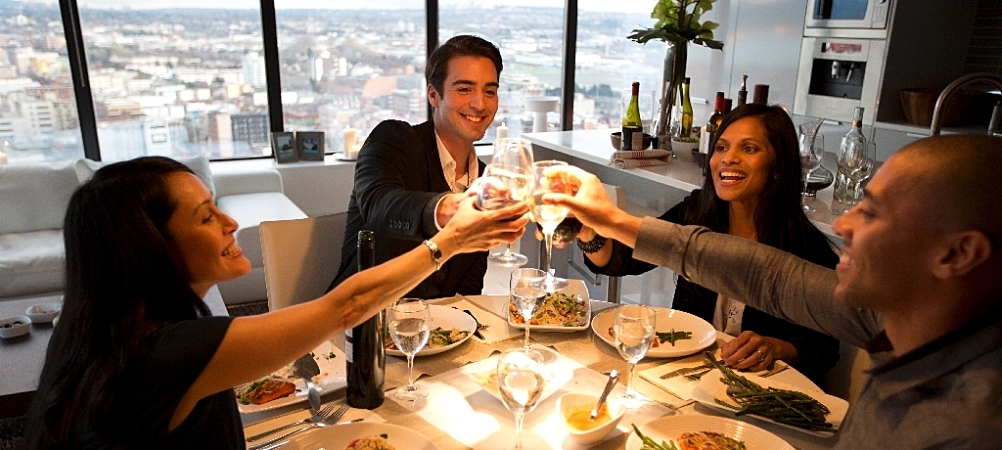 An uncluttered counter is essential in a small apartment. It looks attractive, feels more airy, and encourages you to cook, rather than sending you running for the takeout menu. So get creative with kitchen storage ideas, and you can make clean counters a reality.
No Drawers? No Problem!
Some tiny NYC kitchens lack drawers. This may seem like a big problem, but with a few clever kitchen storage ideas, you can work around it. For utensils, you have plenty of options. Mason jars work great. You can do what Heather Clawson of Habitually Chic did, and put them on the counter where they double as an attractive interior design element — but if you're striving for empty counters, simply put them inside a cabinet. If you don't want to use mason jars, you can use the kind of utensil caddytypically used for outside dining. It has separate compartments for each type of utensil, making it the perfect storage tool for forks, knives, and spoons.
Nesting Bowls
If you like to cook and bake, you'll have lots of mixing bowls, ramekins, and dishes. In order to allow them to be organized inside your cabinets and take up as little space as possible, it's important to look for nesting bowls. Try Williams-Sonoma's glass or melamine bowls — they're incredibly useful for cooking while taking up minimal space.
Use Your Oven
Where's the best place to store big, bulky pots and pans in a tiny kitchen? The oven! This saves invaluable cabinet space in a compact kitchen, and it takes only a few seconds to remove all the pots when you need to use the oven for cooking. If you have the appropriate overhead space, a pot rack can also be a good space saver — but be sure that your pans are attractive enough to be on constant display (copper is always a beautiful, high-quality option).
Maximize Wall Space
Use your wall space whenever possible. You can hang up a magnetic knife rack; you can also hang spices on the wall or the refrigerator, if you get magnetic spice containers. Both options look fun and eclectic, while saving valuable cabinet space.
Create More Counters
When your counter space is sparse, you need to get creative. Here's an idea: Buy a large wooden or marble cutting board and place it over two of the stove burners. Instant extra counter space! When you're not using the cutting board for cooking prep, you can put something on it like a French press or a spoon holder. It's a win-win … but you must be careful of your stove dials! Always be vigilant about not accidentally brushing against them and turning them on while the cutting board is in place.
With these tips, your compact kitchen will be a clean, uncluttered space, perfect for whipping up meals and hosting friends!
Posted on November 1, 2017 at 9:02 am
Kappel Gateway Realty
Category:

appliances, cabinets, Homeowners, kitchens, living small, real estate, remodeling
Tagged

cabinets, Coldwell Banker Kappel Gateway, counters, drawers, fridge, kitchens, oven, space, storage, stove

Everyone LOVES a big kitchen. Lots of room to whip up your culinary delights! The truth is that anyone can adjust and create beautiful meals in a small kitchen. Its all in the organization!
It can be tricky keeping a compact cooking space tidy, but these ideas can help keep a small kitchen organized.
Contrary to what you might think, you don't need acres of counter space or dozens of drawers and cupboards to have an organized kitchen that's a joy to cook in. If anything, a smaller kitchen can encourage you to streamline your stuff and live more simply. Who wants cabinets chock-full of unloved pasta machines and dusty bread makers anyway? Check out these easy ways to restore order to your less-than-enormous kitchen.
1. Start with a utensil rack. Not only will it give you a place to hang slotted spoons and ladles for easy access while cooking, it will also free up precious drawer space.
Even in the tiniest kitchen, you can usually find somewhere to squeeze one in — under a cupboard or shelf or above the stove. Stainless steel models work in most styles of rooms and are easy to wipe down.
Photo by WILLIAMS RIDOUT 
2. Get a knife holder. A knife block or magnetic rack is one of those simple items that really do make a difference in how functional your kitchen is. After all, rummaging around in a drawer for a piece of kitchen gear you use frequently is time-consuming and dispiriting.
A wall-mounted rack like this one keeps things orderly without swallowing too much space. Buy decent knives if you can afford it, as they should last a lifetime. One advantage of a magnetic rack is that you can slowly build up your collection of knives, buying one at a time, rather than having to invest in one large block complete with knives, which can be pricey. If you're starting from scratch, a bread knife, paring knife and chef's knife are essential.
3. Assign dedicated storage areas. Kitchen clutter can easily accrue, so it makes sense to assign different cupboards a specific purpose and stick to it. And dedicate a few minutes every couple of weeks to returning stray plastic lids or pot covers to their homes and sweeping out spilled spices and coffee grounds — it really will make a difference in how pleasurable (and easy) your kitchen is to use day to day.
Photo by Domus Nova 
4. Reduce your numbers. If your kitchen is really mini, or even if it isn't, think about doing a good edit of your paraphernalia. Be honest: Do you really need more than a handful of plates, mugs or glasses if there are only one or two of you?
Having less stuff can be immensely freeing — and will significantly reduce the amount of time you spend washing up, which is a big bonus.
Photo by Cream & Black Interior Design
5. Gather and display. This cute kitchen demonstrates how you can be organized and chic at the same time. A charming crock to hold wooden spoons, a wall-mounted crate or two to provide a home for vintage-style scales and jugs, a small wall-mounted spice rack — they all add a pretty touch as well as having a practical function.
Photo by Moon Design + Build 
6. Be clever with your cabinets. Use every spare inch in a small kitchen by building recessed shelves where feasible. Here, they surround an integrated refrigerator. With this design solution, wall space that's too skinny or awkwardly shaped for extra cabinets can still be used to hold frequently used items. In this kitchen, it also helps open up the room and leads the eye to an appealing feature.
The other clever feature in this kitchen is the cookbook niche above the door — another neat storage trick that doesn't take up too much room. Ask a builder if one can be carved out from an existing wall.
Photo by Ardesia Design 
7. Go minimal. Are you in the process of picking new cabinets for your compact kitchen? Consider this look. Ultra-plain, handleless cabinets in a nude hue are soothing to look at and give a sense of visual order. Pick a seamless backsplash such as this slab of marble, since tiles with grout can look busy.
Photo by Glenvale Kitchens 
8. Get in a tight corner. When space is tight, an ingenious trio of pullout corner drawers is a lifesaver, helping to solve the problem of lost space in those awkward-to-access base cabinets.
If you're remodeling, think about how you'd use such drawers — for cutlery, towels, pans, dishes? Here, a slimmer top drawer is complemented by the two deeper ones, so all the bases are covered.
Photo by marco joe fazio photography 
9. Put the pans away. Similarly a pullout pan rack can be a gift in a small kitchen, creating an organized home for frying pans and saucepans and keeping you from tearing your hair out as you hunt around in the backs of cupboards. Also try using racks for items such as steamers or large, unwieldy casserole dishes.
Photo by Vanillawood
10. Organize inside. It may sound like a no-brainer, but often what makes a kitchen, big or small, organized is how we arrange the insides of our cupboards. Shelf and drawer dividers, hooks, racks and other storage devices are key to keeping order. Consider what works for you and go custom if you can. Are you a Mason jar and Tupperware kind of person? Do you prefer mugs on hooks, shelves or in drawers? Storage is often about personal preference. Here, the slim slots for chopping boards and placemats are a brilliant idea, as is the slim pullout spice rack.
Source: CB Blue Matter / Houzz
Posted on July 20, 2017 at 7:32 pm
Kappel Gateway Realty
Category:

appliances, cabinets, kitchens, living small, organization, real estate, small space, Uncategorized
Tagged

California real estate, Coldwell Banker Kappel Gateway, How to Keep a Small Kitchen Organized, kitchen, maximize small space, organization, real estate tips, small house, small spaces, trusted advice